Featured in
Kayode Ojo's Synthetic Opulence Taps into Our Consumer Desires
At Sweetwater, Berlin, the artist plays on passé 1980's glamour, sculpturally employing transparent and mirrored surfaces to attract and deflect the gaze
In 'Call It What You Want' – Kayode Ojo's solo exhibition at Berlin-based gallery Sweetwater – a series of chandeliers hangs from two metal chains strung across the room like necklaces. Titled Up to Here (all works 2021), the installation suggests an opulence that is undercut by its materials: five of the eight chandeliers are made from acrylic in place of crystal. A similar deception is on display in I Put all of my Energy into this Tower, five mirror-plated letterboxes filled with components from the Kiev 88 – an inexpensive, medium-format camera based on the iconic Hasselblad. Named after a quote from Ben Wheatley's 2015 film adaptation of J.G. Ballard's class-based satire Hi-Rise (1975), it immediately brings to mind the kind of commodity-obsessed social climbers who populate the author's novels.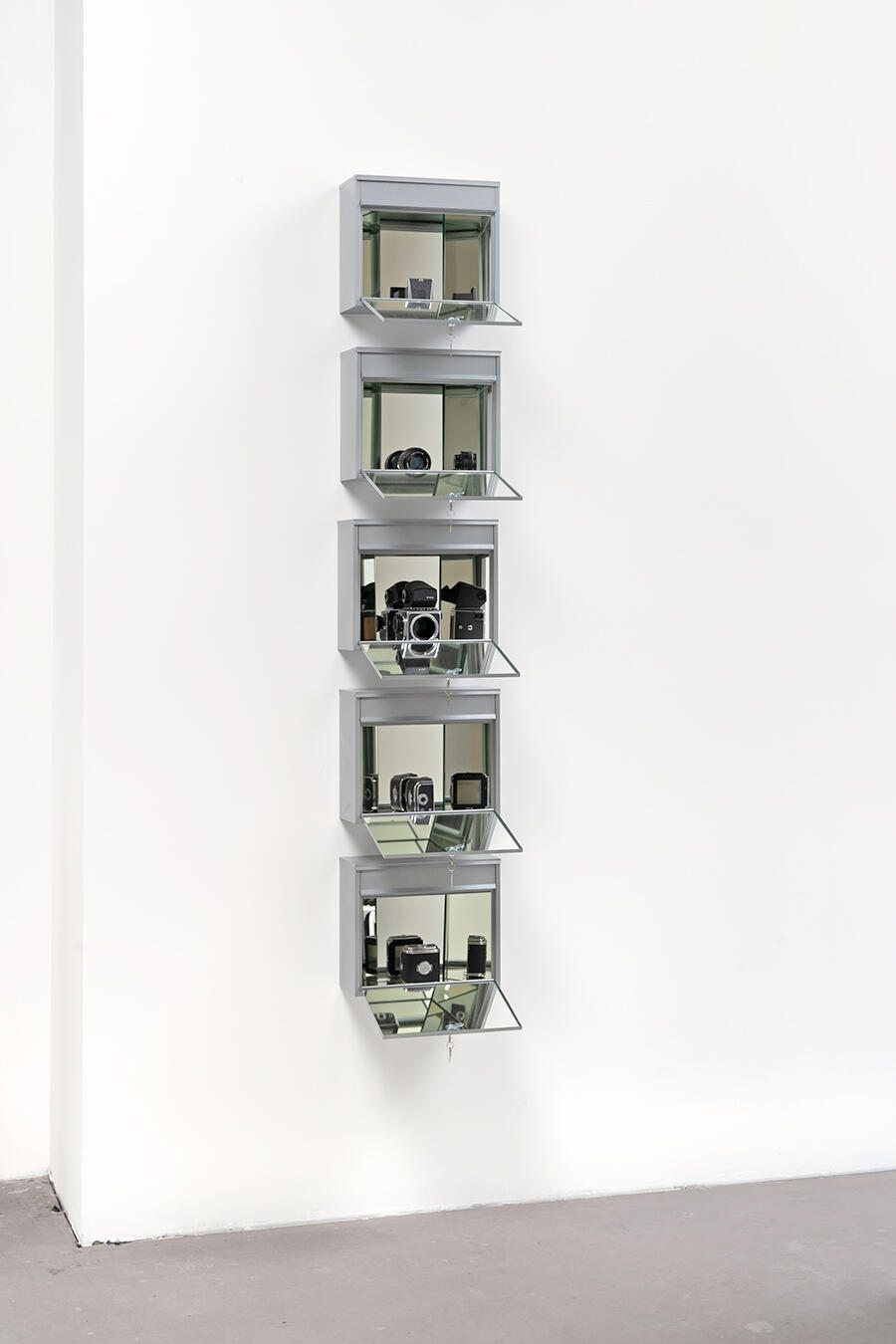 In his essay 'Apropos of Readymades' (1961), Marcel Duchamp claimed that he chose everyday objects 'based on a reaction of visual indifference, with at the same time a total absence of good or bad taste'. At Sweetwater, Ojo takes the contrary position, selecting aspirational consumer goods that viewers can't help but pass judgement on. He's particularly drawn to materials that evoke now-passé 1980s glamour: stainless steel, fur, lamé and (fake) diamonds. Without Trousers (Suitmeister) and Overdressed (Silver), for instance, comprise items of ritzy clothing draped across music stands to approximate bodies. In the latter work, a fringed dress accessorised with a mauve, faux-fur jacket and a grey, lace-front wig create the image of someone who is trying a little too hard.
Critics have often described Ojo's work as seductive, but there is something inherently creepy about the wipe-clean aesthetic of sculptures such as I Don't Want Either of Us to Regret This, a pair of glass vitrine shelves set on either side of the gallery that each holds a camera-lens mug, an acrylic lockbox, a sound recorder and a television monitor playing an edited version of the film Call Me by Your Name (2017). Looking at all that glass and stainless steel reminded me of the apartment in another Ballard film adaption: Mary Harron's American Psycho (2000). In the film, Patrick Bateman (Christian Bale), the serial-killer narrator and protagonist, surrounds himself with modernist furniture and hi-end appliances – their shiny surfaces both reflecting his narcissism and successfully repelling the inquisitive gazes of those around him. Similarly, Ojo's sculptural assemblages seem to toe the line between a desire to attract and deflect the gaze, mixing objects full of mystery – a lockbox, a tape recorder, a pair of handcuffs (Vaterdrum, Mutterdrum, Michdrum [Father Drum, Mother Drum, Me Drum]) – with those that you can see right through.
Sitting on the floor at the back of the gallery space is a paperback copy of the 1973 novel The Glass Cage by Georges Simenon. When I met the artist, he told me he hadn't read the book but liked the cover. At the time, it struck me as relatable: who among us doesn't have a few unread titles on our shelves? But, later, it made me think of a friend who used to work in a bookshop picking out entire libraries for high-profile customers, one of whom told her that he didn't care what the books were as long as their covers were black. The press materials for 'Call It What You Want' suggest that Ojo's sculptures 'consider how the objects with which we surround ourselves, the clothes we wear and the culture we consume affect[s] our behaviour, desires, relationships and identities', but I'd say they go one step further than that, showing us how objects have become stand-ins for our personalities. We surround ourselves with crystal to hide an acrylic core.
Kayode Ojo's 'Call It What You Want' is on view at Sweetwater, Berlin, Germany until 19 June. 
Main image and thumbnail: Kayode Ojo, 'Call It What You Want', 2021, exhibition view, Sweetwater, Berlin. Courtesy of the artist and Sweetwater, Berlin