Lisbon Story
On the city's flourishing gallery scene
Peek into Galeria Francisco Fino today and you could mistake it for an artist's bold installation rather than an exhibition space under construction: distressed brick walls and an arched, cathedral-sized door frame a floor scattered with roof tiles and building detritus, criss-crossed with a geometric pattern of shade cast by iron roof beams. Situated in Xabregas, a riverside suburb of abandoned warehouses and modern housing blocks that is rapidly emerging as Lisbon's creative quarter, the work-in-progress gallery epitomises the resurgence of the Portuguese capital's art scene.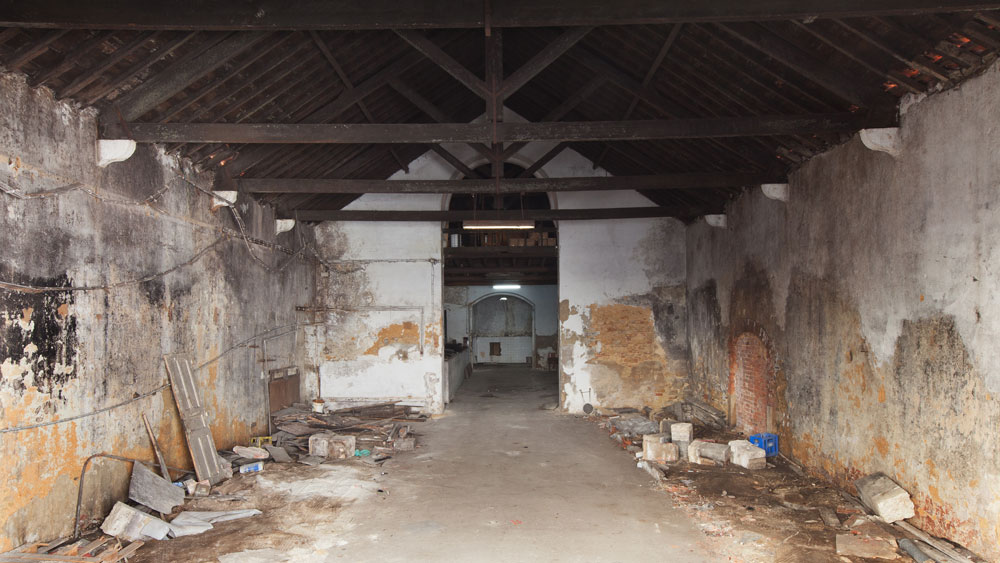 Francisco Fino will open his eponymous gallery in autumn with a group show organized by independent Portuguese curator João Laia, which will include Lisbon-based artist and filmmaker Gabriel Abrantes, Spanish artist Karlos Gil and British artist Tris Vonna-Michell, amongst others. Since 2008, Fino has run what he calls a 'nomad project', inviting artists to show in various short-term spaces, but says the time is now right to establish a permanent gallery.
'In the last ten years we've seen very few new galleries opening in Lisbon, mainly because of the financial crisis but also because the government was unwilling to invest in art and culture,' says Fino. 'But now we are beginning to see more public funding for the arts and there are a lot more tourists and international residents moving here, some of whom are collectors and are coming to galleries and buying.'
Lisbon is definitely having its 15 minutes of fame. Some 3.56 million foreign tourists visited the city last year alone, with foreigners buying one in five of the homes that were sold. The city is buzzing with energy, as tourists and residents converge on its pretty cobbled streets, fill its bars and restaurants and spill out of its small wooden trams. Lisbon's artists, too, are being newly exposed.
A major new museum, the Museum of Art, Architecture and Technology (MAAT) opens in the city in October. Designed by British architect Amanda Levete, the 38,000 m2 gallery will sit on the northern bank of the Río Tajo and showcase Portuguese contemporary art within an international context. 'The aim', says MAAT director Pedro Gadanho, who served as a curator at MoMA for the three years before relocating to Lisbon, 'is to create an international platform in which curators, artists and directors can discover the Portuguese scene.'
'Portugal has never been included in international art history', says aforementioned curator João Laia, whose most recent project 'H Y P E R C O N N E C T E D' was part of the Moscow International Biennale for Young Art, and who will co-curate the first major exhibition at MAAT in March 2017. 'Because it has been so unknown, there's now a sense of discovery from an international perspective', he says, 'even though the scene here has been established for a long time and is already quite sophisticated.'
Laia points to 'MATTER FICTIONS', curated by Margarida Mendes and now showing at Museu Berardo, by way of example. 'Margarida is able to connect with questions related to the relationship between technology, nature and aesthetics, which are extremely current in an international context. But she comes at it from a very personal position and so has added to the international debate, not just engaged with it.'
Matteo Consonni and Gonçalo Jesus launched Galeria Madragoa in Lisbon's historic centre in April this year. Italian-born Consonni, the former director at Galleria Franco Noero in Turin, agrees with Laia. 'I was visiting Lisbon over a period of four years and I found it had an enormous power of attraction,' he says. 'One big difference to other countries in Europe is that the artistic community here is very receptive and participates in seeing new work and discussing it. There are very good artists here and a lot of young artists and not for profit spaces with good programmes.'
A case in point is Bregas, a raw and undeveloped warehouse-sized studio run by João Pedro Vale and Nuno Alexandre Ferreira, one of the more radical than most spaces in Lisbon. Both practicing artists, the pair use the space to display their own work – mainly sculpture, installation and film – but also invite other artists to work and show there.
Bregas has hosted three Grandioso Fim-de-Semana no Bregas (Magnificent Weekends at Bregas) since launching in January – the most recent, at the end of May, was entitled 'If you are so smart, why aren't you rich?' Curated by Pedro Faro, it saw a program of talk, film and performance around the work of American musician and dancer Julius Eastman, including an installation by artist-in-residence Tiago Alexandre and a video work by Miguel Faro.
'We wanted to do something outside of a gallery space', says Ferreira. 'The art scene in Lisbon has really grown with more galleries and more artists, but it has become a bit too glossy. Even not for profit spaces seem to want to become white-box galleries', he says, 'and there's a sense that everything they show has to be perfect. It's a little bit too safe; there's not much room to experiment. Bregas came out of that. We had the feeling that there were no spaces anymore where you can try things, do whatever you want, make some mistakes.'
Lisbon is a small city. It's possible to walk between the six or seven contemporary galleries in Xabergas in less than 15 minutes and even MAAT, at the very opposite end of the city, is just a 10 minute tram ride away. But the city's artists are not content with commercial considerations and together cultivate a desire for experimentation and participation, bringing a sense of depth and complexity to the scene that suggests it will soon earn greater international recognition.