Liz Magor
Musée d'art contemporain de Montreal, Canada
'Liz Magor: Habitude' surveys the Vancouver-based artist's sculpture and installation practice from the mid-1970s to date. Magor's influence over the decades – magnified by her teaching at Emily Carr University of Art + Design – has been profound, and the exhibition adeptly establishes how her work has impacted on many of contemporary sculpture's most pressing concerns, as well as on a generation of younger artists investigating them.
Throughout her career, Magor has sought to get as close as possible to the marrow of everyday life by casting quotidian objects – from fallen trees to old clothing – in her signature medium of polymerized gypsum. Sculptures of organic matter and consumer goods, frozen in the moment, allow us to contemplate the affective dimensions of their consumption or decay. Magor's uncanny combinations of objects, both cast and real, reframe our relationships with the commonplace materials we tend to take for granted. Product packaging and giftwrap, for instance, which appear in a number of her works, serve as intermediaries between ourselves and the goods we desire, delaying the gratification that comes with their use.
At the Musée d'art contemporain, stacks of gypsum towels hide neat rows of found beer cans and gin bottles, while gypsum clothes, mittens and hats conceal stockpiles of real cigarettes and chocolates – cosiness masking contraband, soft protecting hard. This tension between inner depths and surface layers parallels not just our own corporeal interior and exterior but also the ways in which we customize our appearance, from fashion to home décor. This is particularly evident in Magor's expansive installation Being This (2012), an idiosyncratic 'portrait gallery' of found and altered clothing, displayed in paper-lined boxes, as if recently purchased from a department store. Each evokes the distinct personality of an imagined wearer. 
Co-curators Dan Adler and Lesley Johnstone use the three large galleries to mimic the environments that typically harbour consumer objects, from retail displays to warehouses. For instance, an enormous shelving unit holding dozens of individual sculptures bisects the second gallery. (Unfortunately, one consequence of MACM's huge spaces is that they make some of Magor's monumental works appear small.) Avoiding a chronological treatment, the curators stage dramatic juxtapositions of scale from the exhibition's opening moment: the dainty yet morbid Ladies Soft Leather (russet) (2015) – a gypsum glove holding a dead bird, ensconced in foil and cellophane – is juxtaposed with the adjacent large-scale installation Production (1980), a press for crafting bricks out of wet newspaper alongside a wall of the same crumbling bricks. The bird's frail beauty appears all the more singular when placed next to the press: a machine for the production of mundane multiples.
The first gallery is dominated by three large cedar trunks cast in gypsum; two of them (Hollow, 1998–99 and Burrow, 1999) cache sleeping bags while one (Wrap, 2003) is stuffed, eclair-like, with fibreglass insulation. By combining cast objects with found elements – as in Chee-to (2000), where real scattered cheese puffs peek coyly from under a pile of gypsum rocks – Magor intends not to deceive by illusion but to question the truth in visual perception, and to discover new ways of making meaning. As Magor once remarked, in a 2015 talk at the Art Gallery of Ontario, 'That mistake between the real and the mimic […] that disconnection from knowledge and naming – I love it as
a form of freedom.'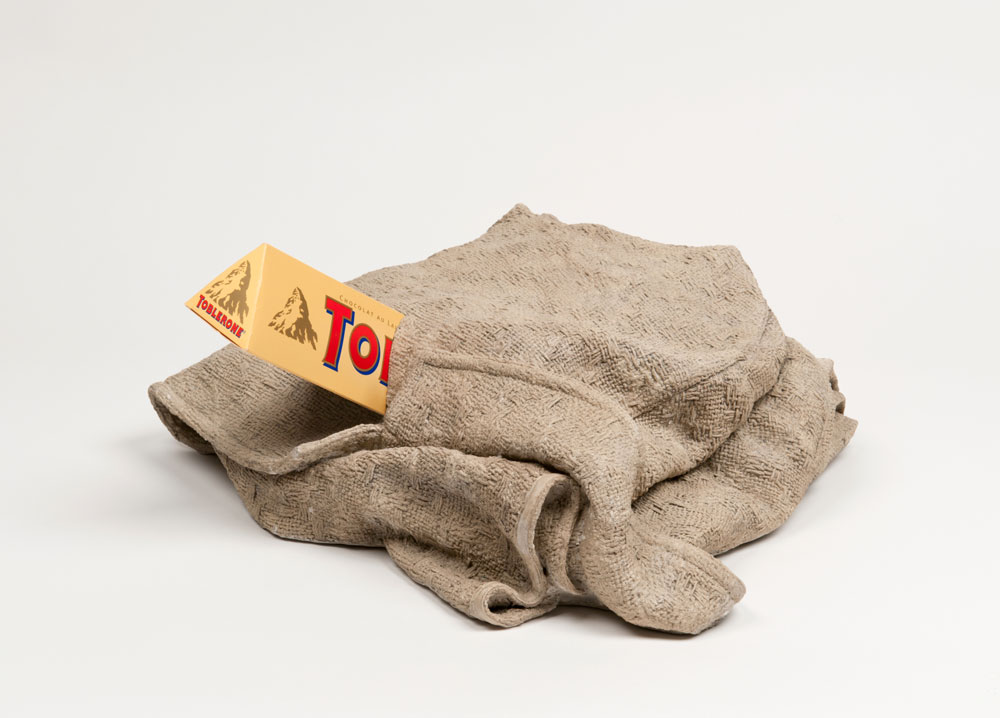 Some of the strongest works in 'Habitude' are Magor's most recent sculptures, such as the impressive, large-scale Membership (2016), a confrontation between a toy dog and an oversized cardboard box. Other recent gypsum sculptures feature too-tiny toy dogs curled up on crumpled boxes, timidly facing the wall. Animals like these act as ersatz companions that hold the potential for kinship that is ultimately unfulfilled. Magor's sculptures leave us alone with the silent, burdensome company of our accumulated possessions.