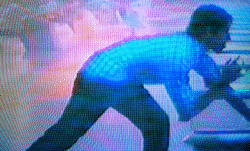 If one can stop looking at the past and start listening to it, one might hear echoes of a new conversation.'
Greil Marcus
While pop music lies winded on Brighton beach, surrounded by broken glass and the airy waft of another Fat Boy Slim anthem, younger musicians are taking a sideways glance at music just off the beaten track. Combine this with the advent of affordable CD burners and laptops, and the bedroom has become the production studio for a new generation of experimental music, the main forum perhaps for the still pervasive and influential force of underground culture.
Shadazz - a title borrowed from an electro-pop Suicide tune - is a multi-media label based in Glasgow, organized by artist Luke Fowler. Initiated when Fowler was invited to produce a new piece of work for the Transmission Gallery, the project has subsequently gained momentum and a number of diverse allies. With music gathered from friends and local musicians, the first compilation was conceived and assembled in a matter of hours from a room in Glasgow's West End. The second CD-R - The Invisible Insurrection of a Million Minds (2001), consisting of experimental Scottish electronica, a mêlée of twisted electro-pop peaks with a Manchiron re-working of the Stranglers' classic 'Golden Brown' - moved out of the gallery and is distributed internationally by Ideal. The third, Merlin Modules for Miriam (2001), was produced in collaboration with the Utrecht-based magazine Casco Issues. Track 3 sees the cheekily titled pop duo Cnut explore the limits of sardonic delivery in the witty 'Attack of the 50ft Liberal'. A sideways swipe at the art periodical reader perhaps?
Evil Eye is Source (2002) is Shadazz' latest project. Fowler has taken the role of curator and matched a number of Glasgow-based artists and musicians to create a compilation pop video for the gallery. First seen at the RCA as part of the exhibition 'FAIR', the video has also been presented at the Nordic Institute for Contemporary Art, Helsinki, and is distributed through the Modern Institute, Glasgow. As with the CD' the video sits comfortably on the shelves of the local record shop. Designed by Robert Johnston, its cover is reminiscent of Peter Saville's stark black and white design for Joy Division's Unknown Pleasures (1979). Shadazz shares Saville's mantra that 'everything should be designed and not decorated'. An elegantly drawn monkey's head awaits the visual and aural proceedings with eyes open and ears pricked.
The video itself is a mixed bag, part club visuals and part playful investigation of the genre. Anne-Marie Copestake and Fred Pederson's offering for Life Without Buildings jumps from standard bleached images of the band in energetic performance to static shots of what appear to be friends and colleagues. A girl in a red duffle-coat turns slowly towards the camera; a man in a pin-striped suit languidly clutches a cigarette and two bemused young men sporting white ruffled shirts and white ties indulge in pallid posing. Katie Dove's unfurling felt-tip animation for Devotone sees a swirl of psychedelic shapes that on occasion align to form an abstracted face, all hair and toothy red-lipped grin, while Torsten Lauschmann's soft porn images kaleidoscope to the electro-clash sound of Pro Forma's 'Passion Prefix'.
Perhaps the most intriguing take on the pop video format is Mark Leckey's three-minute advert for the forthcoming donAteller album. Slow-motion footage of the band imperceptibly flickers into life to the sampled loop of a funk tune layered with singer Ed Liq's advertising voice-over. Such a deadpan take on consumerism could also be read as its own in-built critique. The pop video, like the advert, is always selling you something. Perhaps, as with the early Factory Records publicity films, what it provides is an attitude, look and profile for an emergent scene.
The Shadazz label borrows some of its DIY attitude from the history of punk fanzines. Stapled manifestos such as Sniffin' Glue, Rebel with a Brain and Alice through the Windscreen provided a forum to let out a rant and discuss new music - a useful strategy in manning the barricades against punk's less than empathetic mainstream coverage. For Fowler it appears the CD burner has replaced photocopy culture. Equally significant, title accepted, are the repetitive beats and minimalist electro scrapping of Suicide, the bizarre creation of Alan Vega. Straight out of 1970s New York, Suicide are the godfathers of electro-punk, looked up to by a diverse spectrum of tech-heads from Soft Cell and Gary Numan through to Aphex Twin and Atom Heart. While influencing the current phase of sonic terrorism, the band's early gigs in SoHo galleries also provided a useful precedent for the art institution as a sympathetic ear for new music.
Investment in the future of music is key to another of Shadazz' influences, the Amsterdam-based Staalplaat. Comprising record label, publishing house, radio programme and e-zine, its mission is to stimulate new sounds and establish a network for meta-musical concepts. Instrumental in establishing the now defunct NL Centre, Amsterdam, Staalplaat organized the early concerts of seminal electronic bands Laibach and Einstürzende Neubauten. Working with musicians such as Muslimgauze, Rapoon and Jim O'Rourke, they have produced over 300 limited edition audio works and are an influential model in terms of distribution for smaller sound art labels.
As technology becomes more affordable and the CD-R allows younger musicians to push out from the bedroom it is now easier than ever before to stage events, document and circulate them. Small pockets of activity from The St Dunstan's Experiment in Birmingham to File Sound Art in Coventry create new situations for experimental sounds. It is, as Tony Wilson described Factory, 'an experiment in human relations, a forum for discussion between friends'. Perhaps where Shadazz is most successful is in its strategic distribution of dissenting sounds that usefully connect the echoes of the past with the conversation of today.