How 'Mama Nike' Davies-Okunyade Inspires Maro Itoje
The England rugby player and Frieze 91 Committee member talks about his passion for West African art, and Nike Davies-Okundaye, featured in Spotlight at Frieze Masters
Part of Frieze Masters since its inception, Spotlight is a section dedicated to galleries' solo presentations of groundbreaking figures, whose practices may have sometimes been undercelebrated, but who shaped the course of 20th-century art. From Teresa Burga to Barbara Chase-Riboud, Agnes Denes to Mrinalini Mukherjee, women artists have always been highlights of the section, but to mark the Frieze Masters 10th anniversary this year, Spotlight is dedicated exclusively to women artists. Curated by French art historian and curator Camille Morineau and the team at the non-profit organisation AWARE (Archive of Women Artists, Research and Exhibitions), where Morineau is co-founder and Research Director, the vision for the section reflects AWARE's stated mission to 'rewrite the history of art on an equal footing'.
Among the nearly 30 global galleries participating is kó, from Lagos, Nigeria, whose presentation is devoted to Nike Davies-Okundaye. Born in Nigeria in 1951 and raised in the cultural centre of Osogbo, Davies-Okundaye's efforts to preserve traditional techniques of weaving, dyeing and other crafts and folk practices, as well as pioneering her own artistic language to explore nature, mythology and social issues, have earned her a standing as the mother of the Nigerian art scene. Frieze Week invited Maro Itoje, a collector of Nigerian art and a member of the Frieze 91 Committee, to talk about advocating for West African art, and his personal connection with the artist known lovingly as 'Mama Nike'.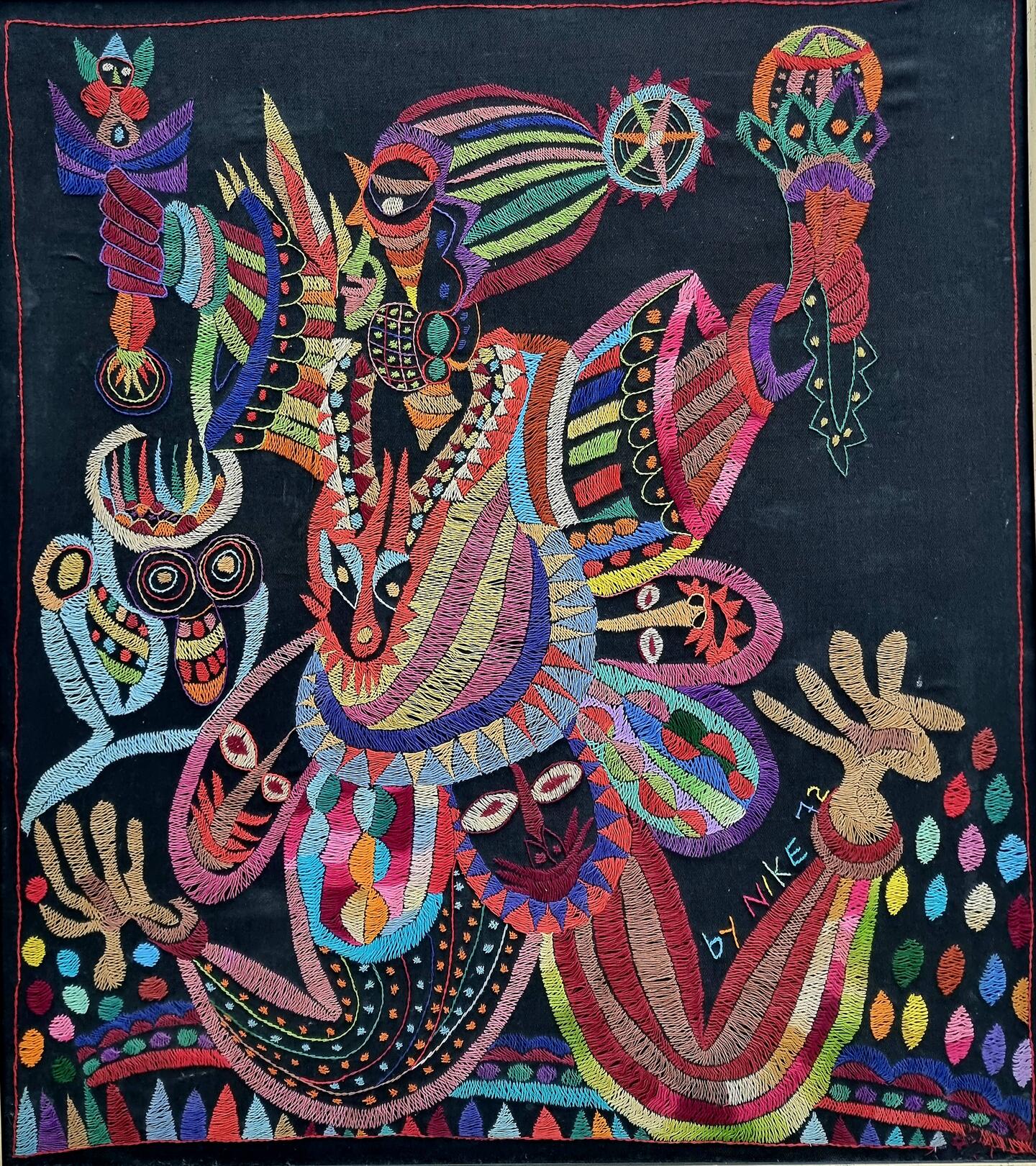 I've always been interested in art, on a surface level, in that I've always loved nice beautiful things, but this changed around 2016, when I was decorating my first apartment. It was important to me that I should be surrounded by African, and especially Nigerian art pieces, so I was running around London trying to find some. The few I could locate were way out of my price range at that time. I mentioned this to my mother and she said she would go with me to the market in Lagos, and we could find some art together there. I remember being so struck by the art I saw at the market – its colour, its dynamism and how the works told a story that connected to me, so much more than a lot of the art I was seeing in the UK. It made a connection to my soul. 
So, that's where the mustard seed started to grow. It's been my mission since to deepen my understanding of – and my love for – African art. The last time I was in Lagos in summer 2021, I made a point of going to Mama Nike's space: the Adara Foundation & Nike Art Gallery. She immediately embraced me, like I was her prodigal son who had come home. Whenever Nigerians of the diaspora go back, it's a special moment, but this was different. I'd say Mama Nike's space is the most beautiful African art gallery in Lagos: so rich, so inspiring, a huge amount of work by different artists there, and all of their unique histories. And loads of Mama Nike's own work, of course.
Mama Nike is a really significant figure, particularly for Nigerians. She's deeply connected with our heritage, using textiles and traditional techniques. She represents a lot of what is good about Nigerian values – pioneering, knowing your own mind, knowing where you want to go, and taking charge of yourself. She's a Chief, Chief Nike, so she commands a level of respect. Nigerian women tend not to mess around. Like Nigerians in general, they are go-getters, and most Nigerian families have a matriarch. At the same time, Nigeria has a patriarchal society, so the way that she has achieved what she has, and to gain success in a public way, is very impressive.
I still like to acquire art in Lagos. I feel a duty to help that economy, and you get the pleasure of direct access to the artists that is not always as easy to find in, say, London. I still believe that your home is an outer resemblance of your view – so the art you live with should be an expression of yourself. I do sometimes buy art in London that has an investment value also, but I'd never buy something I thought was ugly. Everything, first and foremost, has to pass 'the eye test.' 
I'm always trying to get more and deeper knowledge of this world, and by working with Frieze 91, I feel like have access at the top level of the art game. What I would really love to do with this position is to give a platform to African art practices, like Mama Nike's.I do think Africa is the next art geographic that's going to really explode: just look at the bounds it has made on the international stage in the last decade. And I mean African art, not only Nigerian or West African art: shining a light on the diversity of brilliant artists and galleries across the continent, as well as providing a microscope on specific local scenes. The aim is to be in a stronger position to support the artists and their talents. I do think for African artists, it's important to have your own people appreciating your work – the African diaspora being aware and supporting African art, just like, say Chinese art is so supported by Chinese communities. But African art is ultimately not just for Africans. It's for the world. The thing I love about art is how everyone can respond to anything, and everyone's reaction is unique.
As told to Matthew McLean.
TICKETS
Be the first to know when Frieze London & Frieze Masters 2023 tickets go on sale, sign up to our newsletter and follow @friezeofficial on Instagram, Twitter and Frieze Official on Facebook.
Main image: Nike Davies-Okundaye, Animal World, 1968. Courtesy: kó gallery