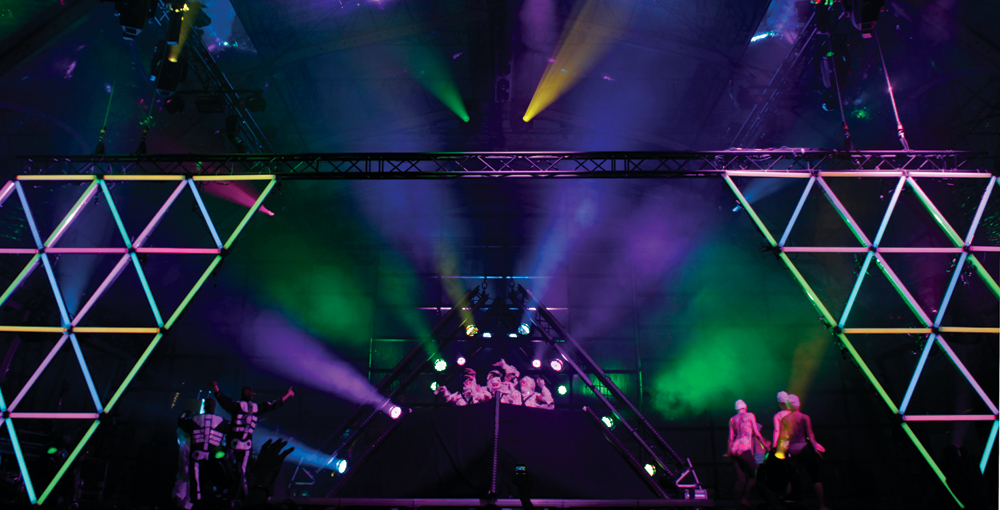 Dominikus Müller
Assistant editor of frieze d/e, based in Berlin, Germany.
The biggest musical event of 2011 wasn't an album or a band, or even a new style. It was a book: Retromania: Pop Culture's Addiction to its Own Past, by Simon Reynolds. According to the LA-based British critic, today's pop culture is imprisoned in the loop of history, thus completely destroying its capacity for innovation and deviance. While Reynolds certainly has a point, maybe 'retro' is too general a buzzword, in that it obscures other phenomena – especially those that are based on the principle of copying, of repetition and reference,but without being merely backward-looking or nostalgic.
One need only think of the controversy surrounding the video for 'Countdown', the third single from Beyoncé's album 4.The song itself could easily be classified as retro, on account of its Boyz II Men sample from 1991 and the 'Killing Me Softly' reference in the lyrics – not to mention the video, with its style clichés à la Audrey Hepburn, Monica Vitti or Diana Ross. Directed by Adria Petty, the video caused a stir due to a different kind of quotation: it openly borrows from performances by Belgian choreographer Anne Teresa de Keersmaeker, specifically the filmed versions of her pieces Rosas danst Rosas (1997) and Achterland (1994). De Keersmaeker accused Beyoncé of violating her intellectual property rights. The matter did not go to court, however, perhaps because the gestures the choreographer claimed as her own – rolling on the floor, wiping hair out of one's face, swivelling one's head or letting it fall forward – are simple everyday movements. Nonetheless, the charge of plagiarism had been raised, and with it the question of whether movements can be copyrighted.
In May 2011, Beyoncé faced similar charges over the elaborate stage presentation for the single 'Run the World (Girls)' (which, incidentally, is based on extensive sampling of Major Lazer's 2009 single 'Pon de Floor'): the interactive setting and the animations for the performance resembled elements found in a stage show by the Italian dancer, singer and actress Lorella Cuccarini. As these cases reveal, 'copying' is particularly controversial at the moment, not so much in the music but its performance – the live show, or even individual dance steps.
Another instance of this shift could be observed in July, when Hamburg-based Henning Besser (a.k.a. DJ Phono) presented his 'DJ Phono Plays Daft Punk' project on a large open-air stage in Berlin. For this gig, Besser copied an entire Daft Punk concert – to be precise, a concert from the 2007 'Alive' tour, including the stage set, light show and LED projections. The music was pre-recorded and the show was based on footage of the original event gleaned frommobile phone videos and YouTube clips.
In Retromania, Reynolds describes re-enactments of entire concerts at the ICA in London: from Iain Forsyth and Jane Pollard's 1998 re-creation of David Bowie's farewell Ziggy Stardust concert from 1973, to the 2007 re-enactment by the British artist Jo Mitchell of Einstürzende Neubauten's Concerto for Voice & Machinery II. This performance was restaged – including the riots that accompanied it – in exactly the same space where the original had been held in 1984. Although the similarities are striking, 'DJ Phono Plays Daft Punk' stands apart from such re-enactments, by not focusing (as they do) on the meticulous repetition of past events deemed relevant and considered 'authentic'. Similarly to Richard Prince's use of advertising photographs from the early 1980s, in the case of Besser, the raw material is already markedly non-authentic and contrived. The main subject of the performance (a cross between a musical, a parody and a tribute concert) was the principle of the show itself, the 'live experience' – thus rendering absurd the music industry's last remaining guarantor of profitably marketable 'authenticity'.
Besser's appropriation was barely distinguishable from a real Daft Punk concert, and when snippets of the fake gig in Berlin turned up on YouTube – some tagged 'Daft Punk @ Tempelhof Berlin' – the process had come full circle. Only once, in the middle of the show, did Besser break with his slavish faithfulness to the work: a group of non-professional dancers took to the stage – dressed as robots, swimmers and skeletons – to recreate the video for Daft Punk's 1997 single 'Around the World'. Instead of perfectly choreographed steps, there was amateurish fun; instead of accurate imitation, an obvious departure from the original. The copy became visible as a copy.
This insertion could be read as a reference to the popular YouTube meme for which girls, mostly scantily clad and often pretending to be robots, write the lyrics to Daft Punk's 'Harder, Better, Faster,Stronger' (2001) on their bodies and dance to the song with varying degrees of choreographic perfection. Thus the mechanisms of an online copy culture based on fandom were applied in a live setting. Perhaps in 2011, copying finally became the predominant cultural technique – and pop a culture of versions, speaking more of the need for appropriative imitation and less of an attempt to bring back the 'genuine' and the 'authentic' of days gone by. Beyond retro, there's a whole lotta repro.
Translated by Nicholas Grindell
Geeta Dayal
Author of Another Green World (Continuum, 2009) and currently working on a new book about electronic music.
In 2011, music seemed beside the point. The energy centre in culture shifted, radically, to politics – from the Arab Spring to the burgeoning Occupy Wall Street movement. I made several visits to New York's Zuccotti Park, as well as to Occupy Boston, which galvanized hundreds of peoplein a normally sleepy city. The occupiers weren't just grizzled activists – they were university students, taxi drivers, scientists, teachers. One night, I watched as nearly 150 peaceful protesters were arrested, in a sneak attack – the most arrests in Boston in one day since the Vietnam War protests in 1968.
The music that worked for me in 2011 was at least somewhat confrontational. On a visit to London in November, I stumbled upon a wave of massive student protests, and watched as they reached their bitter, predictable conclusion. A sound-system in the distance blasted dark drum & bass, grime and dubstep, as riot police surrounded the protesters. The apocalyptic, bass-heavy soundtrack made sense. One of my favourite mixes of 2011, by JD Twitch of Optimo, was Bass and Bleeps 1990–2011, which connected old-school Sheffield bleep'n'bass – the ominous tones of Unique 3's Thatcher-era classic 'The Theme' (1989), for instance – to new records released in the UK this year.
On a recent visit to Berlin, I found myself losing interest in techno; a strange thing, as I've spent half my life immersed in this music. London seemed charged with a sense of urgency, politically and musically, but Berlin no longer felt like a hotbed of musical innovation. The city's fortunes are rising, prices are up and the international 'EasyJetset' floods the city each weekend. House music and techno feel comfortable. You expect it in Berlin the way you'd expect indoor plumbing, or a cup of coffee in the morning. My friends who once paid 300 euros a month for massive apartments in Mitte, or who lived in squats in Friedrichshain, now pay rents comparable to the going rates in Chicago or Seattle.
I spent my time in Berlin inspired by a different seam of the city's culture – the 'Echtzeitmusik' scene of experimental musicians. In a shopfront in Neukölln, I watched two musicians improvise in a basement, for a crowd of about ten people. A mass of wires, synths and candles covered the concrete floor. Drinks were sold on a card table for a euro each. This was the city I remembered.
Electronic music in 2011 was still full of welcome surprises. But many of the best records were abstract synthesizer music. Spectrum Spools, a new Editions Mego sub-label launched by John Elliott of Emeralds, had a strong debut this year, with several remarkable releases. Among the best were two albums by the electronic producer Chris Madak, otherwise known as Bee Mask: Canzoni dal Laboratorio del Silenzio Cosmico and Elegy for Beach Friday. Also of note is Oneohtrix Point Never's sweeping, dramatic Replica, composed using low-fi samples from 1980s television commercials.
Rock had a good year in 2011, with notable albums like PJ Harvey's Let England Shake, Radiohead's The King of Limbs and Wild Flag's eponymous debut. Group Doueh, a rock band from the Western Sahara championed by the Sublime Frequencies label, was another revelation. One of the most enjoyable albums of the year was the Detroit garage-rock band The Dirtbombs' collection of tributes to Detroit techno classics, Party Store. The album is uneven, but a cover of A Number of Names' classic 'Sharevari' (1982), which amps up the robotic, sinister vibe of the original to almost hilarious levels, is worth the asking-price alone.
Gang Gang Dance's remarkable Eye Contact sounded like an album Kate Bush could have made; Lizzi Bougatsos, the band's frontwoman, sounds more than a bit like 1980s Kate backed by a strange soup of vaguely ethnic and psychedelic influences. A few reissues in 2011 dovetailed into this, most notably Popol Vuh: Revisited and Remixed, a double-disc set of 'greatest hits' and remixes of the crypto-mystical krautrockers.
Dance music was full of small pleasures, from Portable's finely wrought house music on Into Infinity to Andy Stott's murky, slowed-down take on techno, Passed Me By. The Los Angeles label 100% Silk, centrepiece of what some are terming the 'hipster house' genre, received tremendous hype, but hasn't quite delivered the goods as of yet. At worst, the music seems like an empty pastiche of vintage techno and Chicago house circa 1986; but sometimes, as with tracks like Octo Octa's 'I'm Trying' or Innergaze's 'Shadow Disco', the results feel inspired.
At the end of 2011 the political situation in the US showed no signs of improvement. The Occupy movement continues to escalate. The image of a cop using pepper spray on a student protest at UC Davis, California, rapidly spread throughout the world. A friend noted that the image resembled a hardcore punk album cover from the 1980s. The world political situation, too, seems to eerily reflect the '80s – Wall Street greed, nuclear disasters, Libya, the widening income gap. Perhaps music will become more pointed, more aggressive. One can only hope.