Featured in
Celebrating 40 years of La Monte Young and Marian Zazeela's Dream House
The long-running installation for sound and light dates back to a particular period in downtown New York
The Dream House, a long-running installation for sound and light, made by La Monte Young, who turns 80 this year, and Marian Zazeela, which works to blot out or at least bewilder perspectives of time, dates back to a particular period in downtown New York. Though ideas for it originated in 1962, and numerous early iterations followed, the story of Dream House in its current context begins, for the most part, in SoHo in 1975. There, in an upstart art scene going out of its way to go out of its way, the concept fully took hold at the first and only Dream Festival, a two-month series of musical happenings that continues to reverberate today.
It was the initial public offering of the Dia Art Foundation, which had been established a year earlier for the sake of 'projects that cannot obtain sponsorship or support from other public or private sources because of their nature or scale.' Other such projects would soon come to fruition: a presentation of performance pieces by Robert Whitman in 1976 and, in a surge of activity in 1977, works including Walter De Maria's The New York Earth Room and The Lightning Field, Dan Flavin's illumination of a number of train platforms at Grand Central Station, and the installation of Max Neuhaus's underground sound-art piece Times Square.
But first came the ambitions of Young and Zazeela, whose devotion to long durations and states of permanence remain part of the Dia ideal. The original Dream Festival featured music by like-minded composers including Jon Hassell, Richard Maxfield, Pandit Pran Nath and Terry Riley. But central to it all was the American premiere of Young's momentous minimalist composition The Well-Tuned Piano and, with Zazeela's multimedia aid, the setting itself: a 'dream house' in which mesmerizing microtonal sound would play continuously, expectantly, even catalytically.
The Dream Festival was held at 141 Wooster Street, which in its pre-Dia guise as Heiner Friedrich Inc. hosted gallery shows by Donald Judd and Blinky Palermo. (Now the space is devoted, as it has been for decades, to the 140 tons of dark-brown dirt that make up De Maria's 1977 New York Earth Room.)
After their two-month festival stay, Young and Zazeela moved their operations, at Dia's behest, to a much larger and grander setting in the former home of the New York Mercantile Exchange, where they had an entire building with six floors to devote to their ritualistic practice. With abundant funds from Dia, they had a staff of more than 20, including archivists and engineers, at their disposal. Drones emanated throughout the space, created using electronic instruments as well as tamburas tuned by the Indian guru Pran Nath, an eccentric presence known to some as 'The Holy Stroller' for the way he seemed to float when he walked.
The space flourished for six years, before a crash in the oil market brought many of Dia's more expensive habits to a halt in 1985. Activities turned then to Young and Zazeela's loft in nearby TriBeCa, where they set up an emblematic Dream House, smaller but home-like, with white carpet, white cushions and magenta light. It defined the concept for those who have come to know it ever since. The space opened in 1993, and its monolithic speakers have now played the same electronic drone composition, with piercing high tones and pulsing bass notes, for more than 22 years.
Another Dream House was born this year when Dia acquired and installed, from June to October, a new variation in a vacant building it maintains in the gallery district in Chelsea. Part of the idea was to mark four decades since the Dream Festival, as well as noteworthy birthdays for both Young, who turned 80, and Zazeela, who celebrated her 75th. Visitors could take in the Dream House on its immersive terms: enter in a hush, remove shoes, find a place on the floor, and lie down to absorb the loudly pulsing, droning sound.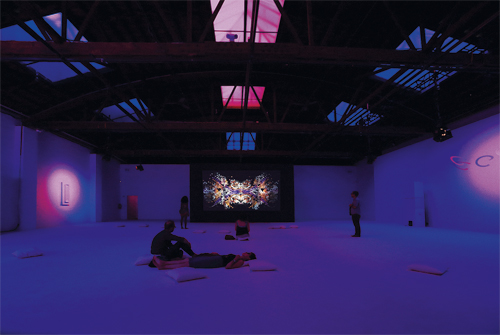 The setting was much the same as the smaller Dream House, which is still in operation downtown, with Zazeela's optical sculptures (3d wall pieces and hanging mobiles that cast shadows) awash in a magenta light, composed of filtered red and blue. A new sculptural addition, a large 'light point drawing' box containing thousands of meticulously poked holes and gently cycling colours inside, represented the increasing role in the enterprise for Jung Hee Choi, creator of the piece and a disciple of Young and Zazeela since 1999. Choi's additional sounds added to Young's base electronic composition, with both works using minutely tuned intervals that produce different results with even the slightest change in a listener's position in the room, and are anything but immaterial in their effects. The sound is palpable, navigable, immersive.
'Sound is God. The universe began with a vibration,' Young told me of the nature of the work. 'I consider myself an American mystic,' he declared, citing spiritual allegiances to Hinduism, Sufism and vestiges of the Mormonism of his youth. All figure into Young's lifelong interest in sustained tones, which could be heard in compositions revived for occasional live performances in the new Dream House. The programme included an updated and expanded Trio for Strings (1958), which many cite as the first masterwork of musical minimalism, as well as a magisterial ensemble performance of The Melodic Version (1984) of The Second Dream of the High-Tension Line Stepdown Transformer from The Four Dreams of China (1962), for cello and muted trumpet. Also on the performance programme were Zazeela's historic 1960s multimedia projection work Ornamental Lightyears Tracery and vocal-trio pieces sung by Choi, Young and Zazeela. These included invocations of Pran Nath and raga singing over Choi's own electronic work Tonecycle Base 30 Hz, 2:3:7 Vocal Version with 4:3 and 7:6 (2012).
Numbers of the sort in that last title figure into many musical matters in the Dream House sphere, referring to mathematical ratios, with a suggestive sense of numerology at play. Numbers here are less simple figures and more talismans with occult significance. The work of Young, Zazeela and Choi is consumed by infinity in its simultaneously expansive and reducible forms, charting the space between big and small – divining grand statements from details within the details.
'How often do you get a chance to study continuity, a chance to study time?' Young said of the Dream House. 'All people know is variety, like a variety show – bring on this one, bring on the next, titillation … There's no end to it. Nothing is ever serious and for real and developed and evolved.'
At home in his loft below the TriBeCa Dream House – still open to visitors – Young looked back to the project's beginnings. 'I was surprised that anybody ever understood my work in my lifetime because it was so far ahead of its time and so unrelated to what the conventional man thinks and cares about,' he said.
He spoke of studying raga and microtonal sound with the late Pran Nath – his guru for 26 years on a course of study that is said to take three lifetimes to complete. Of the wisdom he and Zazeela gleaned, little came from direct questioning, Young suggested. 'We were never allowed to ask our teacher questions unless he invited it.' That dynamic, however, has since come in for a change. 'Modern gurus', Choi was pleased to point out, 'accept questions from time to time.'