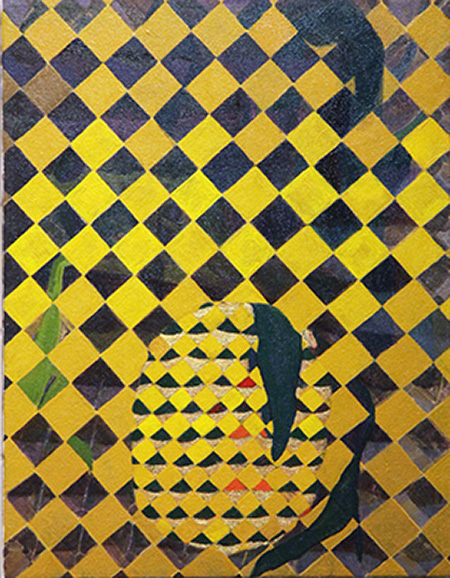 In his poem 'The Whitsun Weddings' (1964), Philip Larkin describes newly married couples on the train to London, sharing the beginning of a journey in more than one sense. Travelling to Kyoto during Japan's national summer holiday, I was reminded of Larkin's words. On holiday leave, couples reunited after working remotely or unsociably long hours hold hands on the train, smiling at the novelty. No doubt we've all experienced long-distance, Skype-mediated relationships of some kind or another. So, my journey seemed charged with intimacy.
It was appropriate timing to visit an exhibition titled 'New Intimacies', featuring new work made by eight couples – all artists, gallerists or curators – shown in the lobby-cum-gallery of a boutique hotel in central Kyoto. Still thinking back to Larkin and the tradition he evokes, I wondered what could be 'new' about intimacy. I was none the wiser listening to the audio guide composed by one of the participating couples, gallerists Jeffrey and Misako Rosen. LeAnn Rimes's song 'Some Say Love' played as the partnerships were introduced in the style of a television dating show. It all felt a bit sappy. But, then again, the exhibition's Japanese subtitle read 'too intimate', and I was, after all, in a hotel lobby: a threshold between private and public, a classic starting point for romantic weekends. 'Some say love, it is a river …' But not me, the song seems to say, continuously using the clichés it supposedly rejects. The song plays it both ways – as did this exhibition. The curators (Kazuhito Tanaka and Kaoru Kan, both artists whose paintings were also featured) oscillated between indulging in romantic conventions and poking fun at them.
For all but two of the couples, 'New Intimacies' marked their first collaboration. Fumio Inoue and Ayako Nagata's Instruction to Hold Hands (all works 2014) took first encounters as its starting point, documenting a directive given to strangers who had arrived at the hotel sometime before the exhibition opened. They were paired up and told to wander around Kyoto hand in hand. A drawing displayed alongside the instructions heightened the formality of this exercise; it depicted the moment in 1984 when François Mitterrand held the hand of his German counterpart, Helmut Kohl, in a gesture of choreographed diplomacy.
Instructions also accompanied New York-based couple Ei Arakawa and Sergei Tcherepnin's sound piece, Licking at Listening. Viewers paired up at either end of a brass sheet shaped like a tongue, which had a microphone attached to it. By moving the sheet, they could manipulate the droning noise produced. Also audible was a recording reminiscent of a relationship therapist, instructing them to 'go slowly, bend, bend …'
Other pieces had a more playful warmth: while temporarily relocated to Osaka, curator Mizuki Takagi posted drawings to her partner, the artist Kazuyuki Takezaki. By way of reply, he sliced and reconfigured them into collages and a paper chain. His reception, selection and interpretation embody a relationship where ideas are shared and tangents taken, across the studio, supper-table or via Skype.
One of the most intimate pieces in the show was A page from Jeffrey's Karaoke Notes. On moving to Japan, Jeffrey Rosen could not read Japanese, but was required to participate in obligatory karaoke with co-workers. Using Western script, his wife typed phonetic lyrics for Japanese love songs so that he could sing them. Though not originally intended as an artwork, this piece distils a couple's negotiations with conformity (work-dos, love songs) and compromises.
Relocating to join a partner also provided the context of Yuki Kimura and Q Takeki Maeda's contribution, initially produced as a wedding present for a friend. Soon to join his wife on a Japanese island, the friend was given a delicate hanging sculpture made from lucky charms (Gift/Milagro), a shimmering painting of a pineapple (Gift/Golden Ananas) and a farewell letter (text). Each gift contains a subtle reminder that married life is not all rosy: charms as 'mirages' and a pineapple resembling a trophy, suggesting deceptive appearances. The letter speaks less of romance than the difficulties of island life, with a single convenience store, no hospital (though plenty of art), and centipedes whose bite is said to be lethal. But, though satirical, it ends on a warm note, as does Larkin's poem and, perhaps, the exhibition as a whole. Part of the fun of 'New Intimacies' is its constant negotiation between warmth and satire – resembling, in some respects, what we do in a relationship.