Featured in
Osei Bonsu on Stuart Hall
Hall's understanding of cultural identity allows us to deconstruct and reconstruct who we think we are
If the political events of recent history have taught us anything about cultural identity, it is that the answer to the question of who we are differs radically, depending on who you ask. For some, it remains the unbroken continuum of a common history beneath our differences and languages, while others may concede that we live in a post-identarian reality in which the unending fusion of difference negates the need for cultural identification. In his 1996 essay 'Cultural Identity and Diaspora', the theorist Stuart Hall argued that cultural identity is not only a matter a 'being' but of 'becoming', 'belonging as much to the future as it does to the past'. From Hall's perspective, identities undergo constant transformation, transcending time and space. Hall toed the line between intellectual pessimism and ahistorical optimism, all the while resisting an authoritative point of view.
True to his theory, Hall's life was defined by not one but several identities. As the inaugural editor of the New Left Review and chair of the Campaign for Nuclear Disarmament, his writings influenced political action. Later on, as the director of the ground-breaking Centre for Cultural Studies at Birmingham University, he pioneered a model of critical inquiry that shifted theoretical debates across the humanities. Whether it was through his television broadcasts for the Open University, where he was a professor of sociology from 1979 to 1997, or speaking at London's Institute of Contemporary Arts, Hall's engagement with the visual arts was emboldened by a generation of black British artists with whom he shared a long-lasting dialogue.
Immortalized in John Akomfrah's film works, The Unfinished Conversation (2012) and The Stuart Hall Project (2013), Hall is seen not only as an intellectual who bears witness to his era of historical change, but as one whose interventions contributed towards social transformation. Assembled from an archive of his numerous television and radio appearances, Akomfrah's films reveal Hall's forward-thinking understanding of the signifying power of modern communications. Writing from the precipice of a turbulent era in British politics, he asked questions that continue to echo long after his passing, calling forth responses from subsequent generations of thinkers, writers and artists.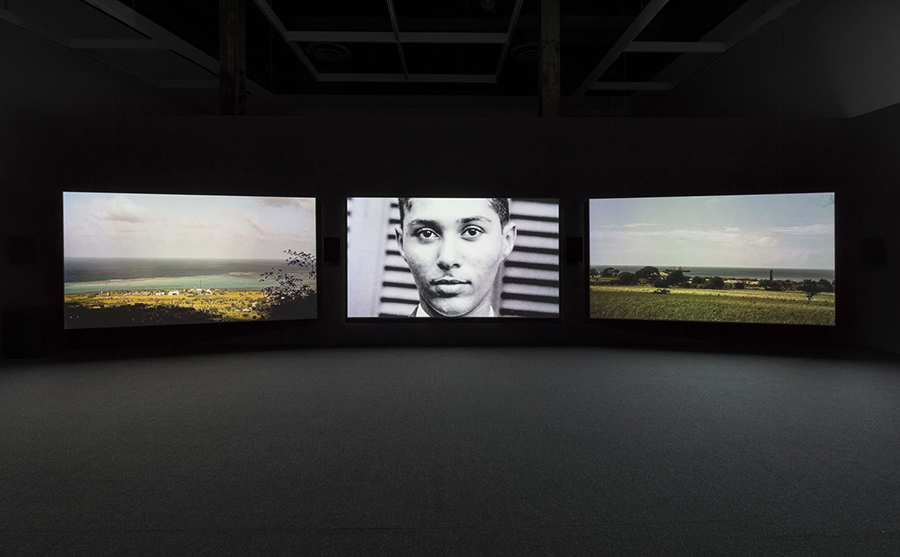 For the second generation of black British artists who emerged during the decade between Enoch Powell's 1968 anti-immigration speeches and Margaret Thatcher's 1979 election victory, the issue of representation played a decisive role. In his writings on visual culture, Hall demonstrated how the politics of race and its representation are articulated in the social production of cultural identities. His attention to the cut-and-mix montage strategies of the Black Audio Film Collective and the Sankofa Film and Video Collective were a response to the medium's ability to unfix prevailing codes of representation that called into question our accepted reality. While such art and ideas have since gained a global visibility that no one could have foreseen at the time of the 1981 race riots, the cultural identities informing those experiences remain open to re-articulation, recontextualization and transformation.
Hall's approach to contemporary art allowed him not only to reflect on his own journey from colonial Jamaica to post-Empire Britain – where he arrived in 1951 at the age of 19 – but to enter an intellectual exchange. In this sense, Hall brought questions to the field of visual arts that pushed the limitation of art history's Western foundations, enlivening our awareness that identity is a matter of becoming and opening fresh possibilities for understanding culture critically. Refusing determinist notions of culture, Hall's understanding of how categories of class, race and gender conjoin to produce discursive cultural identities continues to allow us to think of the world differently; a cause of optimism not for a utopian world, but for a critical intervention in the here and now. In our contemporary juncture of rising nationalist politics fuelled by segregationist ideologies, the notion that cultural identities are not innate or fixed but open to modification by interruptive forces with the potential to deconstruct and reconstruct exactly who we think we are.