In Pictures: The Defiant Art of the Protest Poster
A new book by Amnesty International documents how protest posters have changed throughout history
'The political slogan, the poster, and the sign or symbol of a movement speak the voice of an individual but capture the voice of the many', writes Anish Kapoor in the introduction to The Art of Protest (2019), a new book written by Jo Rippon and produced in collaboration with Amnesty International, published by Palazzo Editions. These art forms have the power to rally a group around a simple phrase or affective image, pithily spreading a message of defiance against power in its many guises.
Protest art has existed throughout history, but in recent years the art form has exploded, with posters made to accompany all manner of marches and movements from the Suffragettes's cause to Black Lives Matter. The Art of Protest (2019) collates a selection of posters and tells the stories of their groups' struggles.
Is Colorado in America (c. 1904) was created by the Western Federation of Miners (WFM) during a series of strikes by gold and silver miners known as the Colorado labour wars (1903­-4). One of the poster's co-signers, the president of the WFM Charles Moyer, was arrested on the charge of flag desecration for using the American flag as a backdrop to text outlining human rights abuses committed by Colorado mine-owners.
Suffrage Atelier was an artist collective formed in 1909 to promote the women's movement. The group ran printing workshops and encouraged its members to submit their designs for use in their campaign for suffrage. What a woman may be and yet not have the vote (1913) succinctly illustrates the hypocrisy of withholding the vote from women.
Daddy, what did YOU do in the Climate War? (2017) translates a notorious WWI recruitment poster to the present day, replacing historic concerns with the present threat of climate crisis. This poster was made specially for the People's Climate March in 2017 in protest of US president Trump's handling of environmental issues.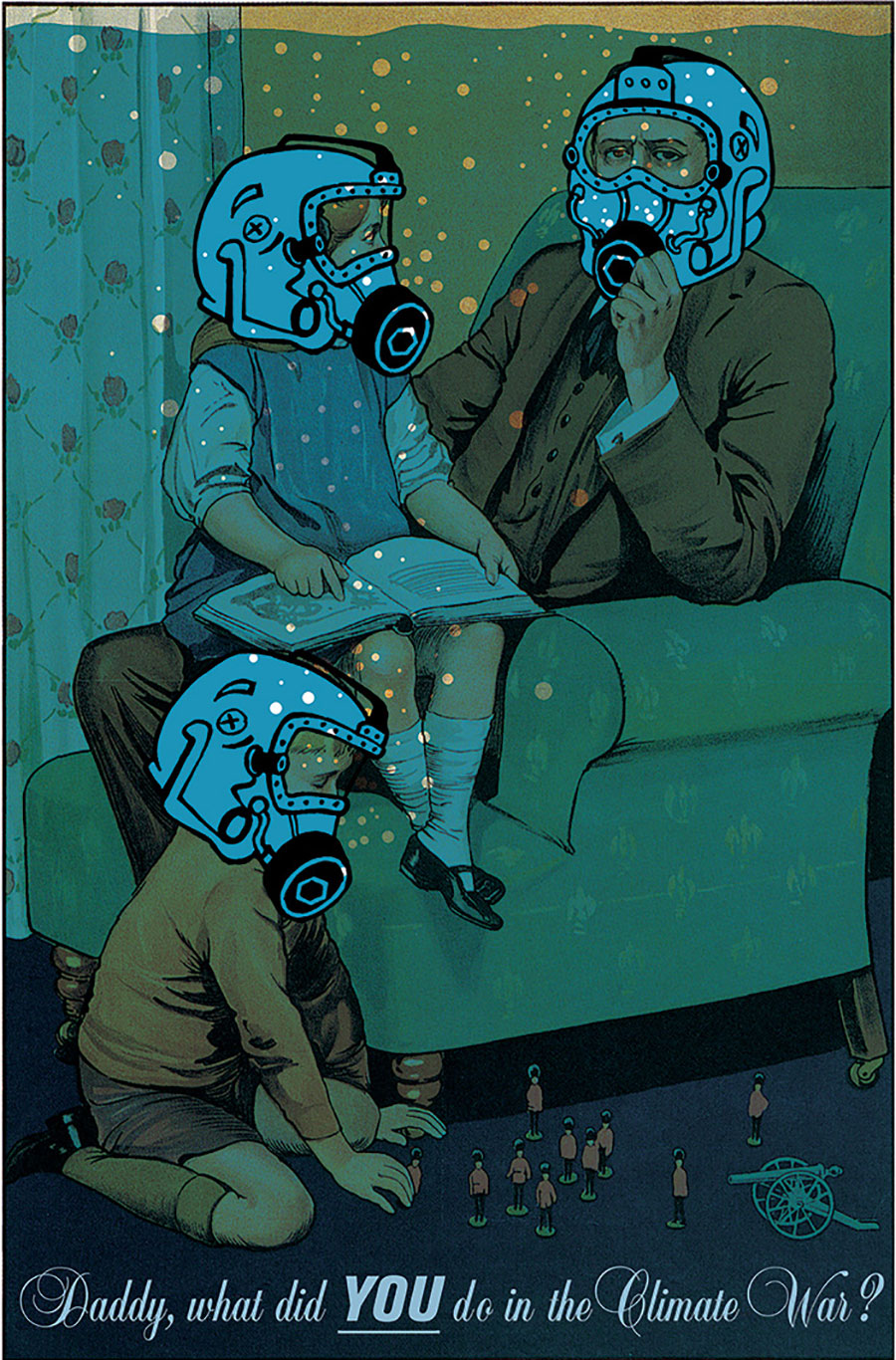 Artist Micah Bazant was commissioned to design Protect Kids Not Guns (2018) for March for Our Lives, a demonstration in support of increased gun controls in the United States. The march, which was attended by as many as two million people across 800 events, followed a school shooting at Marjory Stoneman Douglas High School in February 2018.
The Art of Protest (2019) will be published by Palazzo Editions in November 2019
Main image: Josh MacPhee, Justseeds, Daddy, what did YOU do in the Climate War?, 2017. Courtesy: Josh MacPhee/justseeds.org