In Profile: Bisi Silva
The independent curator on 25 years in the arts
There is a lot to talk about with Bisi Silva, the founding director and curator of the Centre for Contemporary Art (CCA), Lagos. There are the numerous exhibitions she has curated, such as 'Democrazy' (2007–08); 'Jide Alakija: Owambe, Aso-Ebi and the Politics of Dress' (2011);'Kelani Abass If I can save time' (2016–17); 'Playing with Chance: El Anatsui' (2014); as well as group exhibitions such as 'Like a Virgin' with Lucy Azubuike and Zanele Muholi. Travelling shows such as 'The Progress of Love' (2012), a transatlantic exhibition exchange between CCA, Lagos, Houston's Menil Collection and the Pulitzer Art Foundation in Missouri which explored 'the changing modes and meanings of love in today's global society' through works by artists from Africa, Europe, and the USA. And, what I suspect is one of her proudest achievements, 'J.D Okhai Ojeikere: Moments of Beauty' which surveyed the work of the late, great Nigerian photographer at the Museum of Contemporary Art, Kiasma, Helsinki in 2011. Then there are the biennials: in 2006, Silva was co-curator of Dak'Art in Senegal and, in 2015 she served as artistic director of the 10th Bamako Encounters in Mali. There is also her Facebook page: part stream of consciousness, part soapbox, she uses it as a platform to highlight not only the work of established artists but those who have been overlooked or forgotten.
However, Silva is arguably best known for her work with the CCA Lagos: a non-profit organization she founded in 2007. Along with its ever-expanding library, the CCA provides an important space for cultural research and scholarship on the African continent. In this sense, Silva's work sits alongside that of Gabi Ngcobo at Centre for Historical Reenactments, Johannesburg, Nana Oforiatta Ayim at ANO, Accra, and Koyo Kouoh at Raw Material, Dakar. It is also from CCA, Lagos that Silva runs the Àsìkò International Art School. This nomadic pedagogical platform travels to countries across Africa, creating dialogues between local and international guest artists, scholars, curators and cultural practitioners in the hope of stimulating critical and conceptual thought at a local level.
Recently I met with Silva to discuss her remarkable 25-year career in the arts.
Houghton Kinsman  How did you initially become interested in curating?
Bisi Silva  It developed organically. My twin interests have always been travel and culture — specifically visual culture. However, as a languages student in France I didn't know much about careers in the arts so I was gearing up to work either as an interpreter or for the diplomatic service. Through either of these channels I believed I could travel around the world and interact with diverse histories, cultures and people. From an early age, it seemed that the visual world – through art and exhibitions – spoke a language that, in the political world, I at times did not grasp. 
HK  So you decided to study curating at the Royal College of Art in London?
BS  After my studies in France, I returned to the UK and volunteered as an arts administrator. (My first position was at the Camden Arts Centre in North London). After three years in the field I realized I wanted to pursue formal studies in arts administration and curating. However, in 1991 there were very few curatorial courses. There was the Bard Curatorial programme in the USA, but it hadn't yet been validated. A friend of mine then told me about the new two-year MA in Visual Arts Administration: Curating and Commissioning of Contemporary Art (the title is telling) which was in its first year at the Royal College of Art (RCA), London. I applied and was accepted in 1993. I remember being told during my interview – as a form of full disclosure – that there was little-to-no focus on African or African diasporic art. I replied, knowingly, that I hadn't expected it to be part of the curriculum. What I was interested in developing was my knowledge of contemporary art, heightening my critical analysis skills, and learning more about the nascent field of curatorial discourse and history. I knew that I would then apply these tools to my interest in contemporary art from the Global South, in particular art from Africa.
HK  What was the focus of your research there?
BS  My research interests at that time focused was on how exhibitions of Black Artists in England were included within mainstream art centres from the 1980s to late 1990s. My thesis – titled 'Black in(Visibility) in the Visual Arts: Looking Back and Moving Forward' – specifically traced the journey of the Black Art Movement from Ethnic Arts in the early 1980s to the New Internationalism of the mid-to-late 1990s. The starting point was a pioneering exhibition at London's Institute of Contemporary Arts: 'The Thin Black Line' (1985) curated by the artist Lubaina Himid (nominated for this year's Turner Prize). The exhibition was important because it was one of the rare occasions in which a mainstream organization was purportedly opening its doors to Black Artists. However, the institution actually marginalized their presence by positioning the work – by around 25 Black women artists – in the corridor and reserving the two main exhibition spaces for solo exhibitions of two white male artists. The exhibition spoke to the way Black and Asian artists were being treated: tolerated but not integrated.
HK  In 2007 you established the Centre for Contemporary Art in Lagos, Nigeria, and then later the Àsìkò International Art School. How did those projects come about?
BS  When I relocated to Lagos in 2002, I couldn't find a space that would allow me to develop this expanded notion of curatorial practice. Most of the galleries were commercial and, as far as I knew, there were no non-profits. Government institutions were moribund and there was no place for young artists interested in experimenting with media other than painting and sculpture. I realized then that I would have to start an organization that supported new artistic and curatorial possibilities.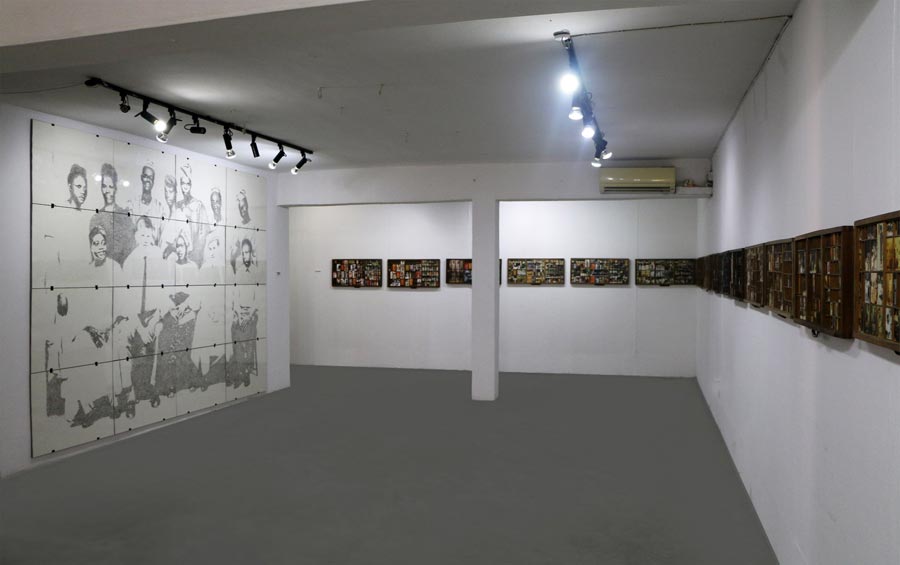 HK  Ugochukwu-Smooth C. Nwezi wrote that in setting up CCA Lagos, you drew on a history of Nigerian independent arts initiatives that includes the Mbari Club – a cultural centre founded in Ibadan by Ulli Beier in 1961 – and the New Culture Centre by Demas Nwoko. Were these important influences on you?
BS  I don't think I was conscious of following in their footsteps at the time, because my education was firmly grounded in precedents set by the diaspora. I was more familiar with events in Europe and North America than I was with Africa, particularly the exhibitions mounted by people like Rasheed Araeen, Eddie Chambers, and Shaheen Merali in the UK and Kellie Jones and Thelma Golden in the US. That said the activities of my predecessors are very important when one considers the position of CCA, Lagos over the past decade. The platform created by an initiative such as Mbari was key because it was a space where Nigerians and their African colleagues could speak of their own history, culture and realities. One of the most impressive initiatives that I have seen is the New Culture Centre set up in the 1970s by artist Demas Nwoko. When one considers the vision of this initiative in particular, especially in terms of his and his family's resolve to complete it, it stands as a testament to what was, and still is, possible when creating spaces of self-representation.
HK  Did it feel necessary to expand on and then break away from these achievements?
BS  Every space is of its time. I think that the obstacles and challenges these initiatives faced, such as the lack of government interest or corporate sponsorship (both of which are still in short supply today), did not allow them to fully realize their ambitious vision. Therefore, I think a space like CCA, Lagos can be considered a continuation more than an expansion of what they did because we still need those spaces of identification. Nigeria still has no Museum of Contemporary or Modern Art nor solid institutions which allow visual arts to grow.
HK  The Àsìkò International Art School seems like a pertinent example of how you both continued this tradition and broke away from it. Why is education so important to you?
BS  The gaps in the art education system are jarring. While I would say that west Africa, in particular Nigeria, is more fortunate than other African countries in being able to offer several art education possibilities at tertiary level, that provision remains anachronistic: a colonial relic out of tune with present day contextual, stylistic and intellectual realities. It's a very frustrating situation.
HK  Why did you choose to adopt an interdisciplinary, nomadic and collaborative model for Àsìkò?
BS  How can and do we move forward without the appropriate tools and systems for acquiring and disseminating knowledge? The same impetus that drove the founding of an art library at CCA, Lagos, was the catalyst for Àsìkò: to give access to information that could lead to meaningful dialogue, exchange and collaboration. Until recently intra-Africa collaborations were few and far between due to astronomical travel costs and few funding avenues. Therefore, after the first two editions of Àsìkò, which were held in Lagos, we recognized that we had to find ways of engaging other regions on the continent. We organized the countries we would visit on the basis of their colonial history — from the Anglophone (Accra 2013), Francophone (Dakar 2014), and Lusophone (Maputo 2015). In 2016 Addis Ababa in Ethiopia, was the most appropriate location as Ethiopia is the only country in Africa not to be colonized and is the current seat of the African Union. In the six editions so far, we have engaged up to 80 participants from approximately 15 African countries, with an almost equivalent number of international faculty.
HK  Àsìkò is somehow simultaneously local and global, and I feel as though the same can be said both of the CCA and of your own curatorial practice which has seen you work across the continent and internationally. Do these distinct spheres bleed into each other?
BS  I have been able to work and move almost seamlessly between these two possibilities, the local and the global. As we know it has been a long and difficult trajectory for contemporary African art to position itself on its own terms globally. What has been understood as contemporary African art has been articulated from a Western as well as a diasporean perspective and at its worst it has had a tenuous engagement with the local context. My work takes me to several countries across Africa and gives me the opportunity to embed myself in the diverse local cultural, artistic and social contexts for extended and at times repeated visits. Àsìkò has been one of the important ways to engage across the continent.
Our collaborations with international curators and institutions such as with Tate Modern, Kiasma, Museum of Contemporary Art, Helsinki, the Menil Collection in Houston and Pulitzer Foundation in Missouri have provided the opportunity to extend and exchange knowledge and experiences in a mutually beneficially way.
HK  Working this way have you noticed a maturing of your themes over your 25 years as a curator?
BS  For most of my career I focused on working with emerging and mid-career artists – especially my contemporaries. This meant that I wasn't able to work as much with older artists, many of whom have been too little studied and exhibited. As these artists get older, as they begin to pass on, the need to work with them becomes more urgent. This became all the more apparent over the five years I worked with Ojeikere on the first comprehensive monograph of his work. I had to research photographers that practised before him, on whom little or no published material is available, and this led to interesting discoveries. I have also acquired the professional maturity to embark on difficult, long-term, research-driven projects in a context where the support structures may not exist.
HK  Finally, what are you working on currently?
BS  I am currently reading Fantasies of the Library (2016), edited by Anna-Sophie Springer and Etienne Turpin. It is a collection of essays exploring the notion of 'the library as a curatorial space,' an idea I am looking at as the starting point for our research, writing and publishing initiatives at the CCA. For our library we continue to collect great material – books, journals, magazines, videos and other ephemera. I am increasingly interested in artists' books. I've been following the work of artists who have made projects in this field such as Leo Asemota, Otobong Nkanga and Thierry Oussou. I am fascinated by the work of Shubigi Rao, especially her book Pulp: A short Biography of The Banished Book (2016). I also think Abigail Reynolds' project The Ruins of Time: Lost Libraries of the Silk Road is incredible. I hope I can invite her to give a talk one day.
I have also started research for a possible major monograph on the octogenarian Nigerian artist Demas Nwoko, one of the founding members of the group of artists collectively known as the Zaria Art Rebels with Jimoh Akolo, Yusuf Grillo, Uche Okeke, Bruce Onobrakpeya and Jimoh Akolo amongst others. Lastly I intend to develop a 3–5 year curatorial research project on the history of Nigerian women artists starting with artists such as Theresa Luck Akinwale, Afi Ekong, Clara Etso Ugbodaga-Ngu and Colette Omogbai, some of whom are alive but others who are no longer with us. Few publications on Nigerian art have more than cursory information on these pioneering women, most of whom, from what I've been able to discover, were extremely active in their time.
Bisi Silva is an independent curator and the director of the Centre for Contemporary Art, Lagos. Curated shows include 'Democrazy' comprising 3 solo exhibitions with Ghariokwu Lemi, Ndidi Dike and George Osodi, (2007–08); 'Jide Alakija: Owambe, Aso-Ebi and the Politics of Dress' (2011); 'Kelani Abass: If I can save time' (2016–17); 'Playing with Chance: El Anatsui' (2014) and the group exhibition 'Like a Virgin' with Lucy Azubuike and Zanele Muholi.
Main image: detail of the CCA, Lagos office. Courtesy: Bisi Silva