Rare Early Lucian Freud Landscape 'Discovered' Under Pub Sign Artist's Painting
With canvases in short supply during the war, an early work by the British painter appears to have been recycled by his friend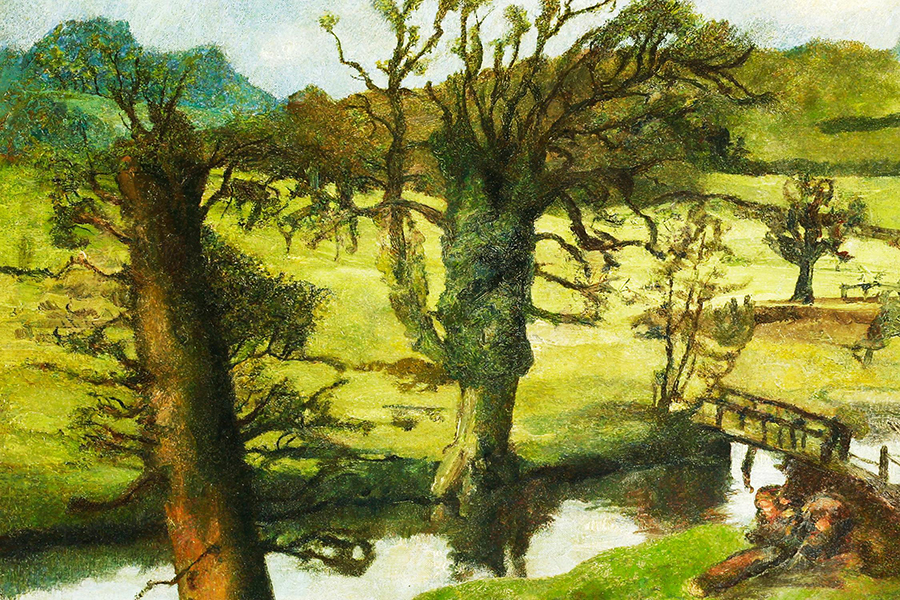 A rare early landscape by the British artist Lucian Freud has been apparently discovered beneath another work by a pub sign artist, Tom Wright. Wright and Freud were wartime friends, and with a shortage of canvases during that period, the former appears to have recycled an artwork left by Freud. The reuse of abandoned art supplies was common practice at the time.
The painting said to be by Freud, Suffolk Landscape with Welsh Mountains Beyond, was revealed by conservators who removed the canvas's first layer of paint – Wright's artwork – with a scalpel. When it goes to auction next week, it is expected to fetch GBP£30,000, The Times reports.
Wright and Freud befriended each other in a Suffolk pub in the 1930s, where Wright was hanging a pub sign. Both later studied together at the East Anglian School of Painting and Drawing in Dedham, where Wright's tuition fees were waived in exchange for his handyman skills. The painting was discovered in the cellar of Wright's widow, artist Elizabeth Bodman, after she passed away in 2015 (Wright died in 1992). The name 'Lucian' on the painting's back led conservators to probe further.
Researchers now suggest that Freud left the work in 1941, and his friend painted over it some five years later. A former Tate Britain senior curator Robert Upstone told The Times: 'I have made comparison with other examples of Freud's writing and the signature is undoubtedly in his hand. That logically and forcefully suggests what lay underneath, whether abandoned or uncompleted, was painted by Freud himself.' But other experts remain in doubt. Toby Treves and Catherine Lampert, co-compilers of a forthcoming Freud catalogue raisonné, told the paper that they could not agree to include the newly discovered artwork at present.
Meanwhile a report in the Antiques Trade Gazette claims that there is evidence of yet another Freud work beneath the recently uncovered landscape – the process used to discover the present landscape revealed another layer of paint. Auctioneers Sworders commented: 'Because it is very likely that Freud painted Suffolk Landscape with Welsh Mountains Beyond, thus himself choosing to paint over whatever lies beneath, clearly the decision to leave the painting as it currently is was inevitable.'
Freud passed away in 2011. The grandson of Sigmund Freud and brother of the broadcaster Clement Freud, he arrived with his family in the the UK in 1933, after fleeing the ascendance of fascism in Germany – not long after the Reichstag fire. He became well known for his naked portraiture and studies of human anatomy, with live models (drawn from all walks of life; the artist refused to use professionals) sitting for Freud in infamously long and arduous sessions. 'I'm only interested in my sitters as animals,' the artist once said. 'I want to use, record and observe particular things about a specific person. I would wish my portraits to be of people, not like them. Not having the look of the sitter, being them. As far as I am concerned, the paint is the person.'