Featured in
Roee Rosen Weaves Troubling Tales
At Kunstmuseum Luzern, the Israeli artist draws on the Jewish tradition of storytelling to disconcerting effect
Among the personal belongings of Russian poet Efim Poplavsky, who fled to Tel Aviv during the late 1990s under an assumed name, was a folio of more than 30 pages of drawings and texts devoted to Vladimir Putin. Discovered by fellow members of the dissident group Buried Alive, after Poplavsky took his own life in a bout of paranoia, the folio was subsequently published as Vladimir's Night (2014) by Israeli artist Roee Rosen. On view as part of Rosen's current retrospective, 'Kafka for Kids & Other Troubling Tales', the document reads as a fairy tale in which a quiet meal enjoyed by the Russian president dissolves into gory torture that eventually leads to Putin's demise. 'Or maybe he's asleep,' reads the last verse, 'Or maybe not. Remember dear, with Vladimir, things are not what they appear.'
The line also holds true for Rosen himself: it transpires that the poet, the dissident group and even the scholar who annotated the text are all figments of the artist's imagination. The series, 'Maxim Komar-Myshkin: Vladimir's Night' (2011–14), is characteristic of Rosen's approach to storytelling. Across nine rooms of Kunstmuseum Luzern, his three-decade practice – comprising films, drawings, paintings and photographs – brings to life entire universes populated with plausible characters that bridge reality and fiction.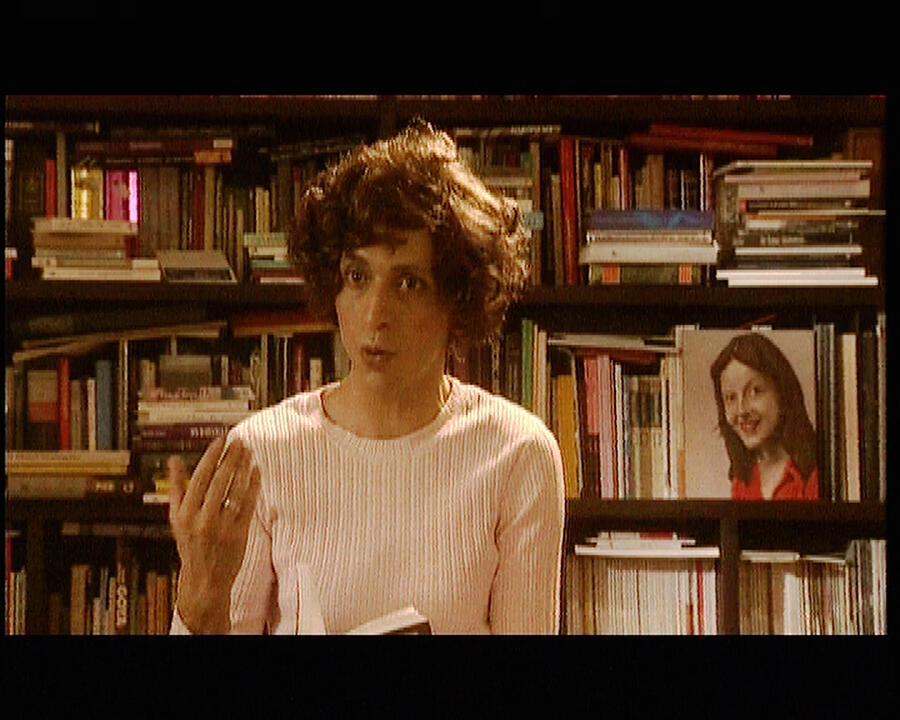 Such is the case with Justine Frank, a maverick Jewish-Belgian surrealist who is remembered through just a handful of photographs, oil paintings and works on paper. Like many of Rosen's characters, Frank embodies the contradiction out of which she was born. The video Two Women and a Man, Joanna Führer-Ha'sfari on Justine Frank (2005) takes the form of a television programme featuring a reclusive cultural critic (not unlike Rosen in drag) reading excerpts of Frank's novel: a blend of explicit female sexuality and Jewish cultural tropes. Also displayed are drawings and gouaches from 'The Stained Portfolio' (1927–28), a series testifying to Frank's anti-Zionist stance in which the Hebrew alphabet is recast as a procession of shapes echoing animals, sexual organs and torture devices.
Rosen draws from the Jewish tradition and, along with it, the culture of storytelling. In this way, his practice thrives not so much in individual works as in moving images and series. The most prominent of these is 'The Blind Merchant' (1989–91), a staggering set of some 150 drawings that feed off William Shakespeare's The Merchant of Venice (c.1596) and present, alongside the original text, a parallel plot from the perspective of its main antagonist, the Jewish moneylender Shylock. Rosen's most recent work, Kafka for Kids (2022), an almost two-hour-long musical comedy, draws on the format of children's television. The story of Gregor Samsa – protagonist of Franz Kafka's Metamorphosis (1915), who is transformed overnight into an insect – dissolves into a display of political animism that questions the very definition of childhood, as the film undergoes its own metamorphosis into a lecture on the treatment of Palestinian youth.
Rosen's practice is one of continuity and transgression. Tapping into classical texts and cultural codes, he dissects the process of narrative-building: from character to genre to, ultimately, authorship, creating works that lead a 'zombie' existence (as he termed it in a recent conversation), which goes beyond the credible and incredible. His recently completed The Standard Edition (2016–22) – a collection of title pages fashioned after those of The Standard Edition of the Complete Psychological Works of Sigmund Freud (1953–74) – is a list of never-written volumes that catalogue the transgressions driving his work, from 'How to Become Several Women' and 'The Kafka Companion to Wellness' to 'Planning the Past' and 'Psycho-Jew'. Troubling tales one and all.
Roee Rosen's 'Kafka for Kids & Other Troubling Tales', is on view at Kunstmuseum Luzern until 5 February.
Main image: Roee Rosen, Kafka for Kids (detail), 2022, video still. Courtesy: © the artist; photo: Goni Riskin