A Slew of Shows Celebrates Surrealist Women
'Fantastic Women', currently on view at Louisiana Museum of Modern Art, Humlebaek, is one of many recent shows revising the art-historical canon
In IMAGO: Méret Oppenheim (1988) – a feature-length portrait of the German-born Swiss artist by Pamela Robertson-Pearce and Anselm Spoerri – Oppenheim (voiced by British actress Glenda Jackson) reflects on her experience within the Surrealist circle of Paris. Having moved to the city from Basel in 1932, at the age of 18, to study painting at the Académie de la Grande Chaumière in Montparnasse, she remembered that: 'For us women, Surrealism represented a world in which we could rebel against the conventions of our upbringing, and in which imagination was a key to a more liberated life […] of course, the dominance of men in the Surrealist group was the same as everywhere else, but with the difference that they accepted women as artists without prejudice.' Struggling to support herself and suffering a crisis of artistic confidence, against the turbulence of pre-war Europe and the rise of Nazism, Oppenheim returned to Switzerland in 1937. She entered an intense period of self-doubt and didn't resume making art until the 1950s. In later interviews, she admitted to feeling then 'as if millennia of discrimination against women were resting on my shoulders, as if embodied in my feelings of inferiority'.[1]
The 'acceptance' of women into male-dominated artistic circles is a complex and nuanced question that has been explored by feminist art historians since the 1970s. The Surrealist movement was founded in Paris by the writer and poet André Breton with the publication of his Manifesto of Surrealism (1924). The Surrealists celebrated the unconscious mind as a means to bypass reason, overthrow the oppressive rules of society and unlock their repressed desires or fantasies. In his second manifesto, written in 1929, Breton declared: 'The problem of woman is the most marvellous and disturbing problem in all the world.' The female form was at the heart of the Surrealist project, and women – regarded as subjects, muses and sex symbols by their male peers – were frequently cast as objects of desire or mystery. In René Magritte's collage I do not see the [woman] hidden in the forest (1929), a nude woman forms the centre of the composition, surrounded by a border comprised of photographs of 16 male Surrealist artists. All of them have their eyes closed. She is a projection of their collective erotic reverie.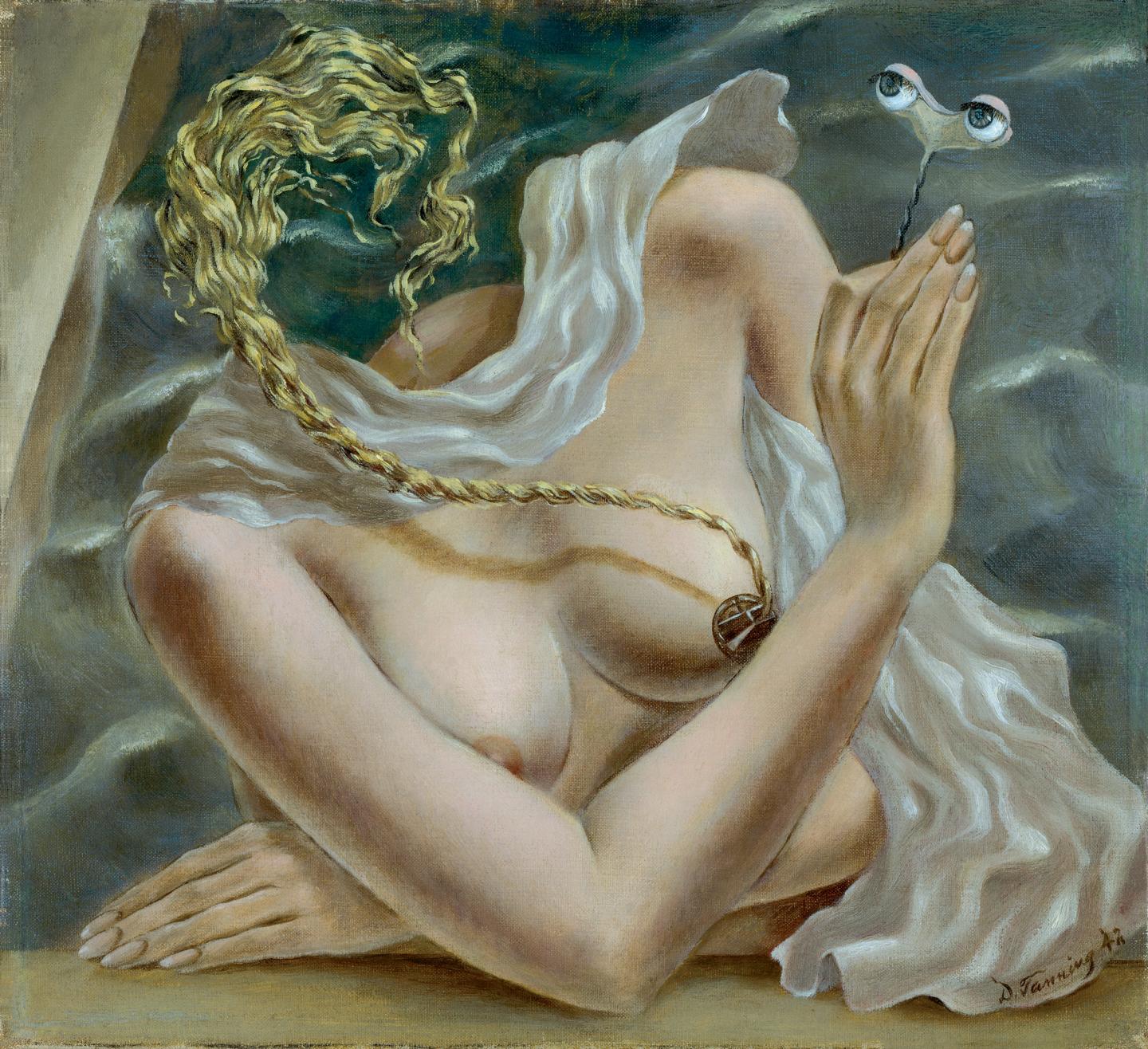 The female Surrealists took these problematic representations in their stride, creating work in reaction to their social conditions and expanding the boundaries of Surrealist iconography in the process. Spirituality, mythology and symbolism drawn from the ancient realm often inspired them. In addition, they parodied or critiqued their 'othered' status, exploring questions surrounding sexual liberation and identity. In her 1998 essay 'Dialogue and Double Allegiance', the academic Susan Suleiman refers to this nuanced, questioning technique as a form of 'double allegiance', with women appropriating misogyny as a way of undermining and destabilizing it. It's a response, in Suleiman's words, that 'involves talking back as well as talking with'.
Oppenheim's famous Object (Breakfast in Fur) (1936) – a teacup, saucer and spoon covered with unidentified animal fur – is indicative of this approach: banal, mass-produced products have been transformed into a monstrous sculpture. In My Nurse, made the same year, Oppenheim bound a pair of high heels in string like prepared poultry or meat on a serving platter. A fascination with unexpected juxtaposition and the uncanny was pre-eminent in much Surrealist experimentation. Object (Breakfast in Fur) became one of the most iconic and quoted Surrealist works. After its initial unveiling as part of Breton's inaugural exhibition of Surrealist art at Galerie Charles Ratton in Paris, Object (Breakfast in Fur) was selected by Alfred H. Barr Jr. for the survey exhibition 'Fantastic Art, Dada, Surrealism' at the Museum of Modern Art, New York, in 1936–37. In 1946, it entered the museum's permanent collection – one of the earliest acquisitions of a work by a woman artist – but it wasn't displayed until 1961. Now, due to its popularity, it's rarely loaned. An Oppenheim retrospective is scheduled at the museum for 2022, in partnership with the Kunstmuseum Bern and the Menil Collection, Houston.
The forthcoming Oppenheim exhibition reflects a recent pattern of institutions holding large-scale touring exhibitions dedicated to women artists connected with Surrealism. In the last five years, retrospectives of Leonora Carrington (Irish Museum of Modern Art, Dublin, 2013 and Tate Liverpool, 2015), Leonor Fini (Museum of Sex, New York, 2018), Dora Maar (Tate Modern, London, 2019) and Dorothea Tanning (Museo Nacional Centro de Arte Reina Sofía, Madrid, 2018) have been staged, while group or themed exhibitions have focused on figures such as the 'gender-neuter' identifying photographer Claude Cahun (National Portrait Gallery, London, 2017), Frida Kahlo (Victoria and Albert Museum, London, 2018) and Lee Miller (Hepworth Museum, Wakefield, 2018). In a segment of archival footage in Female Human Animal (2018), a feature film that blends documentary and fiction that was made in response to the novelist Chloe Aridjis curating the Carrington show at Tate Liverpool, the 80-year-old artist remarks: 'You have to own your soul. To hand it over to some half-arsed man: I wouldn't recommend that.'
This year, the large-scale survey show 'Fantastic Women' – a collaboration between Schirn Kunsthalle, Frankfurt, and the Louisiana Museum of Modern Art, Humlebæk – brought together 260 works by 36 international artists who were directly associated with, or exhibited alongside, Surrealism, including (in addition to those previously mentioned), Nusch Éluard, Jacqueline Lamba, Alice Rahon, Kay Sage and Toyen. In her text on Tanning for the exhibition catalogue, art historian Alyce Mahon quotes the artist's rejection of the phrase 'woman Surrealist': 'You may be a woman and you may be an artist; but the one is a given and the other is you.' Mahon curated the recent Tanning retrospective, which travelled from Reina Sofia to Tate Modern; she was also a curatorial advisor for 'Leonor Fini: Theater of Desire, 1930–90' at the Museum of Sex. Fini exhibited in major Surrealist exhibitions and was friends with numerous members of the group, but she rejected their invitation to officially join the movement because of Breton's misogyny and his perpetuation of the idea of woman as a passive muse.
In her essay for the catalogue, Schirn Kunsthalle curator Ingrid Pfeiffer notes how many of the featured artists were ambivalent about or quickly disassociated themselves from the group and 'objected well into old age to being labelled as Surrealists and, at the same time, to having their work shown in women-only exhibitions'. Both Kahlo and the British artist Eileen Agar spoke about how they were 'told' or 'informed' that they were Surrealist artists by male members of the movement. 'One day I was an artist exploring highly personal combinations of form and content,' Agar commented in response to her inclusion in the 1936 'International Exhibition of Surrealism' at London's New Burlington Galleries, 'and the next I was calmly informed I was a Surrealist.' Similarly, in 1938, Kahlo dryly remarked, 'I never knew I was a Surrealist until André Breton came to Mexico and told me I was one.'
However, Pfeiffer argues that 'even this renunciation involved active engagement with Surrealist ideas and beliefs' and 'though sex and style are, at best, very coarse grids, they help in providing a contextual frame for a comprehensive re-evaluation of a period.' As with other artistic movements, women's access into the Surrealist milieu was typically established via men – as wives, lovers and collaborators. 'Fantastic Women', however, makes the case for a network of female connections and friendships. Oppenheim's circle in Paris included Carrington, Fini and Maar. Maar was friends with Miller and Lamba, who was married (and then divorced) to Breton but was reputed to have had a brief affair with Kahlo. Not that it was all sisterhood: in 1939, Kahlo wrote in a letter to the photographer Nickolas Muray from her trip to Paris: 'I would rather sit on the floor in the market of Toluca and sell tortillas than have anything to do with those "artistic" bitches of Paris.'
Surrealism didn't formally emerge in Britain until the 1936 'International Surrealist Exhibition', in London. 'British Surrealism', at Dulwich Picture Gallery in London earlier this year, presented a survey of the Surrealist influence on British visual culture. A quarter of the works on show were by women, from those closely associated with the movement (Agar, Emmy Bridgewater, Edith Rimmington) to those who operated on the fringes (Marion Adnams) to the outliers who left the group (Grace Pailthorpe, Ithell Colquhoun). Many of the male artists connected to the British Surrealists, such as Paul Nash or Henry Moore, were only briefly involved, whereas the women sustained lifelong and radical engagement with the ideas behind the movement. David Boyd Haycock, the show's curator, notes that it was the women 'who were more daring, both in their personal lives and their art'. Carrington populated her work with ethereal, otherworldly characters and animals inspired by ancient pagan rituals and fairy tales. Agar worked intuitively with found objects, mixed media and collage, revelling in the productive spirit of play. Pailthorpe's ink drawing A Monster with Five Feet (1941), a liminal being with male and female genitalia, demonstrates her interest in 'intellectual hermaphroditism'. Her watercolours, such as Abstract with Eye and Breast (1938), with constellations of sperm and egg motifs, reflect her engagement with psychoanalytic ideas surrounding birth and childhood trauma. The womb-like or intrauterine environments are echoed by Colquhoun's 'Alcove' paintings, from 1946 and 1948, depicting fleshy landscapes, with labial forms in red and pink hues.
Unfortunately, the Dulwich exhibition's brief wall texts meant that the context surrounding women's marginalized position in the movement as well as the complexity of their legacy was obscured. In her essay for the catalogue (a rigorous publication which supplements the scant curatorial narrative), the writer and curator Sacha Llewellyn refers to a letter Colquhoun wrote in 1981 to the editors of the Oxford Art Journal, in which she declared that, among Breton's followers, 'women as human beings tended to be "permitted not required"'. Colquhoun broke from the British Surrealist group in 1940 after refusing to curtail her research into spirituality and the occult. Surrealists were divided on these issues, as they believed in forging a connection to one's own subconscious, rather than with an external, spiritual realm. In 2019, Tate acquired Colquhoun's archive of 5,000 items – including her writing, drawings, sketchbooks and studio materials – from the National Trust. A full-time PhD studentship has been developed in collaboration with the University of Cambridge, in order to further academic research into her practice within the context of Surrealist art and cultural history. The successful candidate will begin work this autumn.
The growing recognition of Surrealist women artists is part of a substantial international drive to revise and broaden the canon, to acknowledge historical prejudice and bias, and to expand collections in terms of both gender parity and global scope. As a result, previously marginalized and underrepresented artists have received critical attention and long-overdue exhibitions. In 2009, Manchester Art Gallery hosted 'Angels of Anarchy', the first comprehensive international exhibition of women artists and Surrealism. When I spoke to the exhibition's curator, Patricia Allmer, she suggested that the sustained curatorial interest in female surrealism 'lies in a generational building up of scholarship and curatorial work by women since the 1970s, [showing] the power of exhibitions to influence public and media perception, and to shift historical and critical narratives towards including a wider, and more fairly representative, range of artists.'
She also noted that 'Angels of Anarchy' 'aroused the attention of collectors by demonstrating there was a strong and mostly untapped appetite' for this genre of work. In tandem with institutional change, the market has played a symbiotic role in the re-evaluation, promotion and value of marginalized or excluded artists. The group show 'Dreamer's Awake' at London's White Cube in 2017 sought to demonstrate how the legacy of an avant-garde female Surrealism inspired a later generation, notably through artistic practices that embraced fragmentation, irony and subversion, creating a lineage that extended to Penny Slinger, Helen Chadwick, Tracey Emin, Mona Hatoum and Kiki Smith, among others.
Another artist included in 'Dreamer's Awake', as a 'neo-Surrealist' and contemporary successor to the genre, was Linder. Her punk approach feels analogous to the avant-garde spirit of the early 20th century. In an essay that accompanied the White Cube exhibition, Mahon drew a comparison between Linder's cover design for The Buzzcocks' 1977 single 'Orgasm Addict' – in which the head of a greased, muscular female body is replaced with an iron and her nipples with grinning mouths – and Magritte's Surrealist perfunctory projection of male desire, The Rape (1934), in which a face is depicted via elements of a woman's naked body: breasts for eyes, a pubis for a mouth and so on. 'Linderism', a five-decade survey of Linder's work, opened at Kettle's Yard in Cambridge this spring. An early work, Untitled (1976), depicts a woman's naked torso balanced in a saucepan, her arms tied back with string. Her head is comprised of a large blender, overlaid with a pair of eyes and red smiling lips, while her gaze drifts coquettishly over to a jar of sausages. In another, made the same year, a couple are shown in an embrace: while the man gazes fondly at his partner, the woman is depicted holding an oversized fork to her glazed and widened eyeballs, as if preparing to use the shiny tines to gouge them out. Eyes are a frequent motif in the work of female Surrealist artists, typically as a metaphor for the act of perception and a confrontational riposte to objectification. Looking at these works, I'm reminded of Oppenheim's pelt-lined teacup and trussed-up high heels from 50 years earlier, and her impulse to disrupt assumptions of women as domestic, docile, desirable. The cutlery becomes a weapon.
'Fantastic Women' runs at Louisiana Museum of Modern Art, Humlebæk, until 8 November 2020.
Main image: Leonor Fini, Chtonian Deity Watching over the Sleep of a Young Man, 1946, oil on canvas, 28 × 41 cm. Courtesy: Weinstein Gallery, San Francisco, and Francis Naumann Gallery, New York/VG Bild-Kunst, Bonn 2020
[1] Bice Curiger, Méret Oppenheim: Defiance in the Face of Freedom, 1989; German original 1982, cited in Delia Gaze, ed., Concise Dictionary of Women Artists, Routledge, New York and London, 2001, p. 530