Featured in
The Troubled History of Quarantine Ships
Jostling cruise ships, migrant dinghies and quarantine boats in the Mediterranean show how much COVID-19 heightened an existing crisis of belonging in Europe
During the 15th century, ships arriving in the Republic of Venice from plague-infested ports were required to sit at anchor for 40 days before docking. The word quarantine comes from quarantena – meaning '40 days' in Italian – which denotes the practice of isolating people for a period of time in order to prevent the spread of disease. In Venice, the quarantine policy was spurred by the bubonic plague, which posed a threat to the powerful city-state's trading might. They used two islands, known as 'lazarets' – Lazzaretto Vecchio and Lazzaretto Nuovo – as offshore centres for managing the quarantine process. The Venetians arguably created the first-ever public health system designed to manage pandemics.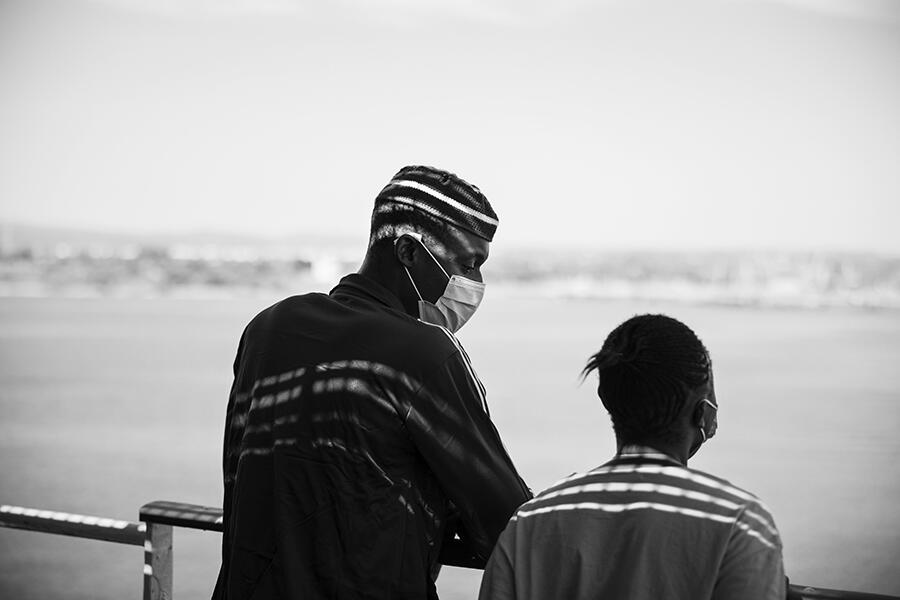 Over the past 600 years, from the 19th-century cholera pandemic to the COVID-19 crisis, quarantine has continued to restrict international movement. Fittingly, Italy was the first European country to re-introduce the measure after becoming an early epicentre for COVID-19 on the continent: in April 2020, the Italian government passed a decree that required migrants rescued at sea to quarantine on ships before docking in ports. Italian authorities refashioned cruise ships – which normally take tourists to famed attractions like the Amalfi coast, Syracuse and Puglia – into offshore quarantine pens that held thousands of migrants. But this was not the first time that Italy had rethought its centuries-old health protocol. 
During the 'migrant crisis' of the 2010s, Italy created a sophisticated securitised border system, supported by the European Union, to deal with the thousands of migrants who make the perilous journey to safety across the choppy waters of the Mediterranean Sea. Under those rules, migrants were penned in camps in Europe or held behind security fences in North Africa. This 'Fortress Europe' approach has continued apace. As of April 2020, there are at least five quarantine boats – repurposed cruise ships – at any given time off the coast of Italy. Operated by NGOs on behalf of the Italian government, these vessels are, in effect, sea pens, where thousands of migrants are held on board for a mandatory 14-day quarantine period. The ships must stay 2.4 kilometres from the coast, near port cities such as Palermo and Trapani. 
The 'migrant crisis' has become voguish in art and film but, unfortunately, much of this engagement has been reductive and exploitative. How do you visually represent those labelled as 'other', 'dangerous' or 'invaders'? See, for example, Gianfranco Rosi's much-lauded Fire at Sea (2016), which won the Golden Bear award at the 2016 Berlin International Film Festival. The film – a lyrical, documentary depiction of the experience of both Italian authorities and migrants on the island of Lampedusa – is intrusive, veiling the mostly Black figures with their suffering while also reducing them to unspeaking bodies. 
Christoph Büchel's Barca Nostra (Our Boat, 2018–19) – a migrant shipwreck installed at the 2019 Venice Biennale and now returned to Augusta, Sicily, where it will become a memorial – was another work produced under clouded aesthetic judgement. It exhibits the remains of one of the most tragic accidents in the history of the Mediterranean, which saw, in April 2015, the deaths of up to 700 people. While Büchel's intention may have been noble – confronting visitors with the horror of an incident that most could easily ignore – the work's display was a disappointing reminder of the limits of appropriation. There was no contextualizing label in the Arsenale shipyard; instead, visitors took selfies by the piece, which was installed opposite a cafe. 
Yet, there have been thoughtful works about migration in recent years, too. In her 2018 commission for Tate Modern's Turbine Hall, Tania Bruguera organized a community-led response to the global 'migration crisis'. Shown at the Barbican in 2017, Richard Mosse's Incoming (2014–17) used a military thermal camera to expose the horrors experienced by those fleeing from Afghanistan, Iraq, Syria and elsewhere. And, through his popular Instagram account, which is featured in this issue, Theophilus Imani – an Italian-Ghanaian visual researcher – draws connections between imagery from Europe and the African diaspora by juxtaposing Black faces with works by Caravaggio, Bronzino and other canonical artists. Imani looks at the ways in which the visual lens has too often been weaponized to other and negate 'darkness'.  
Since the start of the pandemic, the shift towards holding migrants in remote and desolate locations has gained traction amongst liberal democratic nation-states. In June, UK Home Secretary Priti Patel proposed a bill that would allow the UK government to hold migrants in offshore processing sites, following similar legislation in Denmark and Australia. Leaked UK Home Office documents show proposals to operate such sites in overseas British territories in the South Atlantic. (According to a report published in The Guardian in June, a government representative has denied reports that Patel is in discussion with Denmark about a shared processing centre in Africa.) Evidence continues to mount that COVID-19 will license inhumane immigration policies long after the disease has subsided. 
Now, as restrictions begin to lift, artists will need to address how the pandemic has provided covert opportunities for European states to enact inhumane quarantine measures against migrants, under the aegis of protecting public health. Italy's repurposed cruise ships provide the most absurd example: once symbols of global tourism, they now divide and detain.
This article was first published in issue 221 under the title 'Sight Unseen'.