Why Pussy Riot's Anti-Kremlin Protest at the World Cup Final Matters
The punk artists's invasion of the pitch during the Croatia vs. France match reminded us what Russia's new 'normality' really means
On 19 June, six days into the 2018 FIFA World Cup in Russia, I sent an Instagram message to an English football fan visiting Volgograd, a city in the south-west of the country. I was sourcing footage for potential World Cup news reports; the fan claimed that he met the perpetrators of the infamous football hooligan violence in Marseilles during UEFA Euro 2016 (during which Russian fans armed with weapons and flares turned the championships into chaos). At that time, a Russian news website (reputed to be linked to the domestic security services), Life News, stated that the nation's football fans had demonstrated 'what it means to wake the Russian bear!' in their physical domination of Western counterparts. Russian politician Igor Lebedev wrote on Twitter: 'I don't see anything wrong with the fans fighting […] Quite the opposite, well done lads, keep it up!'
In Russia, during this year's World Cup, nothing of the sort happened – perhaps to the disappointment of under-informed news editors gleefully anticipating the eruption of mass brawls. 'It was weird, they were saying that in France they wanted to fight us but here we are their guests,' the England fan in Volgograd told me. Scanning comments by tourist football fans across social media reveals a similar theme: 'surprise' at the absence of Russian hooliganism and denouncements of 'scaremongering' and 'propaganda' against the host country. One football fan and vlogger Theo Ogden released a video declaring the prospect of violence or unwelcome behaviour as 'myths'. Kremlin-backed broadcaster RT declared: 'England fans at the World Cup in Russia have smashed many of the myths created by the UK media ahead of the tournament, when the press portrayed the host country as a hostile nation riddled with racism and hooliganism.'
Of course there wasn't going to be any hooligan violence. The potential perpetrators were threatened with imprisonment beforehand should any scuffles take place during the World Cup. Football fans from abroad were presented with the kind of sanitized version of Russia that could only exist during a global event where Russia was in the spotlight. Russia is often the victim of misrepresentation by foreign media, but over the course of this World Cup, the country willfully, and skillfully, misrepresented itself. Russia may be a beautiful, interesting place, full of intelligent, welcoming and passionate people with an incredible cultural history – but it is one with an atrocious record on civil rights and systemic corruption. 
During the weekend's World Cup final in which France faced off against Croatia (eventually winning 4-2), members of punk art collective Pussy Riot ran out onto the pitch wearing the recognizable white shirts, black ties and red-striped trousers of Russian police uniforms, temporarily halting play. France's teenage football hero Kylian Mbappé hi-fived one of them. Activists Nika Nikulshina, Olga Kurachyova, Olga Pakhtusova and Pyotr Verzilov (spokesperson and husband of Nadya Tolokonnikova of 'Punk Prayer' fame) were later charged with disruption and impersonating police officers. The protesters were handed 15 days of 'administrative arrest,' after the stunt which was clearly aimed at capturing international attention (the 2014 World Cup final was watched by a global audience of 1.1 billion).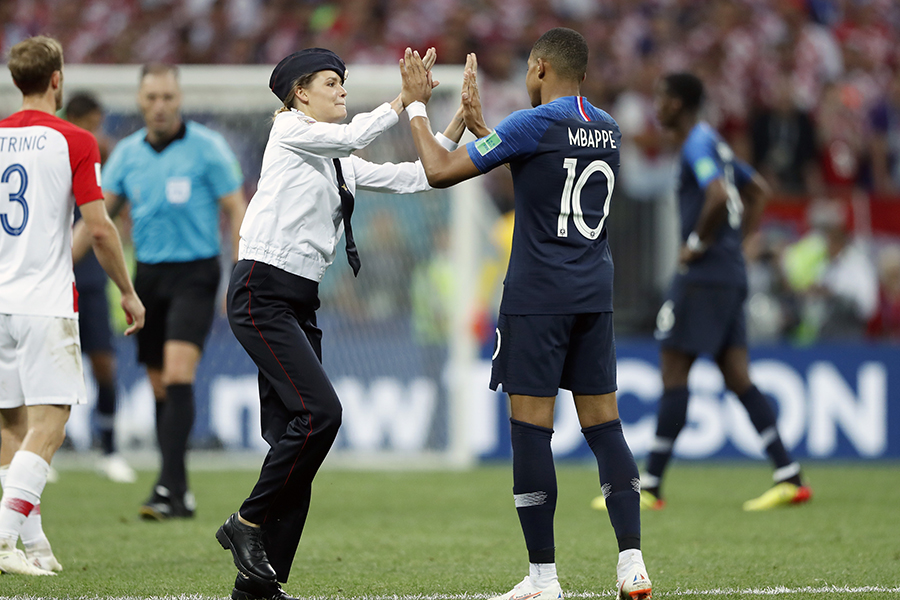 'Today is 11 years since the death of the great Russian poet, Dmitriy Prigov. Prigov created an image of a policeman, a carrier of the heavenly nationhood, in the Russian culture,' Pussy Riot wrote in an English-language Facebook statement. The image of the heavenly policeman was used to illustrate the plight of political prisoners such as Ukrainian filmmaker Oleg Sentsov – currently holding a hunger strike in an Arctic prison camp – and legal action against social media users, just for 'liking' posts that run contrary to the desires of Russian authorities. 
During this World Cup, Russian police did not intimidate Western fans, and Russian state media welcomed them with optimism. Their most valuable trait was that they were not criticizing the host country. But critics of the Russian state still squirm under its chaotic fist. In footage of interrogations following their pitch invasion, police told the Pussy Riot activists of their 'regret that it isn't 1937 now,' referring to Stalin's Great Purge. In the sanitized Russia we have been watching on television screens all month, the message was particularly poignant: a reminder of what Russia's 'normality' really hides.
Russia's new normality hides the fact that the richest 10 percent own nearly 90 percent of the country's wealth; antifascists are kidnapped, beaten and tortured; members of the LGBT community face persecution (and in the southern Republic of Chechnya, have allegedly been rounded up and tortured), independent media organizations are squeezed until they can no longer survive, and employees are threatened or bussed to polling stations to ensure that Russian President Vladimir Putin gets a strong voter turnout despite being the only viable contender in national elections. Russia's normality welcomes the foreigners who venture there likely to espouse positive messages about the nation, while slapping its own citizens in the face (in just the most pleasant cases). 
Pussy Riot storming the World Cup pitch reminded us that this happy, welcoming spectacle has a far darker side. Sentsov remains a political prisoner, charged with plotting terrorism in a case described as 'unfair' by Amnesty International – the vocal critic of Ukraine's former pro-Russia government has been in custody for more than four years. Pussy Riot activists have experienced their own trials and tribulations, suffering jail terms during which they have allegedly been endlessly humiliated – member Maria Alyokhina has described being routinely stripped naked and subjected to invasive gynecological exams while imprisoned in a Russian penal colony. This World Cup may have been a fantastic PR stunt for an often deeply misunderstood country. But let's not replace those misunderstandings with further misconceptions. 
Main image: member of Pussy Riot invades the pitch at the 2018 FIFA World Cup Final at Luzhniki Stadium, Moscow, 2018. Courtesy: Getty Images; photograph: Ian MacNicol