Featured in
Lee Lozano's Subtle Verbs
'ALL VERBS' at Hauser & Wirth highlights more nuanced forms of action in the artist's oeuvre
In Lee Lozano's Lean (1966), coarse brushwork pulls repeatedly through thick oil paint, colour welling in raised, corduroy-like rows. It is one of a meditative group of five paintings, all with verbs as titles: Butt (1966), Cram (1965), Spin (1964), and Swap (1966). Each depicts one or more geometric forms, such as cones or shafts, stretching or splaying across canvases, contrasting tints running over the images in rays.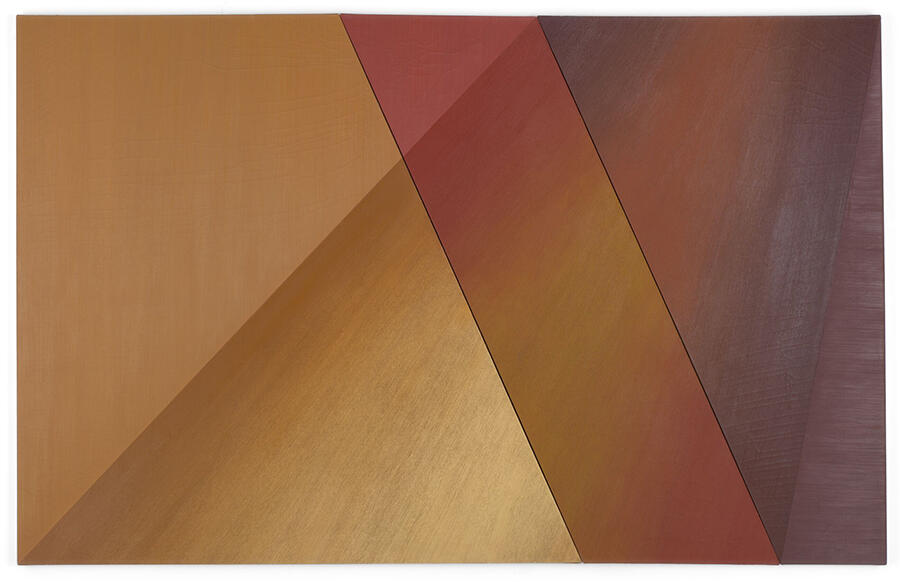 These canvases comprised Lozano's first solo exhibition at New York's Bianchini Gallery in 1966. Three years later, in 1969, she would begin to perform General Strike Piece, a work of unknown duration that consisted of her refusing to participate in the social and institutional art world. As with 'butt' and 'cram', 'strike', too, is a verb, an act of forceful conceptual refusal. 'Lee Lozano: ALL VERBS' at Hauser & Wirth highlights the quiet, easily overlooked actions of refusing, thinking and planning. 
Lozano's works on paper are some of the most understatedly electrifying of her oeuvre. 'ALL VERBS' includes compositional sketches and personal notes, as well as studies for and variations on the 'verb' paintings. Some of these preparatory pieces – an untitled 1964–65 drawing that resembles Spin, for instance – are more interesting than the finished works, having more verve and urgency in their composition and scribbly execution. Others are sketches for unrealized pieces. An untitled 1968 study for a proposed series titled 'Pot-Baller' depicts a diptych of two orbs: one sits at the centre of the left-hand canvas, the other on the bottom corner of the right-hand canvas. Lozano notes below the sketch: 'This painting should be hung crooked', as though one painted ball weighs down its canvas, tilting the piece off-kilter. It's part dopey slapstick, part cunning manipulation of the support, prefiguring works such as Steven Parrino's 13 Shattered Panels (for Joey Ramone) (2001).
Lozano's conceptual work No title (1967) lists the verbs she used for titles between 1964 and '67, including Butt and Cram. As Jo Applin deftly points out in her monograph Lee Lozano: Not Working (2018), this piece surpasses Richard Serra's more famous Verb List (1967). Lozano's list not only predates Serra's; it is succinct where his is verbose, cheeky where his is leaden. And, fittingly, while his list closes with 'to continue', hers ends with 'STOP'. 
Lozano is perhaps best known for severe conceptual actions such as Decide to Boycott Women (1971), in which she ceased interacting with female peers. But this action was more subtle than one might imagine: for the artist, it didn't represent a wholesale desertion of her gender but rather a rejection of the balkanized and gendered organizing of the Art Workers' Coalition, a group of artists promoting change in cultural institutions. Though she was conflicted about her decision to begin the action, she carried it on until the end of her life (she died in 1999).  
Lozano's searching self-doubt is also in evidence in this exhibition. In an untitled 1967 drawing, a plan for an unrealized painting of variously coloured arches, she writes: 'IS THIS SERIES ANOTHER BAD IDEA?' To which one wants to respond, 'NO.' Lozano made work that often eclipsed that of her peers, but it didn't fit well with her milieu; that 30 of the 32 pieces on view come directly from Lozano's estate suggests just how little of her work has been collected. Since the artist's time, issues relevant to understanding her work – public visibility, gender, resistance, personal autonomy, and so on – have undergone radical social development. 'ALL VERBS' provides a valuable glimpse into this prescient work, in which the subtle operative actions – withdrawing, planning, doubting – are easily overlooked.
'Lee Lozano: ALL VERBS' is on view at Hauser & Wirth, New York, until 29 July
Main Image:  'Lee Lozano. ALL VERBS,' Hauser & Wirth New York, 2022, installation view. Courtesy Hauser & Wirth; photograph: Thomas Barratt.