A Domestic Odyssey: How Artists are using Video to Explore the Changing Faces of 'Home'
Recently screening in galleries across southeast UK, videos by artists including Rosa Aiello, Prem Sahib and Metahaven shift our understanding of the domestic and what it means to live locally
As we use video to connect from a distance on a daily basis, a host of exhibitions focus in on how artists are using the medium to shift our understanding of the domestic. Universal ideas of 'home' – as affirmed in schools, popular culture and law – often clash with diverse personal experiences. Recently and currently screening in and around London, these artists' films challenge traditional ideas about living locally, as members of a society.
Rosa Aiello
Arcadia Missa, London
Ended 10 July
A dark satire on the cliches of women's desire, Rosa Aiello's film Caryatid Encounters (2021), recently at Arcadia Missa, combines a sprinkle of Ira Levin's The Stepford Wives (1972) with a dash of Martha Rosler's Semiotics of the Kitchen (1975) to deconstruct the life of a single housewife. The film represents the sort of protagonist and traditional values that the other films rebel against: Helen is a woman whose whole life revolves around her kitchen, and her will to please. In a series of 'vanilla nightmares', Helen experiences awkward encounters with prospective house-renters as she tries, and fails, to sell her highly domestic lifestyle. She realizes that, for a generation of young professionals on the move, cookies fresh out of the oven are no longer the answer to modern living.  
Rosa-Johan Uddoh
Focal Point Gallery, Southend-on-Sea
Until 29 August
In her multimedia exhibition 'Practice Makes Perfect', on view until 29 August at Focal Point Gallery, artist and teacher Rosa-Johan Uddoh explores how the erasure of Black history in local  primary schools affects a child's formative years. Working with Year 8 pupils at Chase Secondary School in Southend-on-Sea, she centres the narratives of Black children who are 'seen and not heard' within the national curriculum. In 'Practice Makes Perfect' (2020), Uddoh enacts the role of a pupil in various realistic scenarios. We watch her receive a daunting brown envelope through the post, which reveals whether or not she has been accepted into her preferred secondary school, with the decision appearing as a series of incomprehensible statistics, based on impersonal and ambiguous school policies centred around diversity and inclusion.
Shenece Oretha
The British Library
Online
Currently available to view online at The British Library, Shenece Oretha's archival film Possibilities (2021), draws on the vital and forgotten importance of musicality in Black children's play in the UK. Her visual score bursts with the songs of improvised playtime encounters, rarely encountered today when education structures have become increasingly rigid and intent on exerting extreme academic pressure on young children at the expense of play. Digging into the British Library's archive – which includes audio, film scores, scientific reports and prints – Oretha arranges an oral history of clapping games, chants and drumming, finding possibility for play and liberation through music.
Prem Sahib and Sara Sadik
Sadie Coles HQ, London
Ended 28 June
Recently included in 'the view from there', a large-scale group show of video work at Sadie Coles HQ, Prem Sahib's Cul-de-sac (2019) transports us to his teenage home in Southall, a historically Punjabi area of southwest London. Shot by a drone and accompanied by the throbbing bassline from a house party, the video moves up-and-down the empty road in a bungee-like motion, creating a phrenetic encounter with this otherwise mundane street. Despite never witnessing any people, we hear muffled voices from the party and see scraps of litter – ghostly traces of a community absent from public view. The ambiguity of the video lies in this loss of community, often the result of hostile forces such as rent increases, redevelopment projects and immigration policies. Sahib's film suggests that community is not just geographical, but exists in the material traces, sounds, images and smells.
Also screening in 'the view from there' was Sara Sadik's Khtobtogone (2021), a video that uses CGI technology to render the emotional life of a young, north African immigrant living in Marseille. He represents beurcore, a term coined by Sadik to encapsulate the youth culture of working-class people in the Maghrebi diaspora. Inspired by Grand Theft Auto, Khtobtogone is an emotive film, which uses futuristic technology to represent the real struggles and dreams of young people.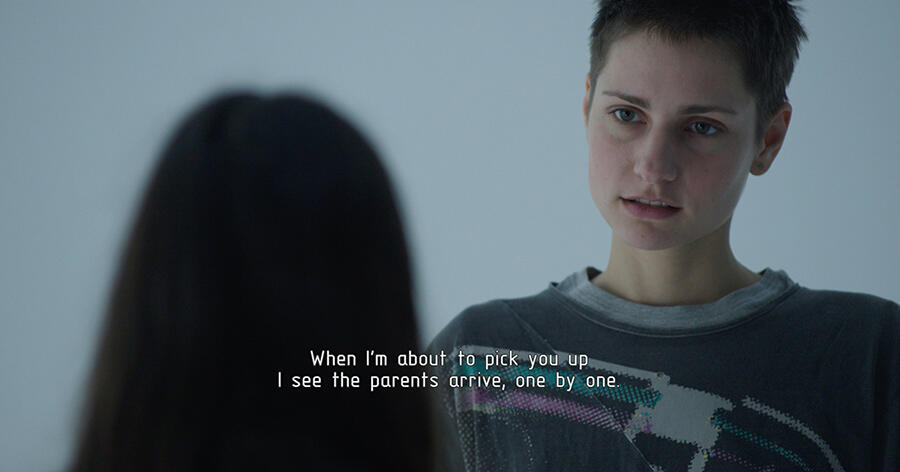 Metahaven
State of Concept, Athens
Upcoming in autumn
Metahaven's Chaos Theory (2021) – which will be screened at State of Concept, Athens, this autumn – tracks spartan characters in an unidentifiable city. The film dismantles the clinical veneer of the stable, nuclear family through a child named X and a parental figure, Y/Z. Using home videos, stop-motion animation and a poetic script of playful axioms and aphorisms, Metahaven depicts a home that finds itself lost in structure.
Rhea Storr
South Kiosk, London
Ended 27 June
The streets of northwest London are framed in Rhea Storr's new film Square, Bridge, Garden, Hill (Three Sisters) (2021), which recently premiered at South Kiosk. The voices of three Black women guide us through empty carnival routes in London, allegorizing bridges as hyphens and narrating movement through different public spheres. Unseen throughout, the women are instead represented by the architecture of the film's sites, such as Brixton Market and the nearby Ritzy Cinema. The routes we navigate diverge from popular tourist sights, with the women's voices guiding us on a local tour of London's British West Indian communities.
Jasleen Kaur
Copperfield, London
Ended 23 July
At Cøpperfield, Jasleen Kaur's film Ethnoresidue (2020) speaks with a broken tongue and a body of ancestors. The artist maps a history of south Asian diasporic experience from her childhood home of Pollokshields, Glasgow. Complicating the idea of cultural assimilation, Kaur locates tension between the solace offered by her grandmother's oral histories, recounted in her mother tongue, and the strain of being subject to local policing laws, which are hostile to immigrants. Acknowledging her family legacy, Kaur uses her home archives to build a remedial experience of diasporic life, arguing that, if trauma can mark genes, so can healing.
Main image: Sara Sadik, Khtobtogone, 2021, film still. Courtesy: the artist and Sadie Coles HQ, London