Banksy Raffles Off Refugee Boat Sculpture For £2
For a minimum donation, buyers can win the street artist's overloaded boat by guessing its weight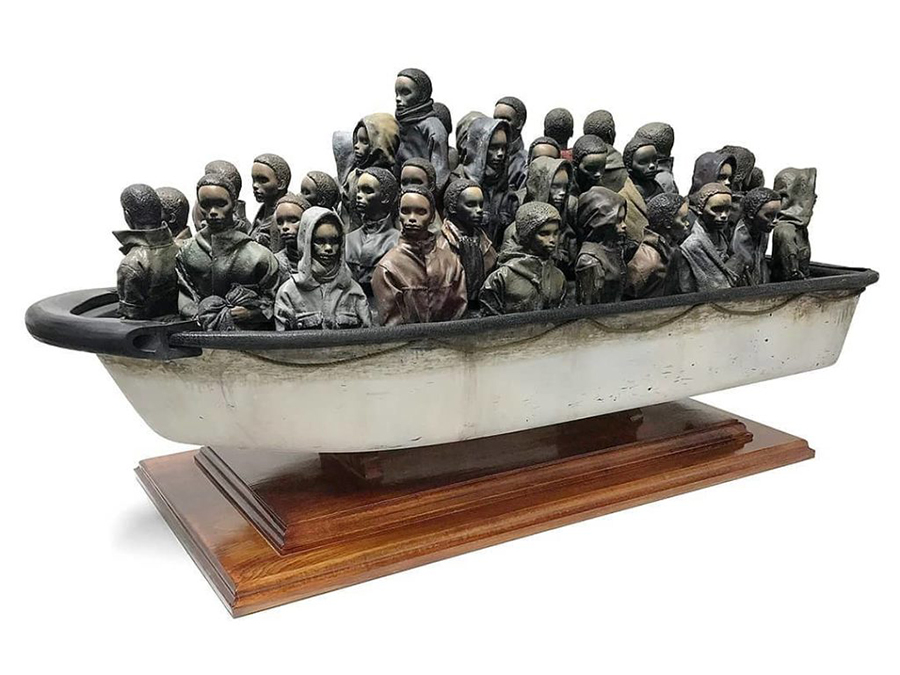 Street artist Banksy is raffling one of his artworks for a minimum donation of GBP£2 in aid of a refugee support initiative. The work, How heavy it weighs (2015) – an overcrowded remote-control boat filled with refugees – will be won by anyone who can correctly guess the weight of the model to the nearest metric unit.
Announcing the raffle on his Instagram page, Banksy said that money made from the work, which featured in his 2015 Weston-super-Mare 'bemusement' theme park 'Dismaland', will go towards Help Refugees, an organization that specializes in fieldwork, giving aid and establishing local networks, manages over 25,000 volunteers and supports more than 80 projects across Europe and the Middle East.
The Banksy work is currently on display on Carnaby Street in London at a pop-up 'refugee service store,' called Choose Love. Guesses can be submitted online and the charity's website specifies the dimensions and materials of the item. The winner will be informed after the competition closes at 8pm on 22 December.
'Is it a darkly satirical work of art or a remote control toy in very bad taste? It might be both. It certainly is unique and it could be yours in time for Christmas,' Choose Love described the work on its website.
Banksy touched on the subject of the migrant crisis in various pieces displayed at 'Dismaland'. In addition, he donated wood and structural elements used to construct the theme park to Calais refugee camps so that they could be used to help build shelters. Banksy also visited the camp to spray-paint some murals, including one of the late Apple founder Steve Jobs who was the son of a Syrian refugee.