I have seen serrated mountaintops and the green whip of the aurora. I have learned the word for wheelhouse in three languages. I have had my hands methodically sanitized by crewmen. I have read David Foster Wallace's 'Shipping Out' (1996), an essay on being pampered to death on a luxury cruise, which I am aping here. 
To specify: I am spending four days and three nights aboard the MS Trollfjord in order to cover Coast Contemporary, a new venture piloted by Helga-Marie Nordby and Tanja Sæter, which has repurposed 'Valhalla', the ship's auditorium, to promote the Norwegian arts scene through a series of talks and cabin shows.
Before shipping out from Lofoten, an archipelago north of the Arctic Circle, our crew tour the Lofoten International Art Festival (LIAF). Helmed by Heidi Ballet and Milena Høgsberg, this iteration, entitled 'I Taste the Future', launches deep into the waters of sci-fi and fantasy. Talk of dystopias and utopias percolates through works such as Fabrizio Terranova's film Donna Haraway: Story Telling for Earthly Survival (2016), which renders the eponymous as a talking head, occasionally framed by CGI medusas.  LIAF seems to pivot around the idea that notions of the environment are constructed, and that we should be wise to such formations so as to understand not 'nature' itself but, as Werner Heisenberg queried, 'nature exposed to our method of questioning'. 
Unsurprisingly, audiences are led from converted galleries to site-specific pieces – from surf-sprayed rocks to peep a choreographed rite by Eglė Budvytytė (Liquid Power Has No Shame, 2017), to the bouncy crackling of an artificial football pitch, home to Daisuke Kosugi's atomizing iPod shuffle audio tour (Good Name [Bad Phrase], 2017).
Back on board, the Coast Contemporary programme 'proper' sets off, as arts professionals give institutional promos via panels and presentations. Possibly a critique of the Norwegian oblige-noblesse, Sille Storihle screens The Goodness Regime (2013), a film produced in collaboration with Jumana Manna, which utilizes the Oslo Accords as a foil to riff on Norway's own state-building mythologies. Paradoxes, particularly the contradiction of the country's dual role as global peacemaker and one of the world's largest oil exploiters, proliferate.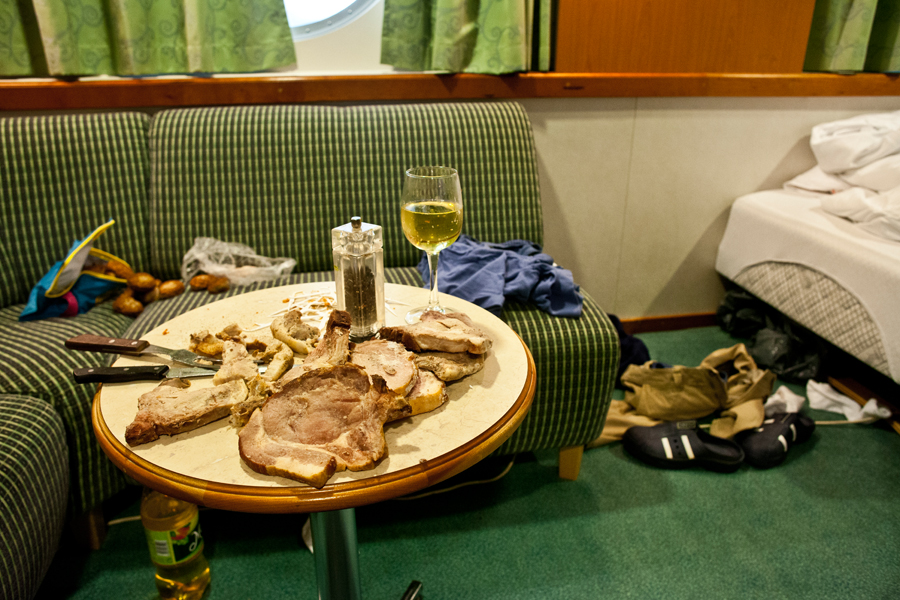 Perhaps due to logistics, performances with minimal staging abound. Nora Joung, Hanne Lippard and Nancy Lupo turn their cabins into intimate theatres for poetic, often pining, monologues. In Brovaktene (2016/17), Hanna Fauske tacks a different course, embodying an alter ego who litters 'his' cabin with rotting meat, toenail clippings and other festering offences antithetical to being in 'shipshape'. Feinted shabbiness aside, Norwegian artist-run and publically subsidized galleries deftly support these productions, and the programme itself is likewise a public-private partnership. Regardless of aesthetics, this voyage is a networking exercise advanced by the sundeck, bar and Jacuzzi as much as any artistic project.
As we pull into Bergen, our final port of call, the artist Toril Johannessen regales me with the curious tale of why the pine trees dotting the city look so familiar. Previously the home to pastoral grazing lands, 19th-century city residents were plodded through an incentivization scheme that planted spruce trees so as to transform the scenery into what was ostensibly a romantic nationalist painting. With kitschy folklore on the mind, I took one last visit to 'Valhalla' and realized that such branding would symbolically place us amongst the glorified casualties of war! While Coast Contemporary can be thought of as a heroic effort to maintain a vibrant artist-run community, I have to wonder: are public-private partnerships the best shield to promote associations, or do their inherent entrepreneurialism and market logics camouflage a corporate coup in the waiting?  Who is to say, but days after disembarking, the Norwegian government began to debate whether they should radically divest from funding artists directly and reallocate those funds toward the construction of major museums and other touristic infrastructures.
Main image: Sille Sorihle and Jumama Manna, The Goodness Regime (detail), 2013, film still. Courtesy: the artists