Featured in
Daniel Sinsel's Elaborate Visual Puzzles
At Sadie Coles HQ, London, the artist turns his pin-sharp brushwork to depth and volume, conjuring surfaces that seemingly scoop and protrude
I remember the first time I ate a persimmon: I had to go on wikiHow, checking what parts were skin to discard and which flesh to consume. The persimmon's outer layer and its innards are in one sense separate things, but, where, on a fruit, do we draw the lines? The 2022 work that greets the viewer at the entrance of Daniel Sinsel's new exhibition – his sixth at Sadie Coles HQ – depicts that same fruit against a complex, cruciform yellow background, painted as if inset within a recessed blue frame (all works Untitled). Physically affixed to the surface of the painting, a silky thread hangs in undulations between a row of seven, jet-black hazelnut shells. This 3D feature functions a little like roping off a VIP entrance, or the barrier before the Mona Lisa: showing something's preciousness, protecting access, demanding a certain distance. But it also whispers: 'Stroke me.'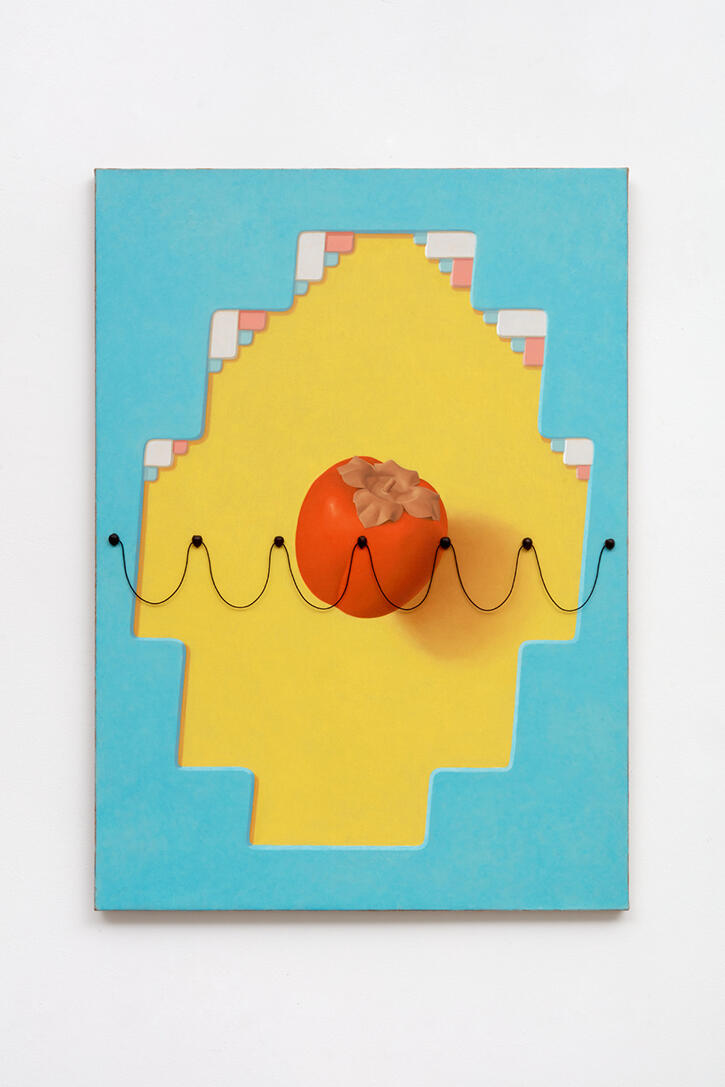 This push-pull dynamic is threaded through the exhibition, which draws on a decade of Sinsel's production. There are more paintings with bricolage: edged with further nutshells, bound with glass shards, stitched with crystal roundels. In a 2012 casein painting, broad linen strips woven together in an 'over and under' pattern have been smeared with soot, accentuating the ins and outs of the rough, furrowed surface. 
Most striking are Sinsel's trompe l'oeil visual puzzles, for which the artist turns his pin-sharp brushwork to depth and volume, conjuring surfaces that seemingly scoop and protrude. A 2020 work merges the silhouette of a reclining piper with the outline of an arched opening: it frames a paler space, itself inset with a stepped window, through which bands of sunset colours peek. Along each of the window's 'shelves', halved glass discs have been bound to the painting with copper wire, leading the eye progressively 'deeper' into the composition, only to be snapped back into real space.
Two oil-on-linen works – one a cityscape, the other a view of an architectural aperture – feature elements rendered so convincingly in milk-white grisaille that they appear to stand out from the painting, casting shadows, like shallow stone reliefs. Their air is medieval – they recall, among other examples, the outer panels of Hubert and Jan van Eyck's Ghent Altarpiece (1432) – though the fact that one is a disc containing what looks like a squash and the other some kind of flatfish suggests a much more modern sensibility: punning on representation's way of 'squashing' and 'flattening' the world, perhaps.
The pleasure of unpicking the spatial levels of these pictures is undeniable – but sometimes shallow: they offer a satisfaction not unlike that of 'solving' a 'Magic Eye' picture. The exhibition's press release talks of the 'covert language of queer desire, the erotics of space and objecthood' and, looking at the sexy disorientation implied by another grisaille from 2022 – a pair of grey-hued, bulbous feet jutting upwards, toes forward, as if a marble sculpture of a deity had been upturned and was tumbling into an abyss – I thought: 'Sure.'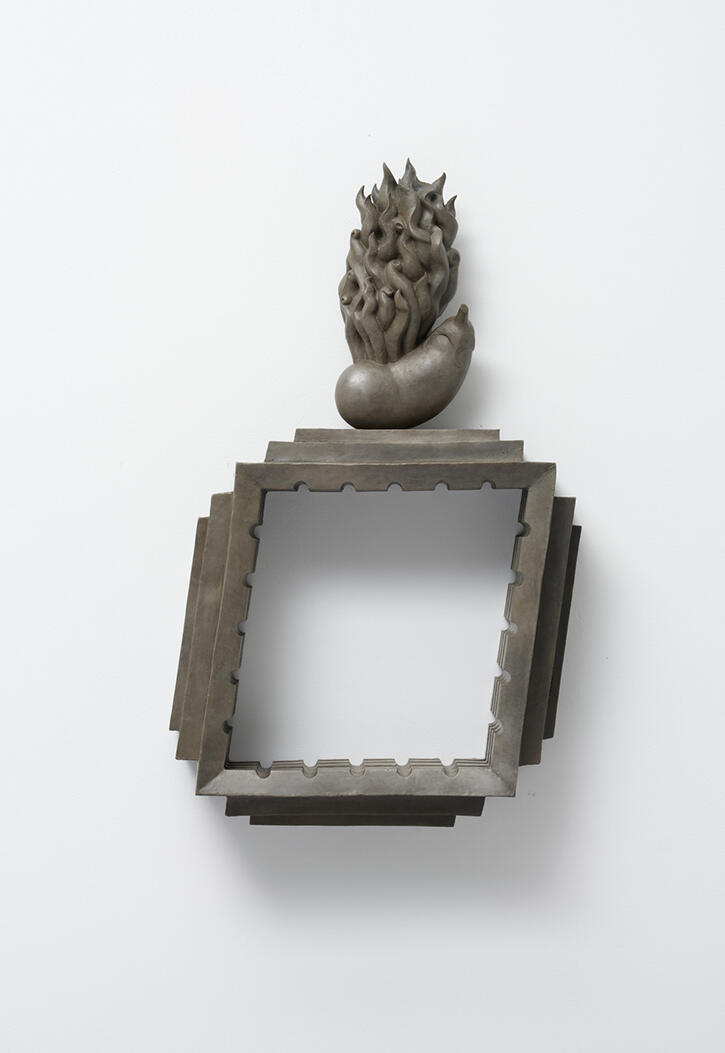 Still, this show didn't turn me on like Sinsel's art has before: the works went into my brain but just stayed there, not touching the nerves, nor stirring the blood. Among the paintings are two, small, wall-mounted sculptures: one an empty frame with ears on either side; the other topped – or so I thought, momentarily – with a burning heart, like the kind symbolizing Christ's divine love. On closer inspection, I realized it was, in fact, an aubergine, its 'flames' a mass of sprouting leaves. Fruits and vegetables have their place in art. (Paul Cézanne did plenty with an apple.) But so, too, do beating hearts and burning passion.
Daniel Sinsel is at Sadie Coles HQ, London, until 13 August 2022 
Main image: Daniel Sinsel, Untitled (detail), 2022, oil on linen, 1.2 × 1 m. Courtesy: © the artist, Sadie Coles HQ, London