Featured in
The Enduring Radicalism of 'Supports/Surfaces'
At the Museum of Contemporary Art Detroit, the French collective's attack on the autonomy of art feels as prescient as it did 50 years ago
In France, just before and after the events of May 1968, institutions were turned inside out as factory workers and university students took to the streets. So, too, did many of the artists and artworks included in 'Unfurled', an exhibition which traces the legacy of the group that became known as Supports/Surfaces. Members of the loosely-knit collective deconstructed the fundamental objecthood of painting at a time when an attack on the autonomy of art was being mounted all over the world.
Adroitly curated by the artist Wallace Whitney, this show reflects the group's approach to exhibition-making, which engaged them equally with institutions and opportunities they organized themselves. Although the term 'Support-Surface' was originally coined by the artist Vincent Bioulès (who is represented here by a single, untitled acrylic on canvas work from 1974), its first recorded use as a label for the group was in 1970 as the title for an exhibition at the Musée d'art moderne de la Ville de Paris. That same year, artist Claude Viallat co-curated 'Intérieur/Extérieur' in southern France with artworks from Supports/Surfaces artists installed in riverbeds, forests, meadows, streets and town squares, fully exposed to the elements.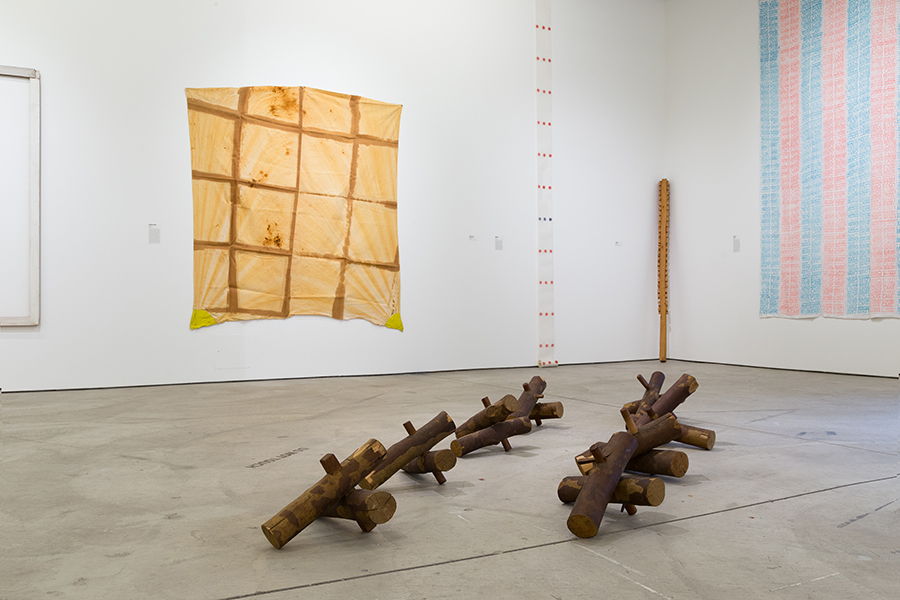 In the most expansive gallery at the Museum of Contemporary Art Detroit (MOCAD), the precise material approaches shared by many of the works on display make it tempting to view the exhibition as a single, sensual statement. These include the foregrounding of support stretchers as in Daniel Dezeuze's Grand Châssis (1967) and the use of flowing fabric surfaces, free of a frame, as in Louis Cane's Toile tamponée (1967).
Whitney's overall approach to 'Unfurled' underscores the mutability of many of the works on display. This includes Patrick Saytour's Déployé (1972), in which a series of eleven thin PVC pipes topped by flowing pink fabric extend up or down to allow the height of wall to determine the work's dimensions. Saytour's Pliage (1968), a towering acrylic painting on unstretched canvas, rises to join the ceiling from which it is tethered, its lavender paint – visible from both recto and verso – nearly matching the industrial grey shade of the ceiling as the bottom edge of the work meets the floor, a patchwork of terracotta tile retained from the original design of the building and produced in Detroit at Pewabic Pottery.
MOCAD was custom-built as a Dodge dealership in the 1920s, and 'Unfurled' occupies what was originally its showroom. Many of its original architectural details, like its locally manufactured flooring, remain intact – and Whitney employs these to idiosyncratic effect. Two small works made of tape and glass by Pierre Buraglio, Masquage Vide (1979) and Fenêtre (1977), hang between three narrow, unevenly-spaced and deep-set windows that look onto Woodward Avenue, Detroit's unofficial main street and industrial artery, an apt backdrop for such commercial materials.
As the legacy of May '68 in France is complicated by the rise of the Gilets jaune, or yellow vests movement, incorporating ideologies and attracting voters from both the far-left and far-right, the barricade remains an icon linking past to present. Suggesting  a  boundary between two sides, Bernard Pagès's Arrangement: branches et cadre grillagé (1969) also creates a stark contrast between natural and manufactured materials. Breaking away from the medium of painting altogether, Pagès's freestanding sculpture squeezes a cluster of human-scaled tree branches into a metal frame, sealed on each side by chain-link fence. While appearing as if assembled ad-hoc in order to keep someone out, its enduring image, constructed 50 years ago, serves as a reminder that some barricades aren't temporary at all.
'Unfurled: Supports/Surfaces' was on view at MOCAD, Detroit, from 1 February until 21 April 2019.
Main image: 'Unfurled: Supports/Surfaces', 2019, exhibition view. Courtesy: MOCAD, Detroit