Featured in
Hélio Oiticica's Dance with Relational and Formalist Aesthetics
In a generous survey at the Museu de Arte de São Paulo, the artist reminds us that, even in times of adversity, art has the power to bring people together
After months of lockdown, descending the red concrete staircases of Museu de Arte de São Paulo to find a wide selection of Hélio Oiticica's colourful, dancing works hanging from the ceiling and on the walls was a sensorial blast. For almost seven months, the exhibition – comprising paintings, sculptures, installations and relational works – languished in the darkened museum. Now, the public can experience a socially distanced version of the original project, which initially envisioned several possibilities for collective interaction, including the artist's vibrant, walk-in installations from the series 'Penetrável' (Penetrable, 1960–79) and wearable copies of his famous multilayered garments, the 'Parangolés' (1964–79).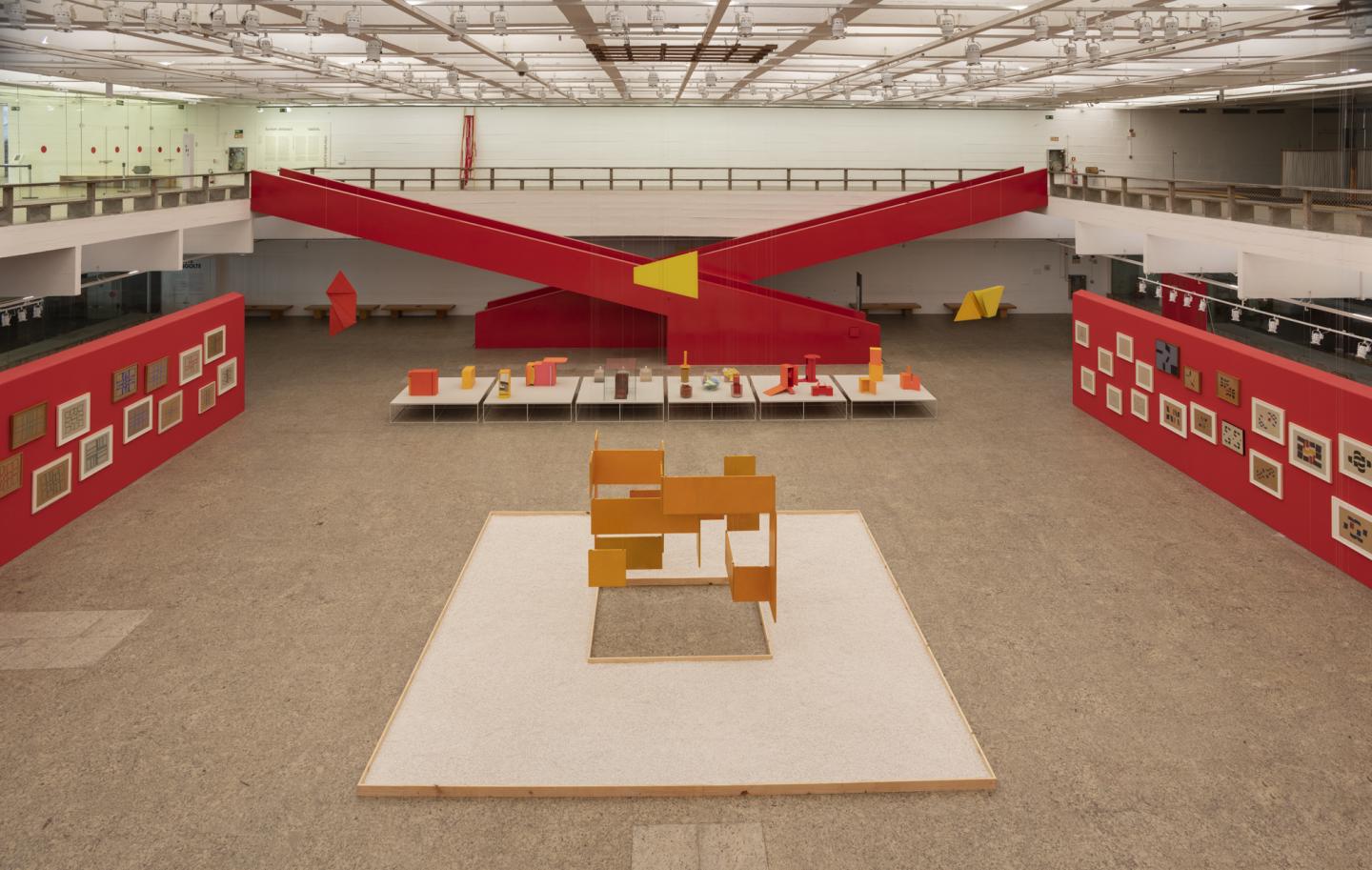 Part of the museum's year-long programme devoted to exploring the relationship between dance and the visual arts, 'Hélio Oiticica: Dance in My Experience' immerses visitors in the frenetic rhythm of the artist's heyday antics. Co-curators Adriano Pedrosa and Tomás Toledo reveal Oiticica's irrevocable connection to space and the moving body through 126 of his most emblematic works, installed according to a syncopated choreography inside the museum's lower-level gallery.
In close dialogue with Lina Bo Bardi's iconic architecture, the exhibition follows Oiticica's restless pursuit of expanding the boundaries of pictorial space, creating a red-walled, encompassing environment that nods to what Oiticica defined in his personal notes from the 1960s as 'chromatic environments'. This concept was already visible in his earlier gouache series 'Metaesquemas' (1956–59); here, dozens of these crisp, small-scale, geometric paintings on cardboard densely populate two of the gallery's long red walls, inviting the viewer to follow their sequences of dynamic lines and shapes. 
In 1964, Oiticica began spending time at Mangueira, one of Rio de Janeiro's traditional samba schools, located in the eponymous favela – a radically different environment from his bourgeois milieu. Drawing on the socio-political and relational aspects of his work, Oiticica increasingly advocated for an art of lived experience. Yet, as this retrospective makes explicit, even in his most radical projects, such as the 'Parangolés' wearable sculptures, Oiticica never fully abandoned the formal rigour of his early geometric works, creating relational objects equally informed by shape and colour. 
As the artist conceived them, the 'Parangolés' only truly come into existence when worn and danced in; they require the body to serve as support structure, to become one with the art. Originally designed for his Mangueira friends, the 'Parangolés' had their first art-world outing in 1965, when Oiticica invited a group of dancers to wear them to the Museu de Arte Moderna do Rio de Janeiro, where he was participating in the exhibition 'Opinião 65'. When they arrived, however, they were barred from entering. If the 'Parangolés' questioned the museum's criteria for what is considered art, the works' activation by Black and Brown bodies exposed the identitarian and class frictions of a society riddled with inequality. 
Forty years after his passing, Oiticica's total commitment to the inevitable entanglement of art and life speaks to our present moment and to the importance of co-existing with multiple perspectives while the world stumbles. As his groundbreaking propositions emphasize: significant change requires radical action. Climbing the red stairs to return to the pandemic reality of Avenida Paulista, the city's busiest thoroughfare, Oiticica's famous statement, emblazoned on P16 Parangolé Cape 12 (1965), came to mind: 'From adversity we live.'
'Hélio Oiticica: Dance in My Experience' at the Museu de Arte de São Paulo runs until 22 November 2020.
Main image: 'Hélio Oiticica: Dance in My Experience', 2020, exhibition view. Courtesy: the Museu de Arte de São Paulo; photography: Jaime Acioli