Featured in
Isamu Noguchi's Expanding Universe
At Museum Ludwig, the second iteration of the late artist's first comprehensive European retrospective unpacks his experimental approach to material, time and space
Although best known for his commercially successful Akari Light Sculptures (1951–88) – lamps made from rice paper carefully stretched over bamboo skeletons – Isamu Noguchi had an expansive creative practice that encompassed architecture, urban planning, furniture, sculpture and stage design. Born in Los Angeles to an Irish American mother and a Japanese father, Noguchi spent much of his childhood in Japan before returning to the US to complete his studies.
Curated predominantly chronologically, this dense retrospective – in its second iteration here, having toured from the Barbican in London – showcases the artist's decisive grand tours and influences. Included are works inspired by his 1927 visit to the Paris studio of Constantin Brançusi and his 1930 trip to Beijing to study traditional Chinese brushwork techniques as well as by his life-long friendships with the futurist designer R. Buckminster Fuller and modern-dance pioneer Martha Graham. These encounters encouraged Noguchi to abandon his academic sculptural techniques and, instead, embrace a more enigmatic approach to material, form, movement, time and space.
In the exhibition, this is best illustrated in the dense phallic brass sculpture Globular (1928), the suspended brass piece Abstraction in Almost Discontinuous Tension (Tensegrity) (1928) and the spell-binding costume he designed for Graham's performance in Cave of the Heart (1946), which explored how inanimate sculptural objects can be transformed by the tenancy of the human body (Spider Dress, 1946). Combining traditional materials (brass, bronze, marble, stone, wood) with modern ones (chrome, aluminium, wire, plaster, plexiglass) while savvily challenging classical composition, Noguchi's sculptures appear simultaneously archaic and contemporary, challenging our understanding of time and space.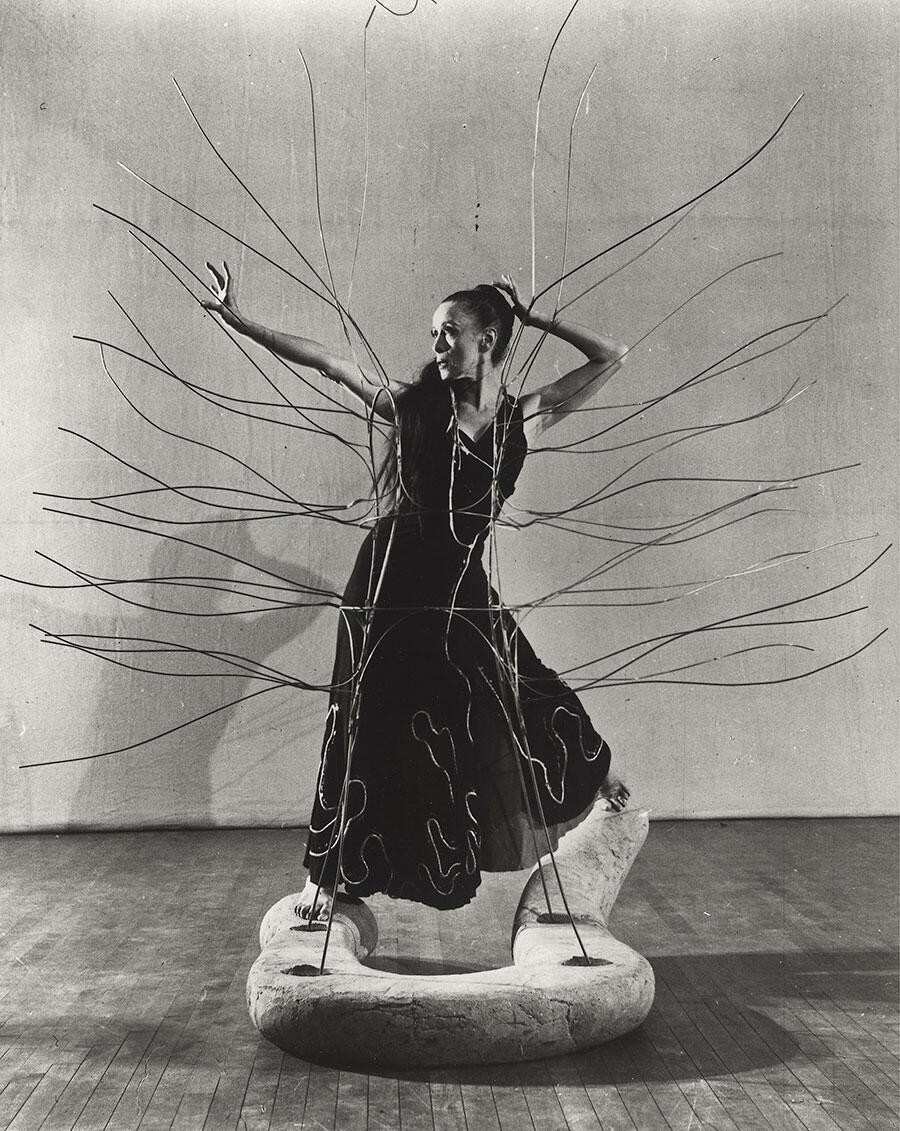 Just as the artist saw the dialogue between the works and their environment as vital, so the exhibition is most successful when embracing the museum's spatial possibilities. In the atrium, for instance, the plaster space angel Miss Expanding Universe (1932) hangs adjacent to grand projection of his unrealized land-art piece Model for Sculpture to be Seen from Mars (1947) alongside the show's only globular Akari E (1951), immersing visitors in Noguchi's vision for a cosmic co-existence.
The artist's (initially voluntary) incarceration with fellow Japanese-Americans at an internment camp in Poston, Arizona, during World War II, led him to create some of his more surrealist works. These include My Arizona (1943) – a pink plexiglas slate affixed to a fibreglass plate joining spiky, round, hollow and square shapes confined in a chessboard format – one of a number of works in which the artist reflected on the searing desert of Poston, the war, racist incarceration and the fragmentation of the self, as experienced by the artist and his fellow captives. After the war, Noguchi began to develop his interlocking sculptures – comprising skeletal, transportable slabs of various materials – which delve further into the psychological experience of being othered as a second-generation Japanese immigrant, or nisei. Works such as Gregory (Effigy) (1945), for instance, are more than mere reflections on historical events; rather, they challenge our perception of time and our interpretation of political discourse, coalescing into open-ended spatial disintegration. In this context, the modest bronze Okame (Atomic Head) (Hiroshima Mask) (1954) offers viewers a powerful point of connection with the artist.
For Noguchi, sculpture was continuously in a state of becoming – an endless process of mitosis – through the encounter with the viewer. Never ceasing to travel nor to experiment with new materials and forms, Noguchi continued to expand the understanding of sculpture until his death in 1988. Although he was the first artist to be granted a solo presentation at the US Pavilion at the Venice Biennale in 1986, it has taken more than 30 years for Noguchi to be the subject of a European institutional retrospective, making this exhibition, which will travel to Zentrum Paul Klee in Bern later this year, a significant recognition of the importance of his ambition, curiosity and influence.
'Isamu Noguchi' is on view at Museum Ludwig, Cologne, until 31 June 2022.