Kyiv's PinchukArtCentre Reopens with 'When Faith Moves Mountains'
Tom Jeffreys interviews the exhibition's co-curator, Ksenia Malykh, about the significance of staging an exhibition in wartime, and the message it sends to Ukrainians and the world
Tom Jeffreys: You opened your new exhibition, 'When Faith Moves Mountains', at PinchukArtCentre (PAC) in Kyiv on 17 July, 143 days after Russia's full-scale invasion of Ukraine. How does it feel to open such a project while the war continues?
Ksenia Malykh: For us, it's a very strong signal that first of all we are alive. It's something really simple but it's important. Most people on our team left the country in the early days of the full-scale invasion. Many of us have children, so it was essential. In Kyiv, the first weeks and months were really tough. We never dreamed of reopening; we didn't even know if our building would survive. But the team that remained started to tell us that people were living, people were resisting, so we started to talk about the possibility of reopening.
Some other museums are also open in Kyiv, but they all have emergency protocols in place so their collections are protected underground. Education programmes and events are taking place but the collections are not on display. Since the war, creative workers and organizations based at the ribbon factory have come together to organize a series of festivals and cultural events. Life is coming back. It's really inspiring.
TJ: What is the aim of the exhibition?
KM: Our aim is to create a space for our audiences to reflect on what is happening, to reflect with art. This is the most audience-focused exhibition we've done. Our priority has been to support people through art: not by showing positive things, but in different ways to show people how to stay human, how to be human during the war.
TJ: And how have your audiences responded? I've seen a lot of people sharing images of Oleksiy Sai's wall-filling installation of small black paintings of plumes of smoke (NEWS, 2022). I think of PAC as a place that young people love to visit.
KM: Yes, we have a young audience – PAC is a place to come to learn something new, to hang out with friends and take photographs. I'm happy to see all those images on Instagram again – like it used to be before. Our audiences are back, the team is back, we are doing guided tours. We are once again back to life. There are fewer people in Kyiv, of course, and in the art centre, but people really needed something from their past lives, while understanding that things will never be the same again. It shows that art is a basic thing that we all need. Pleasure is a kind of resistance, so we try to keep living like we used to.
TJ: 'When Faith Moves Mountains' is being presented in partnership with Antwerp's Museum of Contemporary Art (M HKA), which has lent more than 40 works from its collection, including by Francis Alÿs, Sheela Gowda, Almagul Menlibayeva, Otobong Nkanga and Allan Sekula. How important has that involvement been?
KM: M HKA's involvement shows that this is about Europe, about a Europe that can really share responsibility, share risks. This is the first time, as far as I'm aware, that a museum has shipped its collection into an active war zone. It's a gesture of welcoming Ukraine into Europe and sends a message to our European colleagues to be more active and less diplomatic. It's not about only speaking: it's about really doing something.
TJ: Also on display is 'Russian War Crimes', an exhibition first presented during the annual World Economic Forum Meeting in Davos in May.
KM: Yes, we feel the need to show in Ukraine what is being shown outside. The exhibition includes documentary photography and a video made up of around 7,000 photographs. It also includes maps and statistics compiled by the Prosecutor General's Office in Ukraine and Amnesty International. At Davos, we presented images by photographers who are risking their lives to show what is happening – the destruction, the killing. It had a huge response. The exhibition will be shown again at the European Parliament in Brussels this autumn.
In Kyiv, however, we didn't want to push people too much. Everyone in Ukraine knows these photographs, they know what is happening, so we selected only landscape images, without people: ruined buildings, infrastructure, destroyed schools, offices, shops, and homes across Ukraine. On the day of the opening, there was another terroristic attack in Vinnytsia, so we refreshed the exhibition in response. This is not historical material: the war is ongoing and this is a living archive of what is going on right now. In Kyiv, the exhibition provides a place for people to come, sometimes to cry, to feel. This is for us the most sensitive part of the exhibition. Sometimes you need the push to feel some emotions, not to hide them.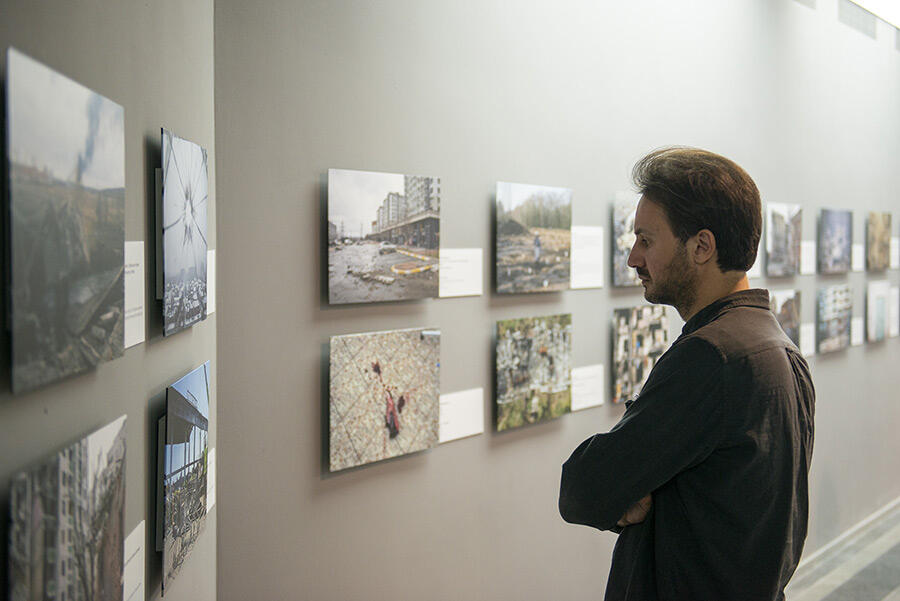 TJ: On a logistical level, what has it been like trying to put together an exhibition during the war?
DM: All of our plans are emergency plans. An exhibition that would usually take six months to prepare is being put together in three weeks. It's hard to bring works to Ukraine because they cannot be insured. No insurance company is going to insure against the risks of war. So, the M HKA is taking a risk. Nobody can guarantee that nothing will happen. We cannot use planes to transport works. There are lines at the border so it's not easy. For example, Lesia Khomenko sent one painting, unframed, via courier from New York to Austria, where a friend took it to the border on a bus. It's a miracle that it arrived. We prepared a new frame here and our team stretched it onto the frame and installed it in the gallery.
TJ: In an online discussion with Yale University in April, Vasyl Cheperanyn from Kyiv's Visual Culture Research Center said: 'Art can have a political impact here [in Ukraine] unlike in many places in the West.' Does that ring true to you?
KM: Yes. Politically engaged art in Ukraine is a part of activism. If you have an activist political position, your art is always part of that. If there is a political issue, we react fast and it is usually artists leading the protest. During the 2013 Maidan revolution, for example, artists played a very important role. Our art market is not really developed so it's not so much about money. Art can be more honest – it's more about a way of being, a way of life, than a career path. Artists here make art because they cannot stop.
'When Faith Moves Mountains' is on view at PinchukArtCentre in Kyiv, Ukraine, until 9 October.
Main Image: 'When Faith Moves Mountains', 2022, exhibition view, PinchukArtCentre, Kyiv. Courtesy: PinchukArtCentre; photograph: Sergey Illin