Linda Goode Bryant: Burning Up
Five collaborators celebrate the Just Above Midtown's legendary founder, Linda Goode Bryant 
Dr. Zoé Whitley is curator of Cathy Wilkes's British Council commission for the British Pavilion at the 2019 Venice Biennale and Senior Curator at the Hayward Gallery, based in London, UK
Linda Goode Bryant is a force. So many adjectives come to mind when I think of her, as I do often and fondly — honest, caring, dedicated, unapologetic, commit­ted, loyal, respected, generous — I even looked up the word 'force' to make sure
I was definitely using the single best possible descriptor.
'Any interaction that, when unopposed, will change the motion of an object.' Linda did change the trajectory of many artists' careers, and thereby the course of recent art history. Far from being 'unopposed,' she persevered in the face of challenges both systemic and practical, that others may have found insurmountable. She overcame opposition from would-be landlords; she countered the prevailing lack of belief that a black-owned avant-garde commercial art gallery was viable; she wasn't cowed by lack of financial investment. Knowing there was no pre-existing model for what she envisioned, Linda resolved to make a reality all the same.
Just Above Midtown (JAM) opened its first location on the 5th floor of 50 West 57th Street in November 1974. Crowds filled the stairwells and spilled out onto the street below.  
A place of discovery, of discourse and, sometimes, even dancing, JAM was also a place where ideas could be tested, and new forms of art-making birthed. If an artist turned up for his exhibition with greasy bags and barbecue bones rather than the more saleable works on paper for which he was already becoming known, Linda was unperturbed. She believes implicitly not only in herself but in the artists she collaborates with.
After several relocations, JAM closed in 1986. Tired of the worst aspects of the art world, Linda turned her tireless focus to the politics and poetics of city living and urban farming, founding Project EATS in 2008 and co-producing and directing Flag Wars (2003) with Laura Poitras, a doc­umentary on gentrification's human cost. An appropriate topic, since Linda builds communities in all that she does. Though many of us are just catching up with JAM's vision, for more than a decade Linda shifted the epicenter of radical art in New York to Just Above Midtown.
Lorna Simpson is an artist based in New York City, USA. In 2019, she was awarded the J. Paul Getty Medal by the Getty Foundation. 'Lorna Simpson: Darkening' is on view at Hauser & Wirth, New York, through July 26th.
When I was attending the School of Visual Arts, I was spending some of my time on the Lower East Side, some of my time in Harlem at the Studio Museum, and some at not-for-profit spaces across New York. Just Above Midtown connec­ted so many dots. Even when I was a teenager, I tried to see every show there.
It was amazing in terms of the artists Linda was showing. It wasn't just the usual suspect of the 1980s either. And it was never just one niche of artistic practice she was showing. You could walk into all kinds of scenes there, early career artists, mid-career artists… 
Linda's exhibitions are among the most memorable from that whole time in New York. What really stands out for me is Bill T. Jones and Arnie Zane's collaboration with David Hammons. Around this time, I was an educational intern at the Studio Museum when Hammons was artist-in-residence there and I would try to peek into his studio to get a look. To then see what he was doing at the gallery was fascin­ating: it was seeing the challenge of collaboration. 
Linda was about providing oppor­tun­ities, but always challenges too, pushing artists in different directions. For my show at the gallery in 1986, I made these freestanding screens. It was the first opportunity I had to make photographs that didn't have to hang on walls but interacted in the space — my first time working with a sculptural sensitivity. I wanted to experiment with a shift, and challenge presentation.
Linda was operating with a lot of trust, and openness. I think she really did and really continues to have her hand on the pulse of different artists' work, as opposed to dictating. She would never talk to you about a show and say, 'I want to show X, Y and Z'.
She was open to experimentation, but would never indulge you by saying, 'do whatever you want', either. An invitation to show at Just Above Midtown was an invitation to come do something, in the moment; to challenge yourself. To watch how Linda made exhibitions, and see her interactions with artists, has informed a lot of how I approach my own shows, right up to my present one in New York.
Lowery Stokes Sims is Curator Emerita for the Museum of Arts and Design, based in New York City, USA.
I met Linda when she was working at what was then the Photograph and Slide Library of The Metropolitan Museum of Art in the mid-1970s. At the time I was transitioning from being an Associate Educator in the Com­munity Programs Department to being
the Assistant Curator in what was then the 20th Century Art Department. I frequently haunted the Photograph and Slide Library.
It was obvious from the beginning that Linda was extraordinarily over-qualified for this job. But it was undertaken out of necessity. I remember the story she sketched out of how she got there: a supportive brother and indulgent yet concerned parents in Columbus, Ohio; a troubled marriage that had produced two young children, and an outsized conviction of her destiny in the world. 
A friend recently told me that when Linda had an interview for a Fellowship at the Met, she promised to burn the place down. It was a truly revolutionary attitude, which we probably all had but probably never voiced. 
But Linda was never about sub­terfuge. As her circle of acquaintances grew, she announced her intention to open a gallery — audacious, since she had no financial assets. Yet before we knew it, she had negotiated a space in 50 West 57th Street and was planning the opening. The gallery was to be named Just Above Midtown: its onomatopoeic designation was the culturally evocative 'JAM.' The upshot was that we had to go along. What choice did we have?
Around this time we also went to Los Angeles for the annual meeting of the National Conference of Artists: the venerable association of art pro­fessionals largely based in Historically Black Colleges and Universities. (How 250 East Coast-based black art pro­fessionals chartered a plane to get to the conference is another story, waiting to be told.) In Los Angeles we largely forewent the sessions of the meetings to travel around the city to meet artists: notably Dan Concholar, David Hammons and Suzanne Jackson. I don't remember if we met Maren Hassinger or Senga Nengudi during that visit, but they soon joined this nascent group of West Coast artists who would begin to take New York by storm: throwing the city's self-indulgent self-image as the center of the art world back in its face in the process.
Back in New York, I have memories of marketing and branding sessions with Linda, Pat Cummings and Faith Weaver. I even convinced my brother John to travel from San Francisco to do renovations on the gallery space. We all understood how we had a stake in Linda's vision. JAM's success would be reflected on us.
Linda became a pioneer one more time when she decamped with JAM to Franklin Street, becoming one of the first galleries in Tribeca. There the exhibitions diversified, and the circle grew. Together, we protested injustices in the art world and participated in experimental art exhibitions. I even made my own modest contributions, which allows me to claim the professional landmark of having been exhibited in a gallery.
It is high time that Linda and JAM got some recognition, thus proving that living long is the best revenge.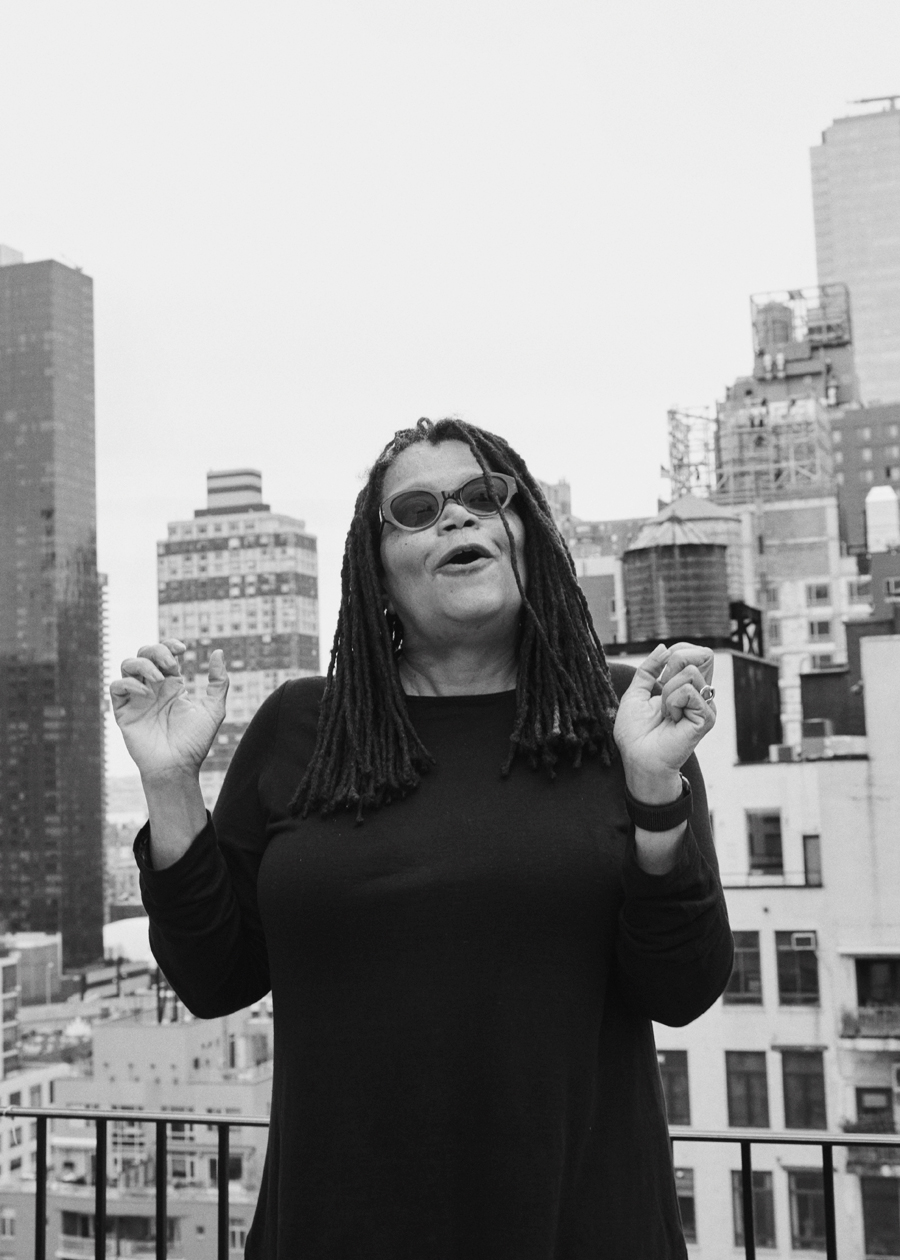 Tom Finkelpearl is Commissioner of the New York City Department of Cultural Affairs, based in New York City, USA.
My memories of Linda Goode Bryant begin in May 1983, an opening at Just Above Midtown, which had just moved downtown. The show was called 'A Love Story'. Today, I don't remember the details, but I still have these vivid images in my brain — like those iPhone pictures that include a little bit of movement. The crowd was super diverse — so much more than any other downtown NYC openings of the time — and just full of super engaged people. The exhibition full of all sorts of images: from classic Harlem photography to John Ahern, Dawoud Bey and Duane Michals. And some by me.
What impressed me about Linda was, first of all, what she did. She saw a need, and just took action. There weren't any commercial galleries focusing on the work of black artists, so, instead of lamenting the situation, she just started her own. Through this scene around that time, I got to know David Hammons and A.C. Hudgins — people who have since become long-term friends. Linda I lost contact with, but we got acquainted again over the last three or four years, through the charity she founded, Project EATS.
Again, Linda responded directly to a need. There are food deserts in certain parts of New York City, so she began interactive food gardening. I do think for Linda it's a kind of social sculpture. At the Brooklyn Museum in 2015, Project EATS set up a garden in front of the museum, and a vegetable market. My wife is a curator there, and so when she'd leave work, she'd pick up veget­ables to bring home and cook: we've had dozens of meals from Project EATS produce in our lives.
I know Linda pretty well these days, and she's not aged at all. Completely lively, energetic, uncompromising: a pos­itive force in our city.
Dawoud Bey is an artist based in Chicago, USA. Recent and forthcoming exhibitions include Art Institute of Chicago (2019); SFMOMA (2020); and Whitney Museum, New York (2020). 
The opening of Just Above Midtown gallery in 1974 was an auspicious moment for black artists in New York like me. JAM filled a space unoccupied by other institutions, adding radically to the institutional ecology of themoment. Certainly, as a commercial
gallery located on 57th Street in the heart of what was then the city's most exclusive gallery district, exhibiting works by Black artists, it signalled a bodacious level of ambition not previously witnessed.
Equally importantly, JAM caused a seismic shift in the conversation around the kinds of work being made and exhib­ited by Black artists. In 1974, Black artists in New York were caught on the lingering tail end of a form of Afrocentric 'revolutionary' Black art, meant to function as a visual corollary to the Black cultural revolution of the late 1960s and early '70s on the one hand, and those black artists who were assiduously working inside of the paradigm of high modernism, even as they sometimes infused that tradition with African American references.
The work that began to appear in New York when Linda Goode Bryant opened JAM was neither of those things. Instead, works by artists like Houston Conwill, David Hammons, Maren Hassinger and Senga Nengudi, (all from Los Angeles), along with New Yorkers like Howardena Pindell and Randy Williams, completely upended and shifted the conversation. Their work bypassed the conventions of modernism and any rhetorical or di­dactic expectations around black art production, favoring an idiosyncratic approach to art making that was nothing if not unconventional and materially ambitious. The work was not without precedent, but without JAM, would just not have been a part of the prevailing conversation among black East Coast artists at that time. As such, Linda's program was a dynamic and powerful blast of fresh air that forever changed the conversation in New York.
It was a seriously liberating impulse. Everyone was put on notice that the choices that one could make as an artist who was black could indeed fall outside of any prevailing orthodoxy. Happening when it did, it was a timely influence: an influence that is still being profoundly felt some 45 years later. Being the vis­ion­ary that she is, Linda has reshaped African American art history — and by extension American art history, pushing it forward into its future.
JAM: Just Above Midtown, organized by Franklin Sirmans (Pérez Art Museum Miami) features solo presentations of seven artists from Linda Goode Bryant's original programming, including Lorna Simpson and Dawoud Bey, and is on view at Frieze New York May 2 through 5, 2019.
Main image: Annie Powers, Linda Goode Bryant at the Project EATS offices, New York City, 2019