Marianna Simnett on the Eerie Influence of Jonathan Glazer's 'Under the Skin'
In the first of a series of events partnered with MUBI, the artist discusses love, empathy and sexuality in Glazer's 2013 masterpiece
Frieze has partnered with curated streaming platform MUBI to present a programme of artist conversations celebrating and debating contemporary classic films. In the first event in the three-part series, artist Marianna Simnett joined frieze deputy editor Amy Sherlock to discuss the lasting influence of Jonathan Glazer's Under the Skin (2013) on her work. 
The conversation touched on the connections both in atmosphere and subject matter between Glazer's masterpiece and Simnett's works, including Confessions of a Crow (2021), The Bird Game (2019) and The Udder (2014). Simnett's films, similarly to Under the Skin, conjure unusual worlds full of untamed, carnal desires and twisted fantasies. 
This article summarises some of the key themes from the discussion. Please be aware that it does contain references to sexual assault. The full video is available to watch below.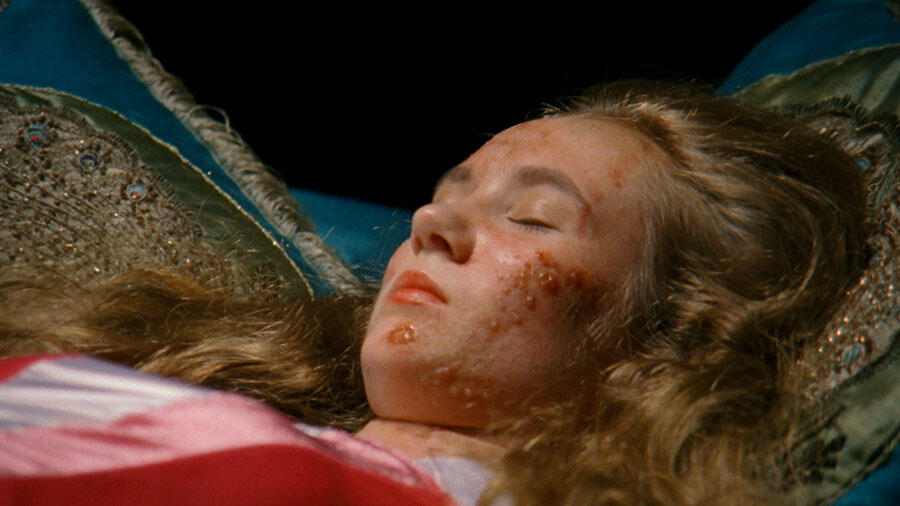 Skin and the Body 
'In a very literal sense, getting under the skin of things has been a very important part of your work. I'm thinking about that early trilogy – The Udder (2014), Blood (2015), Blue Roses (2015).' – Amy Sherlock 
'In a lot of my work, the skin is a membrane, it's fluid, it's porous, subject to eruptions and blisters; the skin is alive. It's fizzing. I like to try and emphasise the skin as something that can move, it can talk back.' – Marianna Simnett
'The skin falling off at this moment [final scenes in Under the Skin] reminds me of a type of resistance. It reminds me of some of my early research into acts of mutilation, like nuns who would cut off their nose to spite their face and avoid being raped by Vikings. They would cut off their noses so they would be too ugly to rape; it was this moment of defence.' – Marianna Simnett
'Western medicine now locates everything in little portions of the body. It doesn't create a holistic sense of ourselves. There's something valuable in thinking about how pushing one part of the body can impact another. I think that we compartmentalise the body today.' – Marianna Simnett
'One of the things about Under the Skin is that the black body underneath is liquid. It's very fluid' – Amy Sherlock
The Void 
'It's a liminal space, the space of the void; a deliberately ambiguous space. The only thing that we know is that she takes them into a house. The alien goes into a domestic interior to kill the men, hollow them out and sink them into the underworld. It almost feels as though women in the Victorian sense are locked in their homes. It's a chance for her [Scarlett Johansson's character] to play.' – Marianna Simnett
'Interiority is also the space of the psyche. There's also a scene in Under the Skin, where there's a mirror; we don't know if it's real or fantasy, we don't know if we're in her brain or if we're watching a movie.' – Marianna Simnett
'I toy with whether something is real blood or theatrical blood. I try to muddy the borders between thresholds, whether we're real or imagining. I don't know whether I make documentary films. But this space affords a type of "anything goes"'. – Marianna Simnett
'With my work, I was always interested in going to a location like a farm, surgery or laboratory; something that has a very real set up and planting a fantasy on top of it.' – Marianna Simnett
Female Sexuality 
'What struck me, watching Under the Skin again, is that I remembered Scarlett Johansson as the predator. Her beauty and sexual allure are part of that. But that beauty ultimately makes her the pursued; she's pursued as a woman, not an alien-entity.' – Amy Sherlock
'The van was used to direct the movie, which flipped the idea of the male director as the storyteller. It allowed a non-human character and a van to lead the movie. We have a vehicle, alien, female, hybrid mashup.' – Marianna Simnett
Love and Empathy 
'I'm interested in other ways of loving. Scarlett Johansson's character in the sex scene is trying to be human. We can love the other, but we can't pretend that they're going to be the same […] I'm trying to embrace and celebrate sexual desires and urges for something that is not human. And show all of its mess.' – Marianna Simnett
'One of the deeply unsettling things about Under the Skin is the way that it leans into sexual stereotypes and cliches […] the proximity of sex and danger I find deeply problematic on many levels but is so dominant in the world in which we live.' – Amy Sherlock
'I think Glazer is teasing out our own fucked-up judgements and moral ways.' – Marianna Simnett
Music 
'Mica Levi's soundtrack to Under the Skin is incredible. Also, and Oliver Coates plays on Levi's composition. Coates in the composer of The Bird Game soundtrack […] the music in both works is part of what I love. I suppose Levi's soundtrack is very human in a way; makes you feel uneasy, queasy; there's lots of sliding around and instability.' – Marianna Simnett
Main image: Jonathan Glazer, Under the Skin, 2013. Courtesy: the artist and A24 Films