Featured in
The Riotous Inventiveness of Takehisa Kosugi
'That one artist has applied such a diversity of materials (paper, cloth, plants, violin, electronics) to such a breadth of pursuits (music, dance, publishing, performance art) is remarkable.'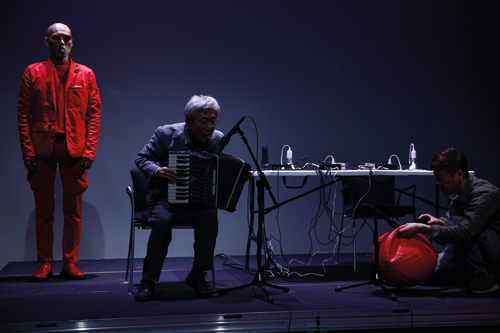 The extensive arc of composer and violinist Takehisa Kosugi's career has carried him through some of the most esteemed corridors of modern avant-garde history, spanning a range of activity rivalled by few musicians. Beginning in 1958, while still an ethno-musicology student at Tokyo National University of the Arts, Kosugi co-founded the short-lived Group Ongaku, often considered the first collective-improvisation ensemble, predating similarly non-idiomatic European counterparts such as AMM in the UK, and Rome's Musica Elettronica Viva by several years. In 1963, Kosugi acted as assistant to electronic composer Matsuo Ohno as he created the sound design for the famed 'Astro Boy' animation series and, the next year, Kosugi's text score Theatre Music (the full instructions read: 'Keep Walking Intently') was published by George Maciunas in Fluxus 1. By 1969, Kosugi had founded the Taj Mahal Travelers, an itinerant septet of Japanese hippies who spent two years in a Volkswagen bus driving from the Netherlands to the eponymous monument in India, staging improvised electro-acoustic performances and outdoor happenings in the UK, Italy, Germany, Scandinavia and Iran along the way. (Much of their lengthy journey was filmed and later pieced together in a wonderful experimental tour documentary in 1972, which shows the group interacting with the likes of Don Cherry and Toru Takemitsu, as well as staging a string of feral performances in the wilderness.) In March 1976, Kosugi composed S.E. Wave/E.W. Song for the Merce Cunningham Dance Company, thus beginning a decades-long relationship with the group. The following year, he became a resident composer-performer for the company and would later act as the group's musical director from 1995 until 2012.
Over the course of two days in September 2015, the Whitney Museum of American Art in New York held a retrospective of Kosugi's performance work, covering over 50 years' worth of material. The programme, 'Takehisa Kosugi: Music Expanded', was an intentional echo of an eponymous 1967 concert, during which the artist's work was performed at Town Hall in New York with the assistance of Charlotte Moorman and Nam June Paik. At the Whitney, the programme ranged from Kosugi's earliest fluxus text scores – the 18 lithographed cards of Events (1964) – through his electro-acoustic violin work of the 1970s to more recent experiments with tape, light sensors and live electronics, assisted by the artists Kiyoshi Izumi and Ken Hamazaki.
Today, in addition to his long tenure with Cunningham's company, Kosugi is perhaps best known for his recorded work with the Taj Mahal Travelers and, as a solo performer, for his 1975 album Catch-Wave. Only two full albums were issued within the group's lifespan: a live concert and a studio-produced LP. After they had disbanded, a recorded performance from their Swedish tour was released as well as one side of a long circulating two-LP bootleg documenting a segment of Tokyo's countercultural underground. (Somewhat in the style of Grateful Dead concert bootlegs, the Taj Mahal Travelers' albums are titled only by the dates of performance: July 15, 1972, August 1974 and Live Stockholm, 1971.) These albums showcase a loose group telepathy, with traditionally acoustic instruments – including cello, violin, harmonica and tuba – accompanied by makeshift percussion such as tree branches and stones, all of it knitted together with ample amounts of tape delay and punctuated by spans of near-silence. (That the first two albums, as well as Catch-Wave, were originally released on the major labels cbs/Sony and Columbia is fairly astounding given the formlessness and non-musicality of the sounds.) Like the group recordings, Kosugi's solo work on Catch-Wave is deeply psychedelic, though more ecstatic in its reach. The album is a masterpiece of soaring violin shapes, slow-pulsing oscillators and cavernous vocal drones, all of it shot through with towering crests of delay. Though the two tracks are improvised, there is a tight cohesiveness in the way that the sounds drift, layer and merge together. Catch-Wave feels totemic, kaleidoscopic and timeless.
The wide scope of material performed at the Whitney likely came as a surprise to those who are more familiar with Kosugi's work through these landmark albums. A genuine sense of fluxus-style playfulness was displayed in many of the earliest pieces, with John Cage's influence looming and laughing over it all. (As part of Nam June Paik's 1984 live television installation Good Morning, Mr. Orwell, Kosugi performed alongside Cage in a small group that played only amplified feathers and dried cactus leaves.) The sound of mundane objects, human breath and simple movements were the connective tissue between each of these pieces. The first, Micro 1 (1961), consisted solely of a large sheet of butcher paper being tightly crumpled around a live microphone and then left to slowly unfurl without human interference for the next five minutes. The work captivated, as the initial stream of popping sounds led into a hovering silence, occasionally pierced by a magnified papery shift. Other pieces in a similar vein of mid-century performance art felt like a genuine product of their times. When Hamazaki rode a bicycle on stage while static spouted from the radio in his handlebar basket, it was amusing but carried none of the shock that it surely must have for audiences in the 1960s.
The later pieces from Kosugi's career demonstrated his interests across the more strictly musical spectrum. For Op. Music (2001), he and Izumi sat behind a table covered in electronics and effect pedals. In the darkened theatre, the duo used individual light bulbs to trigger sensors that unleashed a strata of wavering feedback, accumulating into a dense sheet of harsh noise: on the second day, Kosugi performed Catch-Wave, though it only bore a trace resemblance to what is heard on the album. (Not that it should – improvised music doesn't trade in songs.) Beneath an immense video projection of a gradually undulating ocean, Kosugi played amplified and delayed violin into a furious wash of notes and feedback, with the occasional stray melodic line connecting what he was performing to the piece's original iteration.
Given that Kosugi is now in his late 70s, and was also recovering from a back injury in the days prior to the performance, the retrospective involved an impressive degree of athleticism. For Anima 2/Chamber Music (1962), the artist writhed around on the floor inside a custom-made full-body cloth sack, outfitted with a variety of slit openings. He shook a few percussive objects – a can of coins, dry soup mix – while making an escape from his bind. A palpable sense of relief was felt in the audience when he emerged unscathed, Houdini-style. When Kosugi performed Film & Film #4 (1965) on the first evening, there was a similar sense of exertion. While a 16mm film projector cast a blank square of light onto a large framed piece of paper, he made a small cut into the sheet from behind. He then slowly opened it, starting from the middle and moving outwards until a telescoped square of light from the projector could be seen on the wall past the stage. As the paper was sliced away, the two squares of light, foreground and background, created a beautiful visual while Kosugi continued to slowly strip away the screen. Eventually, all of the paper was removed and merely the square of light remained. There was a rising tension to the artist's actions as he visibly strained to reach the uppermost strands of paper hanging above him. Finishing it felt like a monumental accomplishment, despite the piece's modest premise.
That one artist has applied such a diversity of materials (paper, cloth, plants, violin, electronics) to such a breadth of pursuits (music, dance, publishing, performance art) is remarkable. Even more astounding, as the programme at the Whitney demonstrated, is that Kosugi has maintained the same sense of energetic curiosity after five decades of consistently exploratory work.