Postcard from Jamaica
On the 2017 Jamaica Biennial and its attempts to confront the role of misogyny in Jamaican popular culture
Extremes top and tail on the downtown Kingston streets. Within the space of a few metres, you can pass from the sun-bleached ruins of a building to a shop selling Swiss watches and Nespresso coffee. It is an area of the city lurching sporadically towards gentrification while still recovering from the violence of the 1970s, when rival political parties enlisted neighbourhood gangs to do their bidding. The unrest sent those who could afford it out into the surrounding parishes, and today, the division between rich and poor can feel as steep as the Blue Mountains that flank the capital.
It is downtown, at the National Gallery of Jamaica, where the largest iteration of the Jamaica Biennial is taking place. Starting out as a national expo in 1938, the biennial has recently expanded to include artists from the Caribbean region and diaspora. This year there are 92 participants, and work ranges from pottery and VR landscapes to African Nationalist painting. It is a remarkably diverse spread, all the more notable given the limited exhibiting opportunities in Jamaica, where the number of contemporary art galleries can by counted on a single hand.
The 2017 edition contains tributes to two Jamaican artists: Alexander Cooper, painter of bucolic island vignettes, and photographer Peter Dean Rickards, who died in 2014, aged 45. Rickards described Jamaica as 'an island filled with beauty unsurpassed and ugliness that would make a rat puke'. His photographs trade on this conflict, and on show at the National Gallery are images of a man pointing a silver revolver, a marijuana farm and a young woman bending backwards in a military helmet and little else. Rickards's eye for iconography is second to none, but standing before his photographs, I am reminded of the type of fantasy of lawless masculinity typically enjoyed from the safety of a cinema seat.
Elsewhere, the relationship between sex and violence is not afforded such glamorous treatment. One of the recurrent themes of this year's biennial is an attempt to untangle and account for the role of misogyny in Jamaican popular culture. Camille Chedda's charcoal drawings Catastrophe of Liberation and Under Construction (both 2017) depict bleak landscapes in which the fragments of a black body are scattered among breezeblocks. The construction materials refer to a dancehall routine in which women smash the blocks against their pelvises and then grind on the shattered remnants. It is a physical manifestation, Chedda tells me, of an abusive power dynamic instilled by transatlantic slavery that continues to do harm today.
Storm Saulter's photograph of Vybz Kartel – the self-titled 'Worl' Boss' of the dancehall scene – also hones in on the spectre of gender violence. Kartel stands with his arms around a group of young children who stare earnestly at the camera in the Cassava Piece neighbourhood of Kingston. On the wall behind, 'The World Is Yours' – also the title of the photograph, which is exhibited in a triptych of street scenes – is painted in large yellow letters, a message of hope stymied by the words 'pussy fuck' scrawled below. Saulter took the photograph in 2005, in the years before Kartel became controversial for bleaching his own skin, and allegedly murdered a member of his entourage over a missing gun (he is currently serving a 35-year prison sentence).
Incidents of sexual assault in Jamaica are high, and conviction rates low. While in Kingston, I was invited to a protest organized by an activist group called the Tambourine Army, prompted by an ongoing court case involving a pastor and a 15 year-old girl. A number of the artists exhibiting in the biennial were present, and we marched through the city in the searing afternoon heat, behind a sound system on a lorry pumping out an anti-rape soundtrack. In the following days, the price of action became apparent when Tambourine Army co-founder Latoya Nugent was arrested by armed police officers for allegedly naming suspected abusers online.
The biennial continues north of downtown Kingston at Devon House, a plantation-style mansion built in 1881 by Jamaica's first black millionaire, George Stiebel. A well-known story is that Lady Musgrave, the wife of the Jamaican governor at the time, was so horrified by the rise in prosperity of a black man that an entirely new road was built on her behalf, so that she never had to lay eyes on Stiebel's property.
Today, Lady Musgrave Road is a busy traffic route, and Devon House a museum. It is an astonishing setting for an exhibition, and artworks here go head-to-head with the Wedgewood ceiling medallions, chandeliers, and other colonial-era trappings. In Deborah Anzinger's A Piercing Void Where We Meet (2017), a huge black tongue lolls onto the wooden inlaid floor through an orifice sprouting Aloe Vera, creating a joyful and indecorous breach in the building's Victorian sensibilities. Colonial pretences of gentility are again confronted in Jasmine Thomas-Girvan's installation, Parallel Realities Dwelling in the Heartland of My People (2016). Beneath a portrait of a former British governor, an epic history of the subjugation and resistance of black Jamaica is served up on a dining table. Black, bronze bodies are skewered by silverware, and platters are overturned by Abengs – cowhorns used for communication by the Maroons, escapees of slavery who fled to the island's interior and formed their own communities.
To reach the final biennial venue, I travelled across the dense, green interior to the National Gallery West in the tourist haven of Montego Bay, where the blue of the ocean could put a peacock to shame. On view is a single installation by David Gumbs, Xing-Wang (2016): a psychedelic stream of flowers and butterfly wings mirror-projected onto the walls of a temporary structure in the middle of a room, opening out like a tropical Rorschach test. I was told the work was about finding space in a busy world, but the hippy visuals feel more like a sketched-out morning at a Psytrance festival.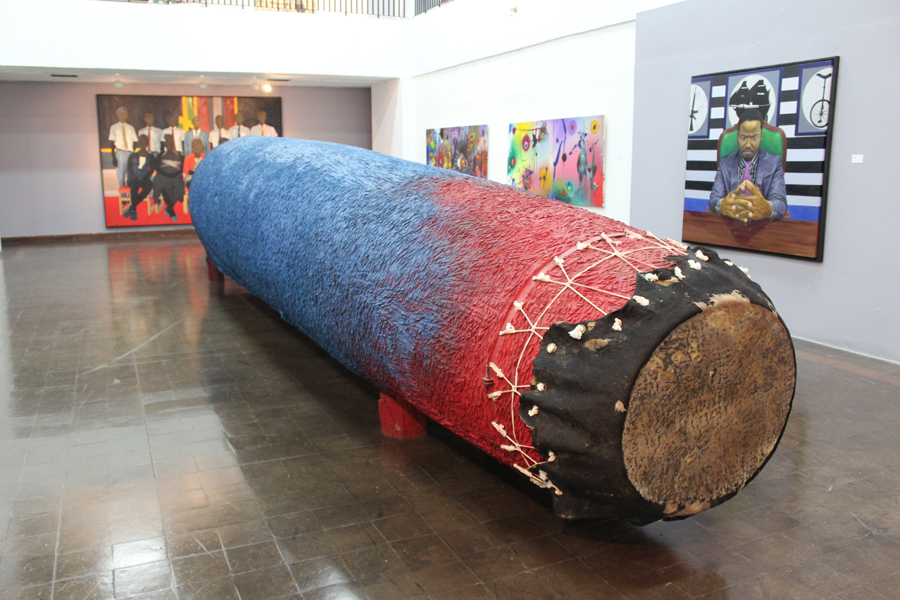 Back in Kingston I returned to the National Gallery, where I noticed a painting on a blue tarpaulin sheet by Nicholas Rose, Trelawny-Untitled (Wing-gie) (2016), depicting a man on a country path. The colour of the tarpaulin bathes the scene in a pacific, crepuscular light, and the figure stands as if he has paused only momentarily. Both he and the day seem soon to depart. The last thing I saw before leaving was Laura Facey's whale-size drum, Ceiba (2016). Carved from the trunk of a cotton tree, it captures the biennial's prevailing mood of a region rich in artistic potential; the drum was played on the opening night, and lying dormant in the gallery, its majestic body and giant skins are testament to an extraordinary power, ready to be unleashed.
The Jamaica Biennial 2017 runs until 28 May at the National Gallery of Jamaica and the Devon House museum, Kingston, and National Gallery West, Montego Bay.
Main image: Peter Dean Rickards, Terri Lois (detail), undated, photographic print, 122 cm x 84 cm, Armour Heights, Kingston. Courtesy: the Peter Dean Rickards Estate