Featured in
Rinko Kawauchi
Argos Centre for Art and Media / Meessen De Clerq, Brussels, Belgium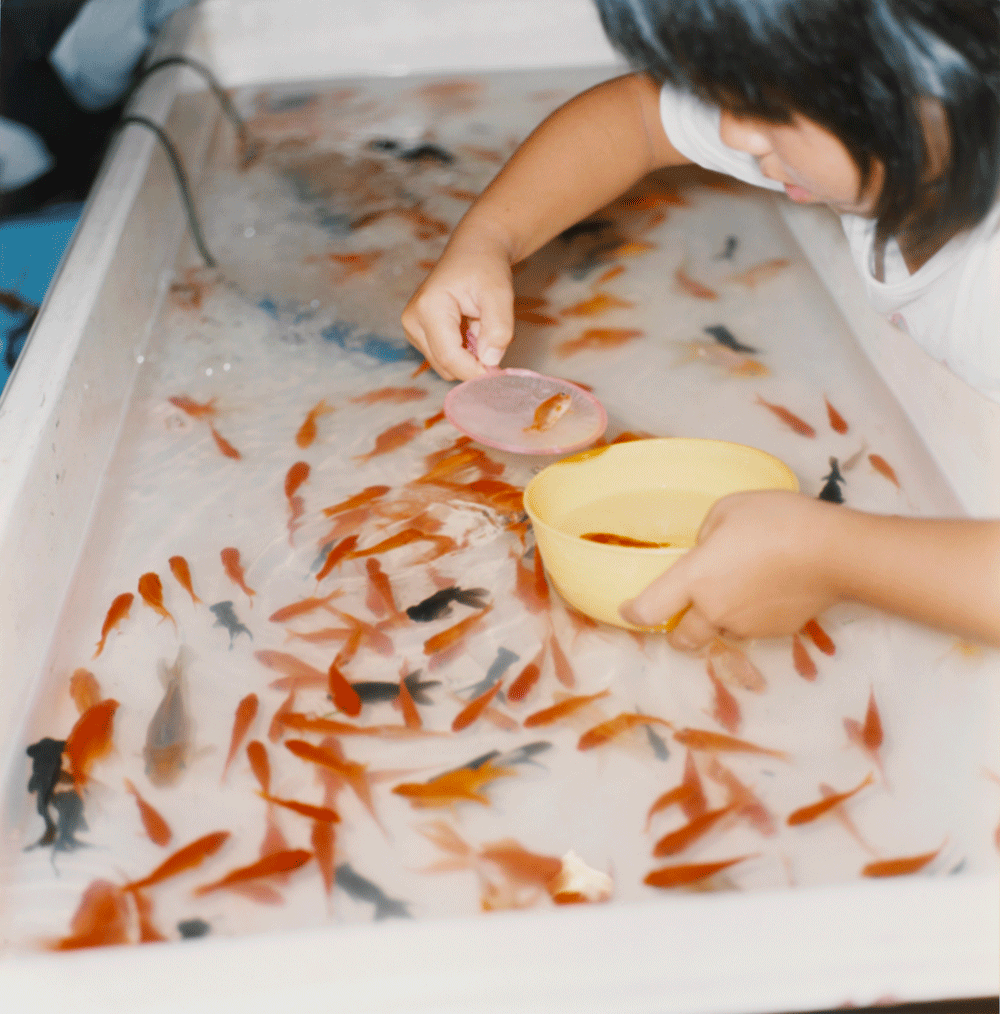 In the first week of my photography class at university, our professor laid down strict rules about the subjects we could not photograph, to bypass all the predictable photographic clichés. These included: animals, old people, trees in Central Park, children and Chinatown. Rinko Kawauchi violates almost all of these rules. In fact, animals, she admits, are her favourite things to photograph, and they reappear again and again among her images (it's almost as if her pictures of other subjects are an excuse to justify so many animal portraits). Silk worms, Koi fish, fireflies, dragonflies, moths – the smaller and more delicate the better.
Kawauchi's subject matter is intimate, personal and almost sentimental, but her photographs are not trite. She seems to take pictures from the perspective of a girl who spent too much time gazing out of the window at school, studying bugs on leaves or watching dandelions disperse in the wind. Her series of colour images make the banal, the everyday, the possibly maudlin and the certainly melancholy look another way – the way that only these things can look as framed through her lens, in this light. As a result, in Kawauchi's work, a woman giving birth, butterflies perched on flower petals and dewdrops on skin are transformed through the photographic medium. This seems to me one of the simplest and most basic definitions of art – to make the ordinary look less so, so that when you step out of the exhibition you might see a spider's web or a single thread from the same tilted angle that Kawauchi might have seen it.
Still, the works are difficult to write about, for all the hackneyed turns of phrase they provoke: 'painful beauty'; 'capturing the fleeting'; 'the poetry of the commonplace'. How else to describe an image of a child in a puffy snowsuit framed against a window pane, planting flowers in the garden with his father, or gently touching the fluttering wings of a cicada held in his hand?
Kawauchi's solo show at Argos and a concurrent show at Meessen de Clercq gallery represent selections from several of her major series dating back to 2001, which she has published in numerous books to great acclaim in Japan. In both shows, she experimented with varying formats of display including wall collages of unframed images in varying sizes; individually framed images; a video projection and a slideshow. The common motif among them is the fragile and the momentary – goldfish gulping for air in a plastic bag, a cracked bird's egg, a moth's wings – and the way each one is awash in a bright white or subtle blue light that makes it look as if you are viewing her images through the glass of an aquarium or against the glare of the sun.
A selection of images from her series 'Utatane' (2001) at Argos includes a skinned chicken with a single drop of blood coming from its mouth, tiny sea turtles in the sand, pale lizards with transparent skin and a baby with the umbilical cord still connected to his mother. A two-channel video projection entitled Utatane 2 (2009) takes similar images and turns them into vignettes, though the juxtaposition of large and small and life and death here can be too obvious. The ideal format for Kawauchi's work might be the slideshow, represented by 'Cui Cui' (2005), a series of non-chronological images taken over 13 years of her family and friends in Japan. It documents minor and momentous occasions: the birth and childhood of her nephews; meals both simple and elaborate; the illness and eventual death of close relatives. It is akin to a family photo album, but one containing the shots you might discard because the subject matter is unclear, or because no one was looking at the camera.
But something deeply melancholic lurks beneath the works' ethereal and often intimate aura. While Kawauchi's images leave impressions of tender and tentative moments, they also reveal a surprisingly direct confrontation between the photographer and the photographed; often her lens is unbearably close to her subject. The innocence of children playing is punctuated by spurts of violence: a baby being born is seen in as much unflinching detail as the bloody pool left by a dead pigeon. Kawauchi has a way of framing and displaying these subjects so that their scale becomes ambiguous – it's sometimes hard to tell if her subject is a galaxy of stars or a spilled drink, the ocean seen from above or a tiny puddle. By photographing them, Kawauchi makes the fleeting moments of life even more fragile – not less so – because she makes them static and visible for us. We can see them as we would in our mind's eye – with the blurred and imperfect vision of memory.