Searching for Sicilian Futurism
Ahead of Manifesta's opening in Palermo next summer, the importance of remembering an alternative Mediterranean modernism
For years the Teatro Garibaldi sat empty, its wooden heart closed behind bolted doors and left to rot. Situated at the centre of La Kalsa, Palermo's medieval Arab district, the theatre is a sparse, cavernous space, built on a pile of biblical stone blocks etched with decades of graffiti. The building's life is a kind of synecdoche of Sicily's urban history. Almost immediately after its triumphant opening in 1863 it was abandoned, then re-opened and closed in a seemingly hopeless cycle, serving variously as a cinema, an art venue, a concert hall, and a safe house for local gangs. In 2012, during a wave of theatre occupations inspired by the high profile case of Rome's Teatro Valle, a group of artists and activists took control of the Garibaldi, vowing to reclaim it once and for all for the public good. As a result the building was ultimately entrusted to the Union of European Theatres who presided over its most recent restoration.
To the surprise of local residents, this much-contested venue is now the landing point for Manifesta 12, the itinerant art biennial that will take place in the city next summer. 20 years ago, when Cosa Nostra was at the pinnacle of its power, such a venture would have been inconceivable, but in recent times anti-mafia laws have begun to loosen its hold on the city. So while Palermo still struggles with corruption, underdevelopment and complex patterns of migration both to and from the island, there is, as the case of Teatro Garibaldi exemplifies, a growing desire to redefine its metropolitan centre as a place of culture over violence. 'We chose Palermo for its multi-layered and complex character as the crossroads between continents and civilizations', Manifesta's Director Hedwig Fijen told me, 'it's a sort of metaphor for today's political, geographical, social and economic transformations.' With the title 'The Planetary Garden. Cultivating Coexistence', next year's biennial will reimagine Palermo as a sort of 'laboratory for diversity and cross-pollination', a space in which to diagnose the problems of our time and reflect on our various co-dependencies and shared responsibilities. 
Such international recognition of Sicily's broader cultural importance is long overdue, though if my experience working as a journalist here is anything to go by, the Manifesta team will have a hard time breaking through the onion-like layers of half-truths and false-promises that make daily life in Palermo so confusing. This is not a criticism, nor is their task impossible. In fact there is already a strange utopian aspect to the city, a creative energy that collides awkwardly with everyday hardship. People struggle on alongside the last remains of Swabian chapels and Fatimid hammams, treasures hidden beneath piles of other less remarkable rubble. Something deep extends outwards from all this anonymous masonry, a cosmopolitan truth that speaks beyond the rise and fall of specific civilizations. It's a feeling you get among the stalls of Ballarò market, when you lock eyes in the street with a priest, a widow, a group of kids who all seem to know more – 'about what?' – than they let on.
'Palermo is a city at once within and outside of history' says the philosopher and writer Federico Campagna, 'the Western, secular notion of this idea only partly applies here.' The ruins of Greek-Roman, Arab-Norman, Spanish-French rulers, are leftovers from a reality that calls into question the stable divisions around which our political and cultural identities are structured. Campagna, author of the forthcoming book Technic and Magic: The Reconstruction of Reality, is inspired by Palermo precisely because 'such a large part of it refuses the time-frame within which it makes sense to talk about 'contemporaneity''. The island, he suggests, is not just geographically unique, then, but offers a metaphysical counterpoint to the basic premises of Western progress.
This impulse is just as present in modern Sicilian art as it is in older artifacts, if you know where to look. Take futurism, for example, of which Palermo was a forgotten incubator. In the 1920s artists such as Pippo Rizzo, Vittorio Corona and Giulio D'Anna formed a loose school here, creating a body of work that challenges some of our assumptions about that wider movement. Their painting, like their Milanese contemporaries, was inspired by divisionism, cubism and various other post-impressionist experiments, but exhibits a unique natural imaginary of perpetual re-birth, a cyclical temporality in fundamental contradiction with the revolutionary linearity of Umberto Boccioni or Giacomo Balla. The jagged lightning of Rizzo's Lampi (1920) is contained within a series of concentric circles that seem to join the human and natural worlds together. In a similar vein his Grotta Marina (1928) plays with these different forms of time with its depiction of a towering man-made pier disappearing into infinity on a calm, rippled sea. Even at their least organic these paintings tend to prioritize mutation, amplification and augmentation over the fascistic call for what Marinetti celebrates as 'ruinous and incendiary violence.'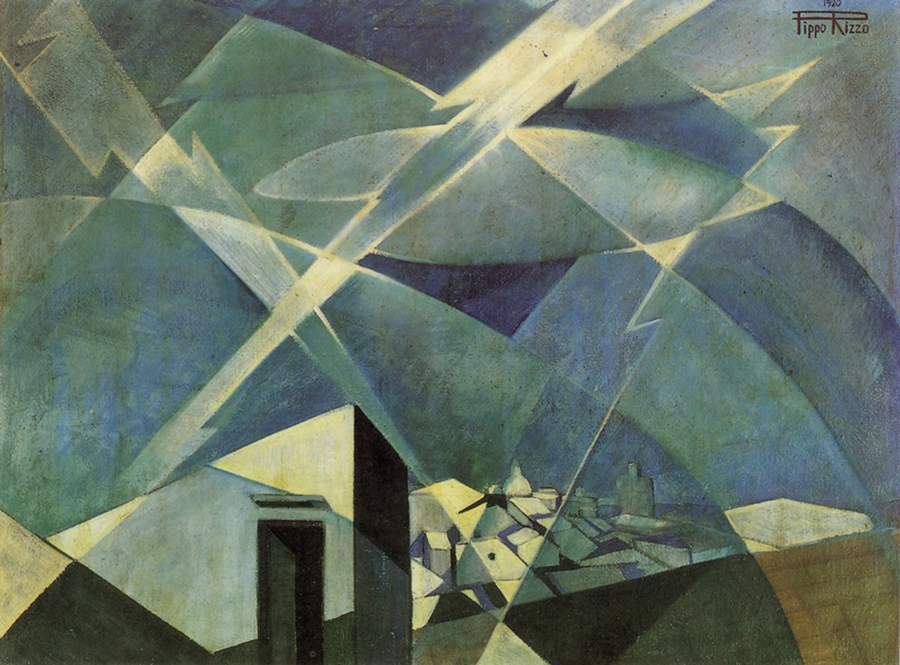 Later, as the world worked to repair the fallout from such bloody ideas the Gruppo 63, a loose party of Italian writers, poets and artists founded in that year, chose Palermo as the venue to debate the next steps for the avant-garde. Nanni Balestrini's algorithmic verses, Edoardo Sanguineti's neo-Renaissance tragedies and Umberto Eco's semiotics were all inspired, amongst other things, by the city's esoteric topography, from the graceful archaeology of Phoenician Solunto, just outside the city limits, to the bombed-out hollow of Piazza Garraffello at its dilapidated core. Their writings, while diverse, are unified by a shared interest in the primitive energies unleashed by technology, the same theme that so concerned those earlier Sicilian futurists. More recently Alberto Burri's Cretto di Buri (1984–2015), an extraordinary piece of techno-pastoral land art, or Lidia Monachino's radically 'colourist' experiments among others have demonstrated the continuing evolution of an alternative Mediterranean modernism with its own temporality and conception of nature.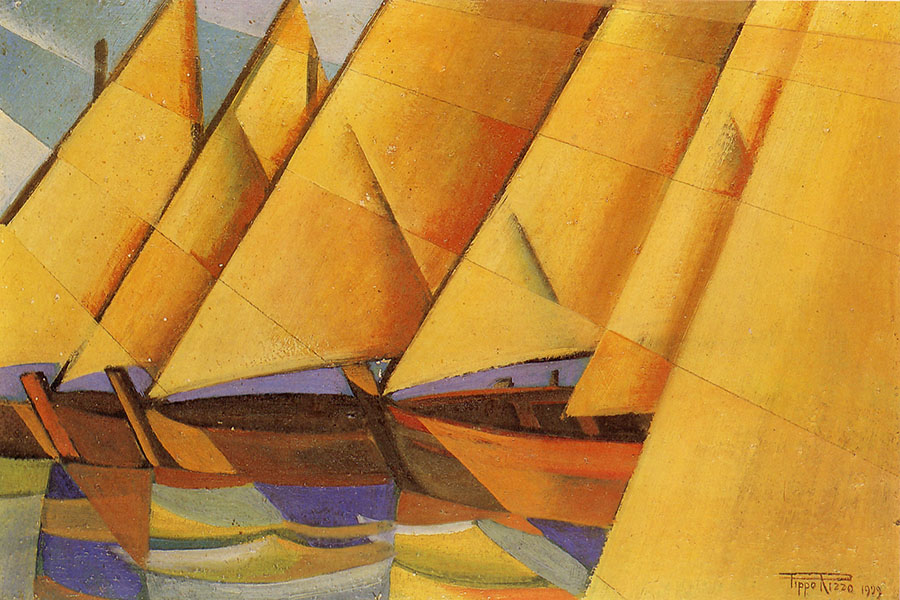 It is the spirit of these artworks and many more, so unjustly confined to the southern periphery, that Manifesta 12 must endeavour to channel when it arrives in earnest next year. As with any such venture – take documenta 14 in Athens for example – the onus is on the organizers to position their interventions less as an invading external force than a stream with its source deep in the local environment. The government's decision to assign Manifesta the Teatro Garibaldi was a good one, not only because the venue so aptly epitomizes the kind of renewal that Palermo has proved itself capable of producing but because it remains, in essence, a public forum.
Fijen and the organizers have used the space to set up 'Waiting for Manifesta', an exhibition area with a pop-up library and literary café, which will host lectures, workshops and film screenings in association with local groups. Earlier this year the Palermo-born artist Gabriella Ciancimino held a workshop called 'Fatimid Tales' in which a group of children were asked to draw La Kalsa's Arab past, and its possible futures. Similar initiatives will take place over the coming weeks, with the aim to embed the biennial within the city and bridge the gap between citizens and institutions that the art world often finds so hard to overcome. As Fijen puts it, 'our hope is that Manifesta 12 will not only produce a series of inspiring, imaginary and sustainable biennial projects, including longer-term interventions besides our regular artistic exhibitions, but also act as a think tank on a geographical, cultural and social level.'
Only time will tell if such a broad vision can take root in the long-term. Palermo's cultural rebirth is an idea that has so often seduced those passing through, and yet, beyond isolated moments of innovation, little has come of it. It is a city that at times seems to want to give so much but then at the last minute recoils backwards, paralyzed by subaltern fears and bleak economic realities. In the dark streets of Monte di Pietà, however, as a dialect song echoes out from somewhere up above, it's difficult not to feel optimistic about the potential futures of this intoxicating city that, for all its reticence, has much to offer those looking for all manners of refuge. 
Main image: Alberto Burri, Cretto di Burri, 1984-2015. Courtesy: Wikimedia Commons; photograph: Gabriel Valentini