Featured in
What Will Manifesta 14 Bring to the Balkans?
Five curators and artists consider what the arrival of the nomadic biennial could offer the region
From its very first edition in Rotterdam in 1996, Manifesta has been dedicated to the principle of – as its website currently attests – 'keep[ing] its distance from what are often seen as the dominant centres of artistic production'. This year, the nomadic biennial will take place in Prishtina in Kosovo, a country whose independence is currently recognized by only 102 of 193 of the member states of the United Nations – the result of a long-running territorial dispute with neighbouring Serbia. It is not the first time that Manifesta has waded into tense geo-political waters. In 2006, Manifesta 6 was due to take place in the contested city of Nicosia in Cyprus but was cancelled by the Greek-Cypriot local authority after alleged breaches of contract by its curators, who, under the auspices of the biennial, had wanted to locate one of the departments of a temporary art school in north Nicosia, the section of the city occupied by the Turkish military since 1974. Now, 30 years after the dissolution of Yugoslavia – a political shift that created Kosovo, Serbia and five other new states – Manifesta will again set up camp in a contested European territory. This roundtable brings together curators, artists and writers from across the Western Balkans to consider the potential benefits and problems that the arrival of Manifesta could bring to the region.
Viktoria Draganova We have been invited here today to discuss Manifesta 14 taking place in the Western Balkans, but I wanted to start by asking how valid you think this term still is?
Branislav Dimitrijević The Western Balkans is a geopolitical and administrative notion, invented post-2000 to avoid the term 'former Yugoslavia' following the break up of the federation in the early 1990s. It consists of countries from the former Yugoslavia, plus Albania, which is close both geographically and culturally. Viktoria, you're from Bulgaria, which, along with Romania, joined the European Union in a moment of optimistic European expansion. This changed the geopolitical situation: your countries became the Eastern Balkans and we became the Western Balkans, which was a very political and bureaucratic distinction. It doesn't mean much apart from that because, culturally speaking, we share some kind of Balkan identity. It's also interesting that, at one point, the term Balkans was replaced by Southeastern Europe, mainly as a result of the Stability Pact for Southeastern Europe, which was established in 1999 by the European Union in an attempt to foster unity in the region. I believe that was because, especially for Westerners, the word Balkans implied something very dangerous – a messy territory. So, I'm personally very glad that Balkans is back in circulation, even if it's a purely political construct.
Adela Demetja In an art context, the word Balkans was used a lot in the early 2000s in major exhibitions, especially in the West, which featured artists from the region. For example, 'Blood & Honey: the Future's in the Balkans' at Essl Museum, Vienna, and 'In the Gorges of the Balkans – A Report', at Fridericianum Museum, Kassel, both 2003. Later, it was criticized as a term that generalized and exoticized artists from the region. Now, after a break, as Branislav mentioned, I've noticed it returning again recently. Last year, invited by DOMA Art Foundation in Bulgaria as part of their ongoing program NEXT Balkan, I curated the exhibition 'A for Unapologetic', which focused on the emerging art scene in Albania. In this case, the people actively generating the discourse relating to this term were from the region itself, which is an important shift in perspective. In recent years, I've seen much more collaboration between countries in the region, but it is still very difficult for Kosovans and Albanians to work together, not to mention Albanians and Serbians – primarily due to a lack of funding and structures which support regional collaboration.
Dardan Zhegrova I find that the term Western Balkans is often used by international projects that operate in the region, or by international institutions who invite artists from this region to participate in shows and events. I'm based in Kosovo and, when we collaborate with neighbouring countries, we don't usually refer to the region as the Western Balkans. I don't think it's a problematic expression per se, but I agree with Adela that it's good to see this conversation now being led from within. And, even though we have some form of shared experience, it's very important for others to recognize that each country has its own position and its own way of contributing to the world.
Šejla Kamerić Western Europe, Eastern Europe, Western Balkans – these geographical or geopolitical terms have often been bestowed on us by those in power. They exist only to separate us. Accepting these forced or given identities is never easy. In my personal experiences, that identification is traumatic. I was a young teenager in 1992, when Bosnia-Herzegovina declared its independence from the former Socialist Federal Republic of Yugoslavia. Within a few weeks, the strong Yugoslavian identity we had all shared disappeared and the country no longer existed. Suddenly, I was Bosnian. For us to shed these former identities and take on new ones was a very painful process. The war and the conflict divided our countries, and it's up to us to reconnect them. So, when we talk about a Western Balkan identity, we should talk about our common language, culture and customs – the way the light hits our part of the globe – rather than accepting the things that are forced on us and meant to separate us.
Viktoria Draganova Many of you have drawn a distinction between international and local scenes. I run an art space in Sofia called Swimming Pool, and having an international perspective seems very normal to us. How important is it for you all as artists and art workers to also have a view outside your countries of origin?
Adela Demetja Like you, Viktoria, I also operate within the independent art scene in Albania, where I established Tirana Art Lab – Center for Contemporary Art in 2010. I moved to Germany 12 years ago, but I never really left Tirana, so I live between these two realities and try to make them and the wider European context part of my practice wherever I operate. Tirana Art Lab focuses on local realities and invites international artists to deeply and truly engage with the Albanian context and build a research and work that has the potential to communicate universally.
Šejla Kamerić It's the same for me. I've been living between Berlin, Istria and Sarajevo for the past 15 years. I survived the Siege of Sarajevo [1992–1996] and that very much influenced my life and my career. I moved to Berlin for a DAAD residency in 2007 and ended up staying there. Istria is a very calm, dislocated place, which nowadays isn't in the centre of any geopolitical turmoil and is good for an old artist like me! [laughs] Being in Istria allows me to see the West and the East from a distance and with a different perspective.
Dardan Zhegrova I think it's very true that your background influences what you do. To give an example, in my 2020 exhibition 'I'm Meeting a Hybrid of Past and Now', at Fragile, Berlin, I made several large-scale puppets that were inspired by a period of my childhood in the 1990s, when my parents, as Kosovo Albanians, were expelled from their jobs by the regime. To help the family survive, my mother started working as a seamstress and, for fun, I would make puppets using sticks and scraps of fabric that were laying around at home. I was also inspired by the Dodona Puppet Theatre, which was an important institution for Kosovo Albanians in the late 1980s and early '90s because it provided a safe space for hosting both performances and anti-regime activist gatherings.
To get back to your question, Viktoria, I think there is a lot to be inspired by in Kosovo, but we only have a couple of commercial galleries and a few others showing local artists, so the best opportunities to exhibit as a young artist come from an international network. After I started working with LambdaLambdaLambda – a Prishtina-based gallery started in 2015 by two Austrian women, Katharina Schendl and Isabella Ritter – I got many more chances to have exhibitions, residences and show my work at art fairs. I'm in the place I am now because of networking, which enabled me to understand how artists and institutions work abroad. I'm also very lucky to have had the opportunity to travel because it's still difficult to get a visa without an official invitation and an adequate budget. For those who do get the chance, however, I think it really advances their careers. It does create some tension though. During the height of the COVID-19 pandemic, some people in the art world were saying that Kosovo artists who live abroad shouldn't be in receipt of emergency government funds. I can understand where they're coming from, but this kind of conflict within the scene isn't productive, and it is crucial that we should shift the focus onto collaborations between artists and supporting those who need it most.
Branislav Dimitrijević I have been involved in curating contemporary art exhibitions since the mid-1990s. During that time, I've collaborated with the Centre for Contemporary Art in Belgrade and, in the early 2000s, I worked extensively with the Museum of Contemporary Art in Belgrade, as well as on some big international exhibitions, including curating the Serbian Pavilion at the Venice Biennale in 2003 and 2009. Over the last ten years, I've been much less involved in the international art scene and more focused on independent artistic and cultural organizations here in Serbia, because that's something I find extremely important. In the 1990s and '00s, my role as a curator was to support, write about and exhibit local artists. What I did certainly had an impact because most of the artists I worked with are now living abroad. Moving away seems a strange barometer of artistic success, though, and it definitely doesn't help the local scene. In 2019, The Museum of Contemporary Art, Belgrade, had a major retrospective of Marina Abramović, the most celebrated artist from our part of the world, but the exhibition meant nothing for the local scene. Recently, I've also become an active member of a left-wing green political organization in Belgrade. In this organization, I am in charge of cultural policy, for trying to propose and activate certain issues that are really burning – especially here in Serbia, but also more broadly in the Western Balkans.
Viktoria Draganova This July, Manifesta 14 will open in Prishtina, Kosovo. At the time of this conversation, not much has been revealed about how the exhibition will be structured, but I did hear that they were setting up a new cultural institution in the city. Dardan and Šejla, you're both participating in this edition: how do you think it will impact the visibility of artists from the region?
Dardan Zhegrova The Manifesta 14 team are turning what used to be a public library into a centre for narrative practices, which will continue to run even after Manifesta is over. I like that the curator, Catherine Nichols, took her lead from the talks she had with local artists and cultural workers to identify and respond to the needs of the local scene. In particular, I'm happy to see the work of performance artists like Astrit Ismaili and the feminist collective HAVEIT being recognised. I think the event will have a significant impact on the city, the country and the wider region – not just for the attention it will bring, but because it is an infusion of energy and money into the local art scene. During the pandemic, a lot of the problems we'd had for decades were thrown into sharp relief: recognizing artists as professional workers, for example. We had to rally hundreds of artists to sign petitions and force the Ministry of Culture to take care of us financially at a time when we couldn't put on shows and had no way of making money. As a result, we formed PART, a grassroots movement that aims to improve material conditions and public policy in art and culture. Recently though, I've noticed that, perhaps because of that pressure, the government has started to pay more attention to artists and the role of art more generally. I think they are finally understanding the importance of what we do.
Šejla Kamerić For me, it's an honour to be showing at Manifesta again because my international career as an artist really took off when I exhibited at Manifesta 3 in 2000 in Ljubljana – another capital of the former Yugoslavia. Before that, my only international participation had been in one exhibition in Russia, so to be commissioned as a young artist to do a new project for such a big show was huge. I hope that this edition of Manifesta will provide the same opportunities for young regional artists and make them the focus of the international media spotlight. What is unfortunate and depressing is that, in the 22 years since Manifesta 3, the political situation really hasn't changed much. The work that I showed in Ljubljana, EU / Others [2000], dealt with the reality of border segregation – in particular, the fact that Slovenia was becoming a member of the European Union. As a Bosnian coming to exhibit in the country that had been my own just a few years earlier, I had to prove with visas and other paperwork that I could enter and, even then, I was officially categorized as the 'other'. Yet, today, we still face the same reality, with Bosnians, Serbs and Albanians considered 'others' within the context of the European Union.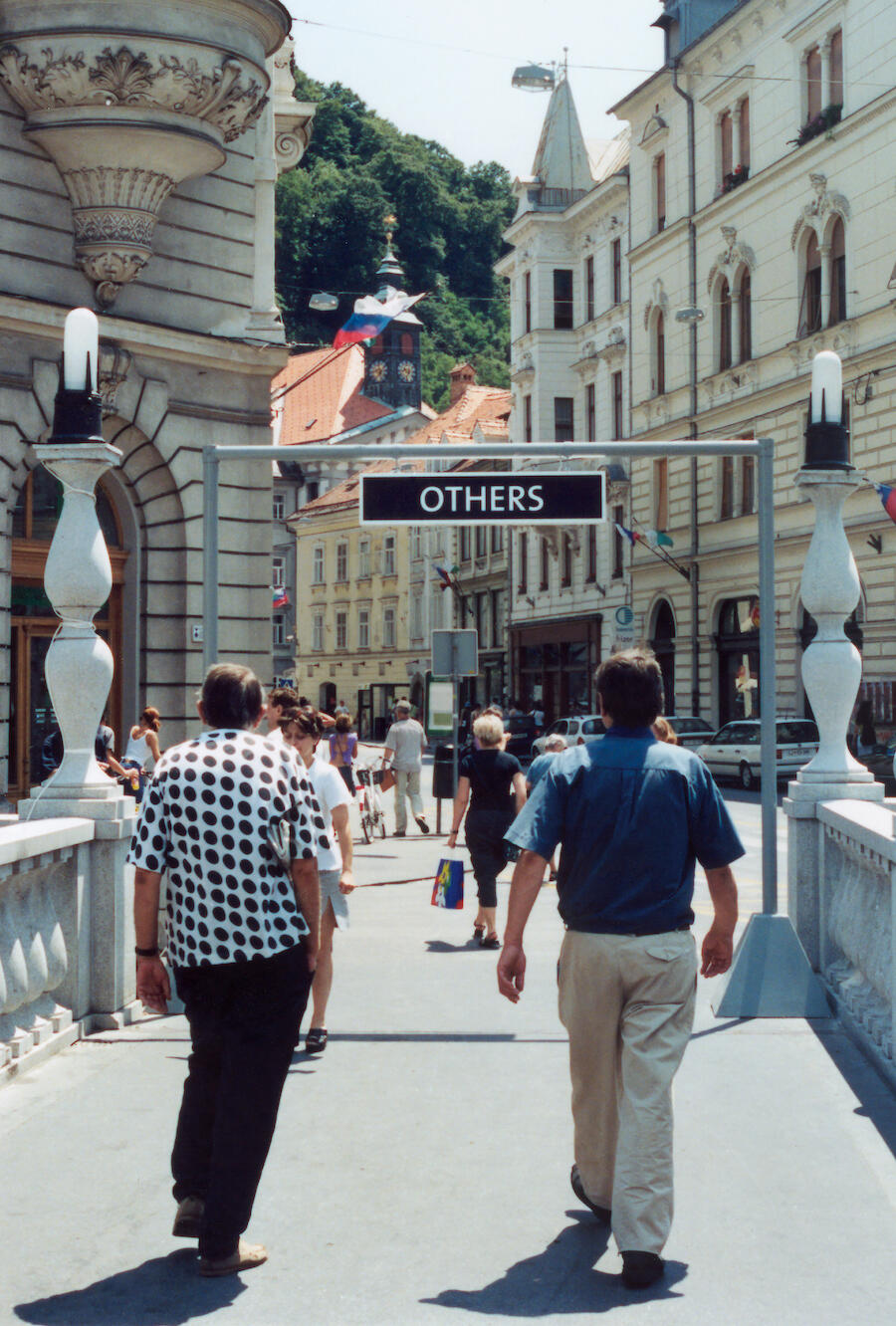 Branislav Dimitrijević I remember the first Manifesta took place in Rotterdam in 1996. After that, it went to Luxembourg, in 1998, then to Ljubljana. Right from the outset, it sought to create new connections between the so-called former East and what can likewise be called the former West, given that, as the European communist era drew to a close, it wasn't only our region that changed but the West, too. The idea to hold Manifesta in Ljubljana, for instance, stemmed from discussions that identified the need to relocate the show outside of regulated, Western art spaces. In 2006, however, they came up with this really ambitious idea to host Manifesta 6 in Nicosia, in the midst of the Greek-Turkish conflict in Cyprus. Ultimately, this edition had to be cancelled, due to a host of unresolved hostilities between local administration and creators, caused by the geopolitical situation. I think the lesson here was that you can't run a project like this on good intentions; you need to have people on the creative team who are able to navigate local issues, threats and obstacles.
I don't know much about what's going to happen in Prishtina, but one thing I don't find particularly promising is that – according to the current list, at least – there isn't a single participating artist from Serbia. They may yet add more artists, of course, but if the list stays the same, then I think that's a missed opportunity to open up the situation, to speak about the conflict from an entirely different perspective, and to create new relationships between Albanian and Serbian communities. As cultural workers, we need to heal these broken links and reach some kind of mutual understanding. It's still very difficult to talk about this in Serbia because, if you share my view that Kosovo is an independent country, then you put yourself in a highly problematic situation, which is likely to result in vitriolic hate speech in the national press and on the streets. With this in mind, it feels like a step back that there hasn't been any attempt to bring over an artist from Serbia to Prishtina, as artistic co-operation has existed in even more troubling times than now. But let's see what happens: the crucial element will be what impact it has on the local community and the art scene.
Adela Demetja I completely understand your concern but, overall, I think it's a great opportunity. As Dardan mentioned, Kosovo is now the only country in the region whose citizens still need to obtain a visa to visit the European Union and travel within the Western Balkans, which makes it very isolated. By bringing so many artists, curators and journalists from the international community to Prishtina, Manifesta could really make a difference, not only to Kosovo but to the wider area, through its satellite programmes in Skopje and Tirana. I've seen the list of participating artists and, of course, there will always be some discussion about who is and isn't included, but I've also seen how engaged and how present the Manifesta team have been over the last couple of months, which makes me optimistic. We just have to keep in mind that one big event cannot solve all our problems.
This conversation took place before the list of artists participating in Manifesta 14 was finalized. Since then two Serbian artists have been added. 
This article first appeared in frieze issue 228 with the headline 'Beyond Borders'. 
Manifesta 14 is on view at various venues in Prishtina, Kosovo, from 22 July until 30 October 2022.
Main image: Šejla Kamerić, EU / Others (detail), 2000, installation view, Manifesta 3, Ljubljana. Courtesy: the artist and Galerie Tanja Wagner, Berlin