The Top Ten Shows in Europe of 2022
From Cyprien Galliard's triumphant homecoming in Paris to Bruno Zhu's Barcelona debut, these are the best exhibitions of the year
After two-plus years of COVID-19 lockdown measures, 2022 marked the welcome return of (relatively) carefree exhibition viewing. While it would have been easy to fill this list with one of the many blockbuster shows and biennales from this year, a number of which were postponed from 2020 or 2021, I have split the ticket by choosing a few smaller, modest offerings by emerging artists, many of whom I suspect we will see more of in 2023. So, in no particular order, here are my picks for the best shows in Europe – from Cyprien Galliard's triumphant homecoming in Paris to Bruno Zhu's Barcelona debut.
Marlene Dumas
Palazzo Grassi
Venice, Italy
Although 'The Milk of Dreams', the central exhibition at this year's Venice Biennale, almost made the cut, for me, Marlene Dumas's 'Open End' was the city's true standout. The show, which united more than 100 works produced between 1986 and the present day, is the only monographic exhibition by a female artist at either of Francois Pinault's Venice spaces. In her glowing review, Hettie Judah argued that in light of this historic first, it feels significant that Dumas honoured the influence of others, including her infant daughter (The Painter, 1994) and long-term partner, Jan Andriesse, who she wrote 'smiles at us from the languorously sexy The Particularity of Nakedness (1987)'. Eroticism is on display throughout the exhibition, but so, too, is death. 'With her images of the dead or murderous,' writes Judah, 'Dumas plays with our animal instincts. Like Leontius in Plato's Republic (c. 375 BCE), she positions us at an oozing line between our desire to look and and our disgust in succumbing to it.'
Louise Bourgeois
Kunstmuseum Basel & Gropius Bau
Basel, Switzerland & Berlin, Germany
While it would arguably be difficult to put on a bad exhibition of Louise Bougeois's work, these two shows deserve a special mention for their sharp focus on two aspects of the late artist's practice: her writing and fabric sculptures. 'Contrary to the exhibition's title, the written word is far from violent,' wrote Sam Moore about 'The Violence of Handwriting Across a Page', at Kunstmuseum Basel. 'Instead, it becomes a link between the physical and the abstract, often in tension in Bourgeois's work, and the old and new.' Similarly, in 'The Woven Child', which opened at London's Hayward Gallery before travelling to Gropius Bau, Berlin, the focus on fabric and woven work 'offers another perspective on the themes to which Bourgeois returned throughout her career. What does it mean to be torn apart by trauma, only to be able somehow to put yourself back together again?'
Heidi Bucher
Haus Der Kunst, Muzeum Susch, Kunstmuseum Bern
Munich, Germany & Zernez/Bern, Switzerland
This major retrospective of Heidi Bucher's work featured more than 150 works from across the late Swiss artist's career, including many of the architectural latex 'skinnings' for which she is best known. 'In Susch, where the museum occupies an old monastic brewery carved out of mountain rock,' wrote Barbara Casavecchia, 'the intimate size of many rooms allows for close encounters with the more than 70 works exhibited.' Among these pieces, her standouts included the 1976 Dragonfly Lust (Costume), 'a suspended, pearlescent body sculpture fashioned out of different skinnings.' For Casavecchia, the work 'marks the convergence between [the artist's] liberating ability to re-inhabit architecture and memories and a cycle of early works related to textiles and fabrics, in which she addressed the crystallized roles assigned to the female body within conservative domestic environments.'
Manifesta 14
Pristina, Kosovo
Ahead of the 14th edition of Manifesta, which took place this summer in Prishtina, frieze gathered a group of artists and writers from the Western Balkans to discuss the potential benefits and pitfalls of staging the nomadic biennale in Kosovo. Several participants, including Šejla Kamerić, hoped the spotlight would be on regional artists. Her wish came true when it was revealed that more than half of the exhibiting artists were from the region. Many of them, according to Kimberly Bradley's round up of the show, 'grappled with issues of identity; even more with memories of recent geopolitical ruptures'. Her highlights included Kosovar artist Artan Hajrullahu's 'provocative' and 'uncanny' small-format drawings in coloured pencil and work bz Selma Selman, an artist born in Bosnia-Herzegovina with Roma origins. Selman's Mercedes Matrix (2019) 'sees the artist and her family, who work collecting scrap metal, destroy a Mercedes Benz' in an attempt to 'deconstruct and destroy the stereotypical image of Roma people'.
Bruno Zhu
Cordova
Barcelona, Spain
Mixing fact and fiction to entertaining effect, Bruno Zhu's 'I am not afraid' at Barcelona-based gallery Cordova was a 'curiouser-and-curiouser blend of scalable and temporal enigmas,' wrote frieze editor Max Andrews. The exhibition centred on Are you ok? (2022), a fabric rendering of a wristwatch supposedly owned by the artist's mother that runs in reverse. 'It evokes a well-worn sci-fi device', argued Andrews, 'from Edward Page Mitchell's tale "The Clock that Went Backward" (1881) to the film The Curious Case of Benjamin Button (2008), and like all great time-machine conceits, it threatens to open up philosophical conundrums about changing the past, while also encouraging cartoonish exaggeration.'
Zoe Leonard
Mudam Luxembourg & Musée d'art moderne de la Ville de Paris
Luxembourg & France
In February, Zoe Leonard premiered the large-scale series 'Al río / To the River' (2016–ongoing) at Mudam Luxembourg, after which it travelled to Musée d'art moderne de la Ville de Paris. Speaking of the work, which comprises hundreds of black and white photographs of Rio Grande, Mexico, the artist told writer Jessica Lynne that she started with the question 'What does it mean to ask a body of water to perform a political task?' Using the river to look at 'immigration, commerce and trade, but also climate change, drought, water usage, wildlife migration and survival', the artist continues: 'I wanted to observe the complex nature of the river itself, the water as it winds through the landscape, but also to consider the built environment we've constructed alongside, into and across the riverbed.'
Frida Orupabo
Nordenhake Gallery
Stockholm, Sweden
Trained as a sociologist, Frida Orupabo first came to the art world's attention through the Instagram handle @Nemiepeba, after Arthur Jafa discovered the account and invited her to join him in an exhibition at London's Serpentine Gallery in 2017. Orupabo's 'How Fast Shall We Sing' at Nordenhake, Stockholm, showed just how far she has come since then. Contrasting historical photographs of enslaved Black people sourced from the internet with Renaissance paintings and fashion photography, the Norwegian artist 'powerfully destabilizes the notion of the Strong Black Woman on a formal level', wrote Natasha Marie Llorens in her review. Using split pins and almost invisible collage method, Orupabo's works on paper 'create layers in historical imagery that thickens their meaning by multiplying their surfaces'.
Cyprien Galliard
Lafyette Anticipations & Palais de Tokyo
Paris, France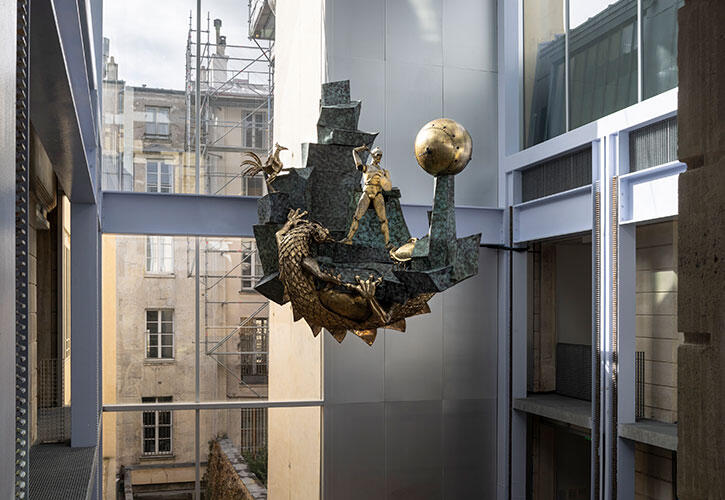 In this triumphant, two-venue homecoming exhibition, French artist Cyprien Gaillard isn't afraid to get sentimental. Yet, by verging between sadness – one sculpture pays homage to a friend lost too soon – and silliness, Gaillard 'evokes something true about how absurdity and gravity comingle in experience,' wrote Pablo Larios, who describes the show in his long-form review as one of the best he's seen all year. Using public sculpture to invoke a changing Paris – a city in which, like many others, 'building developers razed working-class areas for offices and retail interests' – the show cleverly 'imbricates itself in the history it criticizes'.
'When Faith Moves Mountains'
PinchukArtCentre
Kyiv, Ukraine
When Russia launched a full-scale invasion of Ukraine at the beginning of the year, PinchuckArtCentre closed its doors to focus on humanitarian efforts. In July, 147 days after the start of the war, they opened 'When Faith Moves Mountains', with the aim, co-curator Ksenia Malykh told Tom Jeffreys, to give 'a very strong signal [that] we're still alive'. Made in collaboration with M HKA and the Flemish government, which lent 40 works from their collection, shown alongside pieces by Ukrainian artists, the exhibition is also a strong show of support from the Belgium institution, which could not get insurance for the pieces they sent to Kyiv. It being the first time that a museum has shipped its collection into an active war zone, the exhibition is 'a gesture of welcoming Ukraine into Europe and sends a message to our European colleagues to be more active and less diplomatic,' argues Malykh. 'It's not about only speaking. It's about really doing something.'
James Gregory Atkinson
Dortmunder Kunstverein
Germany
In this 'counter-archive and exhibition-cum-artwork', James Gregory Atkinson 'renders a polyphonic love song to the German outposts of the Black Atlantic', wrote Stanton Taylor in his review of the German American artist's exhibition at Dortmunder Kunstverein. Titled '6 Friedberg-Chicago', the show looks at the post-World War II phenomenon in which the biracial offspring of African American GI's and German women were deported to foster homes abroad. 'But despite underscoring the institutionalization of anti-Blackness in Germany,' argued Taylor, 'the exhibition doesn't read as yet another social-death spectacle. Instead, much of what follows is a tender testament to the messier details of desire and diasporic life, often at odds with the official narrative.'
Main image: Dardan Zhegrova, 'Your enthusiasm to tell a story (Blue, Silver, Gold)', 2017, exhibition view, Liste Art Fair, Basel. Courtesy: the artist and LambdaLambda-Lambda, Prishtina/Brussels; photograph: Marcus Glahn