Stephan Janitzky's exhibition at the Munich project space Prince of Wales is titled 'Parerga', a Greek word meaning 'ancillary works'. If this initially sounds dry and theoretical, the exhibition is anything but: across the two levels of the small space, Janitzky presents two ornamental prints on brightly-coloured paper (Print P.o.W. 1 and 2, all works 2017), a large interactive floor piece P.o.W. (clean/dirty) and an installation (Untitled) composed of Marcel Breuer chairs. Along with an LED panel cold light (P.o.W.) and a sculpture of a fruit bat sleeping flying dog (P.o.W.), the exhibition is accompanied by two publications, Parerga and Paralipomena Fanzine, laid out on plexi stools.
For Janitzky, the repurposing of prop-like objects, such as the tubular steel Breuer chairs or a nearly blank LED lamp, are programmatic and support the exhibition's theme of questioning the finality and autonomy of the artworks. Accordingly, the chairs and LED lamp have also appeared in the artist's previous exhibitions, such as his 2015 solo show at Munich's Deborah Schamoni Galerie and his contribution to the 2016 'Favorites III: New Art From Munich' at Lenbachhaus. Without going into the significance of the 'parergon' for thinkers such as Jacques Derrida or Immanuel Kant – Paralipomena Fanzine includes an engaging text on the subject by the Norwegian composer and musician Espen Sommer Eide – the way the artworks are made says just as much.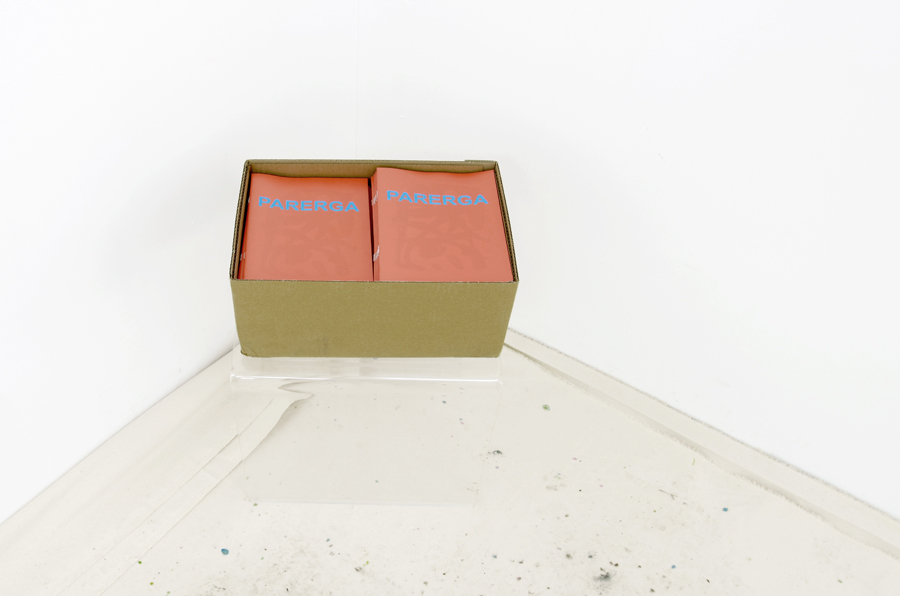 The two works on paper, Print P.o.W. 1 and 2, can be traced back to a colouring book with historical depictions of flowers. Janitzky filled the outlines with one colour, scanned the pages, reduced all the pixels to a single unified value and printed the resulting black, woodcut-like designs at a copy shop. Subjecting the flower motif to transfer processes not only obscures the source image but also integrates digital interference into the result. The floor work P.o.W. (clean/dirty) – which takes up the entirety of the downstairs space – is likewise made through an unconventional production method. For this site-specific piece, coloured oil pastels were squeezed into a large canvas that was folded in half. When visitors enter the room, they crush the pastels under their feet, creating an image – albeit not currently visible – that Janitzky plans to exhibit as a two-part painting in his next show. Likewise, sleeping flying dog (P.o.W.) – made of fake hair, dollar bills and an umbrella from the Museum of Modern Art in New York, which a conservator packed into a transport crate after the 'Favorites' exhibition – is at an intermediate stage, left embryonically inside a paper box. Eide's text in Janitzky's Paralipomena Fanzine likens this in-between stage to an evolutionary 'glitch', referencing the platypus: an animal that combines the features of mammals and birds yet can't be traced back to a single evolutionary origin.
Spaces evolve, too, and, after six years of exhibitions, Prince of Wales is now set to close, meaning one less artist-run space in a city that does not have many. Its closing will be felt, especially because Prince of Wales gave established Munich artists the opportunity to produce exhibitions outside of commercial gallery settings. Perhaps the general principle of such a project space can also be linked to the idea of the 'parergon': the word originally referred to the simple, therapeutic and autotelic activities of monks, such as winding ropes, weaving baskets and collecting palm leaves. Indeed, when ancillary works become the main activity, and can only be financed with increasing effort, they have already lost their original function.
Translated by Philipp Rühr and Stanton Taylor