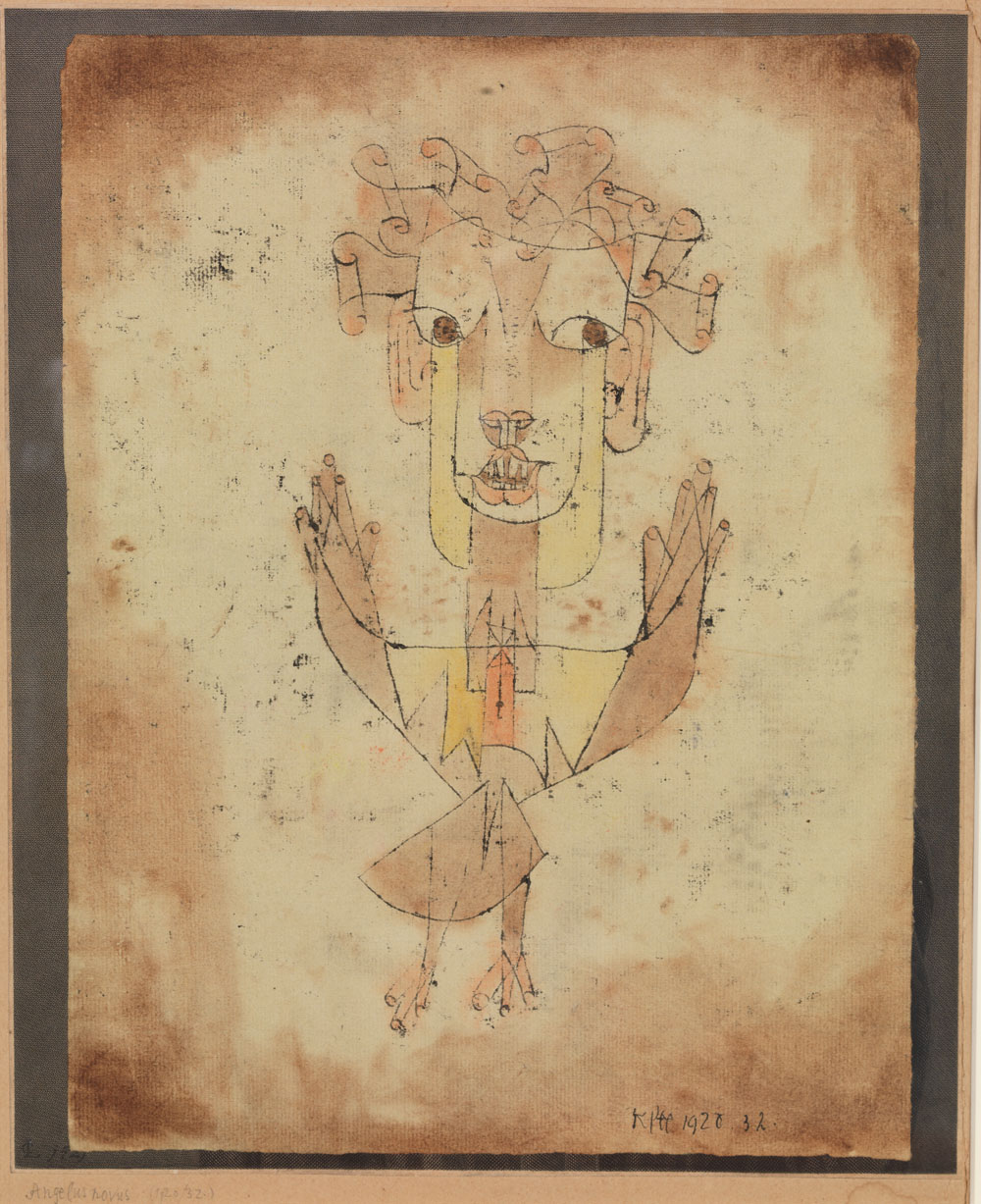 'My wing is poised to beat,' wrote the philosopher Gershom Scholem to Walter Benjamin on the occasion of the latter's 29th birthday in 1921, 'but I would gladly return home / were I to stay to the end of days /
 I would still be this forlorn.' The poem, 'Greetings from Angelus', with its ambiguous allusions to loss and home, forms a subliminal narrative for the exhibition 'Walter Benjamin: Exilic Archive', the first show in Israel to focus on the avid curiosity around Benjamin's work and his growing reputation as a Judaic scholar. 
The exhibition comprises eight sections, each highlighting an aspect of Benjamin's biography and work, beginning with 'Berlin Childhood', proceeding via 'The Arcades Project' and culminating in 'Materialism and Revolution'. Each section contains vitrines with a range of ephemera from these periods, including holiday snapshots, newspaper articles and postcards. The vitrines are interspersed with artworks by mainly Israeli artists, including Uri Aran, Avner Ben-Gal and Dor Guez. An accompanying booklet decodes the unlabelled archival fragments but, unfortunately, there is scant information about the artworks themselves, and few thematic connections between the works and Benjamin's ephemera.
Paul Klee's Angelus Novus (1920) sits at the entrance of the exhibition, providing a direct physical and thematic link to Benjamin, having been the focus of his ninth Thesis on the Philosophy of History (1940), and having passed through the hands of Georges Bataille, Theodor Adorno and, finally, to Scholem, following Benjamin's suicide. The themes of death, isolation and desecration resonate throughout the show, creating an overwrought sense of melancholia. Micha Ullman's Mirror (1980) and Haim Steinbach's Untitled (daybed, coffin) (1989) are literal exponents: the former is a cell-like hole with a single chair and tableof soil; the latter is a wooden daybed turned upright to display a child-sized coffin on one side and an analyst's couch on the other. Both allude to the claustrophobia and paranoia of exile. In the same room, vitrines containing images of Benjamin looking carefree in Nice, laughing with the Adornos, render these stentorian reminders somewhat absurd.
The Arcades Project (1928–40) form sits own section. Photographer Germaine Krull's images of the arcades (taken around 1928, the year that the writer and photographer first met) found their way into Benjamin's possession. Krull's deadpan, documentary images appear to pre-empt The Arcades Project in their scope: her fragmented, sometimes out-of-focus snapshots refuse narrative or structure. Benjamin entrusted his 'literary montage', as he called the manuscript for The Arcades Project, to Bataille before fleeing to Spain. Displayed in a vitrine below Krull's photographs, Benjamin's colour-pencil-marked manuscript pages denote his detailed system of symbols – a testament to his efforts to decode his own arcane thought processes. This insight into Benjamin's working method is one of the most interesting aspects of the exhibition. The vitrine holding Benjamin's preliminary work The World of Forms in Kafka / Reserve Motifs, which ultimately became Franz Kafka: On the Tenth Anniversary of his Death (1934), is an assemblage of footnotes, quotes and references, showing how Benjamin would gather and arrange all his source material prior to commencing writing. In a second stage, we can see how he edited his text by physically cutting and re-arranging colour-coded paragraphs.
Benjamin's debt to German romanticism both as method and ideology is evident throughout the exhibition: in his work on Johann Wolfgang von Goethe, in his literary criticism and journalism, his writing on Friedrich Schlegel, Johann Gottlieb Fichte and Novalis, from which he derived hisconcept of image-thinking. Although the curators state that this principle guided their presentation and links the artworks selected to the archival material, Benjamin's presence looms so large that the contemporary pieces pale in comparison and the curatorial task remains unresolved. Visitors are left alone in their attempts to map Benjamin's thinking and influence onto contemporary artistic practice.