'The Welfare State' greets visitors with a display of documents related to political, social and environmental causes, culled from four Flemish cultural and social archives. Among them, a stark brown and black poster from 1976 features an infographic of two arrows: the first points from '1930' to a swastika, the second from '1976' to a question mark. The text below reads: 'Le capitalisme engendre la crise.' (Capitalism engenders crisis.) Nearly 40 years later, this alarmist bit of propaganda conveys a sense of impending doom that still feels poignant, particularly as, when I visited, a resolution to the Greek credit crisis was still up in the air.
The show's strongest work is Kajsa Dahlberg's video Reach, Grasp, Move, Position, Apply Force (2014–15), which explores the increasing prevalence of poorly paid, insecure labour worldwide. Through a series of interviews with workers, Dahlberg exposes the conditions under which electronic goods are produced, specifically those she is using to make her video. We learn about the working conditions of employees in Apple factories and Amazon warehouses; we hear from advisers who train companies in Methods-Time Measurement (MTM), a system developed in the US in the 1940s to set the standard time to complete a certain job. Dahlberg gets factory supervisors to explain the loopholes of Chinese overtime law, while an Amazon employee tells us that he is 'counselled incessantly' on his work pace. Dahlberg even includes testimonials from her translator and voice-over artist discussing their pay rates and the fact that they are often expected to work for free.
Dahlberg's account of the links between bodies and systems of control, which evolved in parallel with cybernetics after World War II, is echoed in ten works representing four decades of Stephen Willats's practice. The most striking is Meta Filter (1973–75), a large wooden console housing a computer designed for two people who are both asked to respond to a list of perceptual problems. Each time their answers agree, they move on to the next one; eventually, their overall mutual agreement results in the construction of a 'model society'. In an exhibition with a generally sober tone, this device, activated twice weekly for visitors, emphasizes the visionary potential computers once held – and might still hold – to imagine a better future through consensus and teamwork.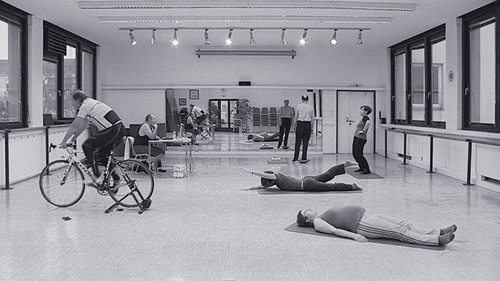 Belgian artist Anne-Mie van Kerckhoven has experimented with computer systems since the early 1980s, when she held a five-year residency at the Free University of Brussels's Laboratory of Artificial Intelligence, where she began exploring the connection between sexuality and technology. Over 96 days in 1998, Van Kerckhoven sent a daily black and white image of a naked woman from her computer in Antwerp to a fax machine in Bruges. She compiled the grainy printouts as reports on the process, like a diary of cybernetic communication between different genera of machine, here presented in an album placed in Coromandel, Disturbed 2 (2015). The process led Van Kerckhoven to create HeadNurse, an alter ego who embodies the curative role and ambitions of institutions and social structures – the sexy poster girl for an idiosyncratic but oddly familiar welfare state in which ambiguous sexuality and machines hold sway.
The welfare state's interest in the physical wellbeing of its citizens is the subject of two short black and white films by Josef Dabernig, which introduce an element of unhurried incongruity to the show. In Hotel Roccalba (2008), people perform a series of holiday pastimes: reading magazines, drinking coffee and being pampered in a beauty salon. In Excursus on Fitness (2010) some of the same actors casually exercise in a neighbourhood gym. Installed in adjacent cubicles, Dabernig's films, with their casts of ordinary people, poke gentle fun at our obsession with self-improvement while introducing the notion of self-care, a valuable component of a healthy welfare system. More urgent is artist Róza El-Hassan's Breeze 9 (Natural Air Conditioning and Adobe Houses) (2015), a pair of prototype structures, one beehive-shaped and one cubic, built onsite from sun-dried adobe bricks. Particularly poignant in light of El Hassan's Syrian heritage, they propose a pragmatic response to the current Syrian refugee crisis by offering simple prototypes for shelters that can be made of readily available organic materials.
Curator Anders Kreuger sets out the exhibition's ambivalent stance on its theme in an introductory text, which explains that, although the modern welfare state was designed with noble intentions, in practice it is an exclusionary system whose success depends on the participation of its members in opposition to non-members. At a time when many European governments are actively dismantling public services and the arrow of history seems to be firmly pointed towards an uncertain future, this exhibition of documents and artworks created in the past four decades helps elucidate the complex and double-edged nature of the modern welfare state.