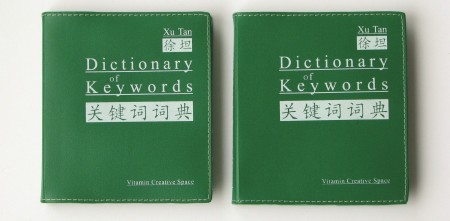 In an exchange that could be seen as antic were it not for the sincerity of its execution, Xu Tan's exhibition 'Keywords School' removes pedagogy from the ivory tower to bring the classroom inside the gallery. Based on a syllabus of keywords – 'white collar', 'insurance' and 'corruption', among others – culled from interviews with an assortment of highly creative and active members of Chinese society, 'Keywords School' is an interactive multimedia installation anchored by weekly courses led by Xu, which explore these keywords as powerful and nuanced indices of social consciousness in modern China.
Xu's research-based works, installed in different sections of the gallery, double as course material or instructional props for his lessons. Multi-Media Space (all works 2008), for example, displays digital videos of the artist's initial interviews, mute except for utterances of keywords. Elsewhere, walls are covered in sheets of paper detailing the frequency with which keywords have been said, students explore concepts freeform on blackboard spaces, and desk areas provide computers for participants to access the project's website. Promotional materials for the exhibition encouraged the public to apply to Xu's courses, but most of the participants seem to be members of the art world or affiliated with the nearby Guangzhou Academy of Fine Arts.
Another section of the exhibition, Survival Rehearsal Area, provides raw materials for building impromptu shelters. As a Do-it-Yourself construction space, the work serves as a counterpart to Survival House: a simple, keyword-decorated canopy intended to provide shelter for the mind. Of the pieces on display, Survival House most resembles Xu's prior works – installations such as September 9ths Liquor (2005) at the 2nd Guangzhou Triennial – with its use of the distinctive pattern of oversized plastic bags often carried by migrant workers in China.
A catalogue-cum-textbook, Dictionary of Keywords, is an active component of the exhibition. Both reference and source material for Xu's classes, the dictionary is organized alphabetically according to Pinyin, with each entry indicating the movements of mouth and vocal chords required to produce the keyword, as well as a sonogram based on Xu's recordings of the keyword, visual representations of search results yielded on Google and the Chinese-language search engine Baidu, and excerpts from interviews providing context and examples of usage.
If 'Keywords Project' is an exercise in both pedagogy and performance, Xu is meticulous in his practice: following the strict methodology of a linguist, he rightly understands the role of the words he has selected as markers of unknowable power. His attempts to chart this influence are inevitably only able to circle the true power of the word, approaching but never grasping the core of its meaning.