Featured in
'Body Vessel Clay': Black Women and Ceramics
An intimate new exhibition at London's Two Temple Place explores how Black female artists – from Ladi Kwali to Shawanda Corbett – have reimagined one of the world's oldest art forms
The first thing you see upon entering 'Body Vessel Clay: Black Women, Ceramics & Contemporary Art', a striking new exhibition at Two Temple Place, is Ladi Kwali and Kiln, a black-and-white photograph taken in the early 1960s. Wearing a sleeveless dress, a patterned headscarf and some jewellery, Ladi Kwali – a celebrated Nigerian potter, who died in 1984 – stands with one of her celebrated water jars at her feet. Growing up in Nigeria, curator Jareh Das knew Kwali's name but nothing about her life. A slippery shuffle between presence and absence characterises this show, which explores the evolution of one of the world's oldest art forms and how over the past 70 years it's been reimagined by Black women artists.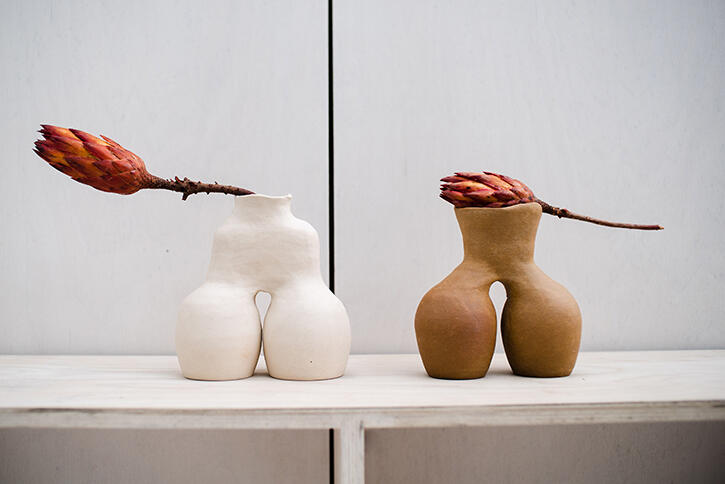 Kwali grew up with clay. Her aunt taught her how to hand-build functional pots and before long they were being collected by the Emir of Abuja (now Suleja). In 1950 Kwali's work caught the attention of the British potter Michael Cardew, who planned to develop local craft industries in Nigeria for the British colonial government. When Cardew opened the Pottery Training Centre in Abuja a year later, Kwali became his first female trainee. The downstairs gallery space at Two Temple Place is dedicated to high-fired stoneware and earthenware vessels made by Kwali and other potters including Halima Audu and Bawa Ushafa, works which fuse indigenous forms and modern European techniques. Kwali's glazed wares developed from domestic objects into fine art and gained her international renown.
Das wanted to open the exhibition with a photograph of Kwali because she believes her absence from the history of art despite her achievements is partly due to people not knowing what she looked like. The upstairs space contains works from an exciting new generation of artists working with ceramics as part of a wider practice. Clay (2015), a performance by Jade Montserrat (filmed by Webb-Ellis) shows the artist immersed in a large, muddy hole in a green field. She uses her body to express herself, and to address issues around extraction, ownership and belonging.
Shawanda Corbett, another artist featured in the show – one born without legs and with only one arm – was drawn to clay because of the physical challenge posed by the process of throwing. Existing works from her 2020 series 'Neighbourhood Garden' represent individuals from 'the hood': characters who are often reduced to stereotypes, or invisible. Rather than literal or caricatured figurative sculptures, Corbett's ceramics are forms dashed with colourful brushstrokes and gold lacquer, abstracts that capture the rich personalities of real people.
The bodily connotations of pots are plain to see in Bisila Noha's two-legged forms and Womb Vessel (2021); in one of her notebooks are human-like sketches and the words 'VESSEL FERTILITY HIPS CONTAINERS'. In a related vein, Phoebe Collings-James presents three clay torso casings that resemble armour plates: The subtle rules the dense (2021) bears traces of the artist's touch and references the body as a container. Julia Phillips, who casts objects from her own limbs, presents Burdened (2018), a video of a feminine body in a black body suit – one that is struggling to keep its footing on a fast-growing mound made from balls of clay. 
Magdalene Odundo, whose gently anthropomorphized pots are also on display here, worked alongside Kwali in 1974 and has spoken of her 'amazing presence' – something that shines through not only in Kwali's work but also in that of the other artists. With its warm wooden panels and low lighting, Two Temple Place offers an intimate setting in which connections can easily be made, and stories told. The function, meaning and uses of clay have hugely expanded over the past 70 years, but the strength and determination of the women who handle it remains a constant. This exhibition very clearly demonstrates that contemporary artists are keen to continue the radical practice of Ladi Kwali, and to bring their work back to the body.
Main image: photograph of Ladi Kwali taken by W.A. Ismay. Courtesy: York Museums Trust (York Art Gallery)