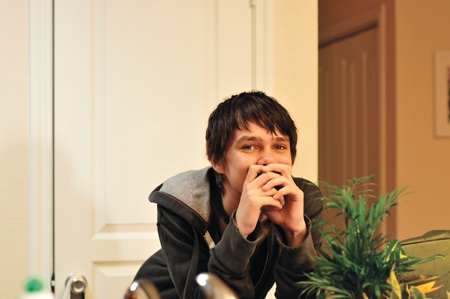 Films were the pre-eminent popular art of the 20th century, and so it should come as no great surprise that at a time when families were sundered by global wars and social upheaval, they were a medium for orphans. They were babysitter and tutor, substitute father, mother and older sibling.
For a long time, films have held a privileged position in the lives of young people and, in turn, privileged the perspectives or stories of the young. This is the subject of A Story of Children and Film (2013), critic Mark Cousins's documentary follow-up to his series The Story of Film: An Odyssey (2011); though I would sooner endorse the insights of 'Old Movies in My Mind', a 1990 essay by Rolling Stone writer Grover Lewis. 'For my generation,' writes Lewis, who was born in 1934, 'the combined physical, moral and spiritual impact of going to the movies was incalculable. Hollywood's penny entertainments defined the shapes of reality for the age, and shaped the nation into a community of shared experience. All of us learned the proprieties of love and war at the picture show.'
Lewis was in need of role models, coming from a home that was not so much broke as imploded, his parents having shot and killed each other when he was nine. Among the canonical figures of film culture, foundling kids from broken families who have been raised by the movies abound: Rainer Werner Fassbinder, for instance, 'left to grow like a flower'; or François Truffaut who claimed: 'I saw my first 200 films on the sly.' Martin Scorsese comes from an intact family, though Hugo (2012) may be the archetypal film-as-orphan-medium story, ending with its eponymous hero accepted into a new makeshift family by way of the cinema.
Richard Linklater's biography comes with the requisite divorced parents, though his early passion was baseball – he only came to cinephilia in his early 20s. Linklater is the director of the movie of the recent moment, Boyhood. The film covers 12 years in the life of Mason Evans, Jr., beginning when he is seven years old – Linklater's age at the time of his parents' divorce – and ending as he arrives for his first year at university. Filming began in the summer of 2002, continued periodically through the intervening years, and wrapped in autumn 2013. Mason was played throughout by the same actor, Ellar Coltrane, and his parents by Patricia Arquette and Ethan Hawke. Over the course of a dozen years, his mother acquires a couple of degrees and goes through a couple of drunk husbands, while his aspiring musician father swaps his GTO for a minivan and starts tucking in his shirts. Arquette and Hawke age from their 30s into their 40s, while Coltrane grows from a button-nosed, blue-eyed boy through sullen adolescence to a teenager with a burgeoning, somewhat technophobic consciousness and an unsightly goatee.
Boyhood is a film about the passage of time, though it's also a chronicle of the early 21st century in a few different corners of the Republic of Texas. Like Linklater and Lewis, Mason is a child of the Lone Star state. Mason's mother attends Sam Houston State University, where Linklater's own mother taught, and Mason's second stepfather is a prison guard, as was Linklater's. Unlike Lewis, he gets through youth without a single defining tragedy, skirting danger while never running into it head-on. There are moments throughout the film where we are given to anticipate something awful happening – the first drunk stepdad driving into oncoming traffic with kids in the back seat; an adolescent Mason and friends sucking beers and horsing around with power tools; a road trip to Austin where Mason briefly takes his eyes off the road – but nothing ever does. 'The children, they abide and they endure,' to borrow the closing line of Charles Laughton's classic film about childhood, The Night of the Hunter (1955).
Boyhood is a film of scripted scenes performed by actors of varying levels of experience. It is also a document illustrating the passage of time as it effects characters, the people performing these characters and, in the case of the young actors, it serves something of the same purpose as the height chart that the camera lingers over as Mason's family are leaving their first house. I first saw Boyhood at 'True/False', a festival in Columbia, Missouri, dedicated to documentary films, and, in a sense, it is a documentary – about both its actors and its director. This is true not only in its autobiographical elements, but in the manner in which it tracks Linklater ageing and changing as a filmmaker. He began shooting Boyhood between the two-pronged 2001 career-reboot of Tape and Waking Life and 2003's foray into mainstream comedy, School of Rock, on which Linklater also had occasion to work with a cast of children. That film's looseness inflects the early scenes between Mason and his older sister, Samantha, played by Linklater's daughter, Lorelei. When Richard Robichaux shows up as Mason's boss at his dishwashing job, the laconic, vernacular comedy is closest in tone to Linklater's last great film, Bernie (2011), in which Robichaux also appeared. In the middle of the movie, there's a long walk-and-talk tracking shot in which Mason is followed down the street by a female classmate on a bicycle, and you can feel the proximity of this scene to similar set-ups in Before Sunset (2004), the centrepiece of Linklater's Céline and Jesse trilogy starring Hawke and Julie Delpy.
A recent documentary by the writer Gabe Klinger, Double Play (2013), explores the friendship between Linklater and the American experimental filmmaker James Benning, whose work also maps out the passage of time. Linklater is a rare mixture of common-touch approach and more esoteric influences. The Céline and Jesse films, like much of Boyhood, were built around observed behaviour and discourse. This, along with their European settings, garnered comparisons to the palaver-heavy films of Éric Rohmer, though Boyhood connects to another French tradition, that of films about children. In these, there is often an emphasis on burgeoning cinephilia: think of Antoine Doinel playing hooky and going to the movies in Truffaut's Les quatre cents coups (The 400 Blows, 1959). In Mes Petites Amoureuses (My Little Loves, 1974), writer-director Jean Eustache announced his intention was 'to reconstruct [his] childhood: every wall section, every tree, every light pole.' There is a marvellous scene in that film in which Martin Loeb, playing Eustache's alter-ego, sits with his date in a darkened cinema, copying the gestures of seduction acted out on-screen by James Mason in Pandora and the Flying Dutchman (1951). ('To please the sturdy-calfed maidens I courted as a boy,' Lewis writes, 'I aped the winning ways of the stars.')
The relatively marginal presence of films in Boyhood is interesting in comparison. There is every indication that Mason, whose bedroom contains a heap of DVDs, has an ordinary boy's interest in the multiplex, but they are just one of a slew of cultural stimuli that he absorbs, along with Harry Potter, Kurt Vonnegut, FunnyorDie internet videos, Houston Astros baseball games and a soundtrack of many of the most unfortunate radio hits of the last 12 years. How, if at all, these things – along with parental nurture – impact the final 'product' that is Mason Evans, Jr. is the question left hanging by Boyhood. But, intentionally or not, one of the finest us films of the 21st century to date reflects the receding primacy of movies in the young imagination.