(I)ndependent People / Reykjavik Arts Festival 2012
Staged across multiple venues in Reykjavik, '(I)ndependent People' delves into the ecosystem of contemporary collective practice
Artists' collectives arguably remain one of the last elements of the art world to hold on to a true sense of enigma. For many, the label still raises questions as to how these groups function and what exactly they are. In an increasingly professionalized, corporate art environment, collective groups, particularly those that operate their own not-for-profit exhibition spaces, contrastingly cling to some of the leftist, non-conformist principles to which many artists have historically been drawn.
Staged across multiple venues in the Icelandic capital, as part of the visual arts programme of the 2012 Reykjavik Arts Festival (18 May–3 June), '(I)ndependent People' delved into the ecosystem of contemporary collective practice, bringing together a mixture of existing artists' collectives and temporary collaborations formed especially for the event. Curated by Swede Jonatan Habib Engqvist, the majority of the programme's participants came from Nordic countries, with an additional input of Baltic talent. That decision largely came down to the strong funding available for Nordic projects. Iceland itself is still struggling from the effects of its 2008 economic collapse, and the annual festival no longer has the funds to produce lavish projects with open briefs. The Nordic focus, though, suited Engqvist's purposes well, with collectives a relevant force in Scandinavian art, evidenced by the growth of Stockholm's artist-run/for-artist art fair, Supermarket. The Icelandic art scene also fits that trend, with long-established artist-run spaces such as Kling & Bang and the Living Art Museum as central players.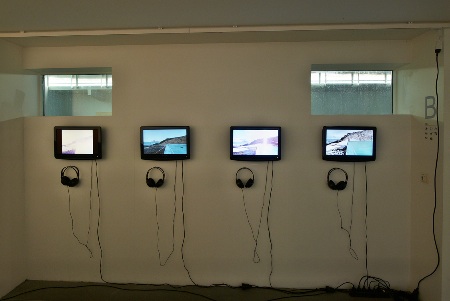 '(I)ndependent People's' collected exhibitions did not exactly lift the lid on the enigma of how collectives function, but they did offer an engaging selection of work. The standout pieces were mostly meditative videos that sat well within the wider stage set of Reykjavik's village-like streets backed by snowcapped mountains and the encircling sea. Projected in a darkened room in the bijou ASI museum, Finnish duo IC-98's 70-minute animation, A View from the Other Side (2012), set the tone with its lingering focus on the decay of a riverside dock. Lamenting the decline of a fish market in Turku, their tableau vivant approach sees subtle changes – a bird flapping its wings or a shutter closing – to an otherwise constant scene, while the river marks time as its flows by. Similarly ethereal, yet grounded in real-life issues, Toril Goksøyr and 
Camilla Martens' video The Palestinian Embassy (2009) was screened downtown on a vast screen inside the Reykjavik Art Museum. Portraying a quiet beauty, the film documents a performance piece wherein a hot-air balloon carrying a Palestinian Embassy banner drifts over Oslo. There is no overt argument here, just a poetic expression of political torments.
Making their presence felt more forcefully in the Reykjavik Art Museum were Kling & Bang, an independent collective formed in Reykjavik in 2003 and now incorporating around 15 individual artists. For the three plus months of the exhibition, the Icelanders have installed The Demented Diamond of Kling & Bang's Confected Video Archive (2012), a disorderly circle of angled projection screens displaying a changing medley of films made by the group and their collaborators over the length of Kling & Bang's existence. To the side of this riotous confection, a 10-screen installation also shows a shifting video selection, but incorporating new work made specifically for the display. There was too much going on here to focus on any one work, but the overall effect is a good way to introduce collective practice in a museum environment.
Over in Kling & Bang's own gallery space, meanwhile, the two box-like rooms were given over to Danish outfit A Kassen; an idea promoted by Engqvist in order to foster interaction and exchange between participant groups. A Kassen's contribution was one of the best of '(I)ndependent People's exhibitions, with a minimalist display of monotone wall paintings displayed next to photographs of everyday objects. The twist is that the pigments for the paintings were actually produced by pulverizing the objects, a fact revealed in the flecks of metal and wood encrusted on Kling & Bang's walls.
Given Engqvist's intention to ground the different exhibitions in new undertakings of collaborative exchange, much of the purpose of '(I)ndependent People' has been invested beneath the exhibited surface, in the process of preparatory interaction and communication. The curator hopes that this process will be reflected in an as yet un-finalized post-publication. The essence of what Engqvist has tried to achieve, though, is perhaps best reflected in the exhibition-length transplantation of members of Reykjavik's Living Art Museum to an office space constructed in one of the National Gallery of Iceland's main exhibition spaces. Given funding via the festival, as well as a University researcher, the initiative will allow the artist-run Living Art Museum to create an archive of Icelandic artist-run projects going back over five decades. Preserving the non-conformist spirit of collective action amidst the more standard models of commercial galleries, private collections and public institutions is certainly an important endeavor. Hopefully, '(I)ndependent People' will leave a valuable legacy from which its participants can draw future inspiration.