Histories of the visual arts and cinema have long been entangled, not least in discussions of other cinemas – avant-garde cinema, third cinema, counter cinema, independent cinema, art cinema and so on. These terms have constituted attempts to see cinema as something other than the product of an industry. Although the 'artist's feature film', a term that has recently gained some traction, promises to fulfil a similar critical function, it has been used indiscriminately to describe a vast array of differing tendencies and trends in both art and cinema. Feature-length narrative and documentary films made by visual artists are now routinely shown in galleries and museums, and films that happen to be made by artists have won industry awards and have broken box- office records, whilst filmmakers celebrated on the film festival circuit have developed parallel careers as visual artists. In order to unravel these interconnections, it's useful to offer some kind of provisional taxonomy.
Broadly speaking, there are three routes to the artist's feature film. First, there is the 'graduation' path. This is taken by artists who transition from producing visual art (whether film and video or work in another medium) to feature films, with the attendant shift to industrial modes of production, distribution and promotion. Artists who have made this move include Steve McQueen, Julian Schnabel, Sam Taylor-Johnson and, most recently, Omer Fast, whose feature-length adaption of Tom McCarthy's 2005 novel Remainder is due for release later this year. Films made this way tend to employ conventional narrative structures, and the fact that the filmmakers are, or were, visual artists often has little impact on the form of the film. However, the cultural capital that such artists have accrued is invariably valuable in the film world: their 'artistic sensibility' becomes a selling point. In the wake of the success of McQueen, Taylor-Johnson and others there has been a raft of financing initiatives and development projects launched to foster more of these cross-overs, speculating on the fact that the 'unique' vision of artists might be an important commodity in the film industry.
The second route is taken by artists who make long-form films, which are shown primarily in galleries. These artists are unlikely to be looking for Oscar nominations, or even limited runs at art-house cinemas. Work in this category ranges from the quasi-documentaries of Sven Augustijnen, Eric Baudelaire, Luke Fowler and Javier Téllez through to film essays by Duncan Campbell, The Otolith Group and Hito Steyerl; and from the episodic video installations of Fast, Melanie Gilligan, Nathaniel Mellors, Wu Tsang and Ryan Trecartin to the single-screen narrative films of Anja Kirschner & David Panos, and Emily Wardill. The use of the word 'feature' is being stretched almost to breaking point here. However, if we accept the industry definition – the Academy of Motion Pictures, Arts and Sciences states that a feature is any film over 40 minutes and the Festival de Cannes regulations require more than 60 minutes – then some, if not all, of these artists' films would qualify. This work might be more readily seen as belonging to a tradition of film and video installation from the 1990s. However, although many artists who began to work with film and video in this decade – such as Eija-Liisa Ahtila, Matthew Barney, Tacita Dean and Douglas Gordon – utilized cinematic tropes or appropriated cinematic images, their relationship to cinema was of a different order to this new generation. Both Gordon and Pierre Huyghe have disavowed cinephilia, viewing cinema as a cache of images to be repurposed, rather than a tradition within which to work. This is not case with these younger artists, for whom, among others, Chantal Akerman, Jean-Luc Godard, Harun Farocki, Chris Marker and Jean Rouch are key influences.
The third route reveals a closer, more nuanced and complex relationship to the traditions of experimental film and avant-garde cinema and is taken by filmmakers such as Ben Rivers, Albert Serra and Apichatpong Weerasethakul who make films for both the cinema and the gallery. However, unlike McQueen and Taylor-Johnson, the relationship between their art practices and their cinema is synchronous. The crypto-poetic title of Rivers's new multi-screen work, The Two Eyes Are Not Brothers (2015) – which was produced by Artangel and occupied the former bbc Drama Block at the old Television Centre in White City in London earlier this year – is taken from one of Paul Bowles's short stories about Moroccan kif smokers, 'He of the Assembly', from the book A Hundred Camels in the Courtyard (1962). But it might also refer to the relationship between two distinct modes of watching moving images: in the cinema and in the gallery. In Bowles's story, vision – as represented by a recurring motif of the eye – is constantly switching between physical and psychic realms, from what is seen to what is sensed or felt. Bowles's chief metaphor is the severance of the mind from the body brought on by smoking kif. Although the writer is an important reference point for Rivers – his dramatization of another story by Bowles, 'A Distant Episode' (1947), is also a key element in the work – the artist is as interested in the construction of stories and notions of duality in general as he is in Bowles's drug-induced mysticism and colonial essentialism.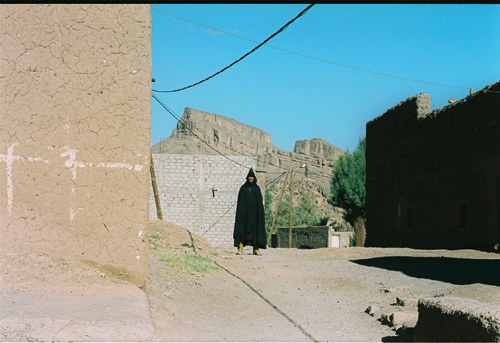 Another key reference point for Rivers is the Catalan filmmaker Pere Portabella's Cuadecuc, Vampir (1971), which was shot on the set of Jesús Franco's Count Dracula (1970) and sucked the blood from it. Rivers adopted a similar strategy of artistic parasitism for his mammoth project. Most of the material used in his Artangel exhibition was shot on the Moroccan sets of two of his contemporaries' films – artist Shezad Dawood's Towards the Possible Film (2014) and filmmaker Oliver Laxe's Las Mimosas (in production). Over 18 months, Rivers made several trips to Morocco during the production of Dawood's and Laxe's films. The footage from each is very different: the sequences shot on Laxe's set have a vérité feel, almost as if it were a 'making of' documentary. Rivers shoots clapper boards, the crew setting up for a stunt using stacks of cardboard boxes to break an actor's fall, and Laxe reading extracts from 'He of the Assembly' to camera. The footage from the set of Dawood's film was shot on black and white 16mm film using CinemaScope and is closer, in feel at least, to the high-contrast look of Portabella's film. Perhaps because of this, Rivers decided to overlay onto the Dawood material extracts from Carles Santos's haunting soundtrack to Cuadecuc, Vampir. A shorter extract from the soundtrack fills the 'print frame' room that connects the first part of the installation – containing the Laxe footage, a short film featuring Mohammed Mrabet (a Moroccan storyteller closely associated with Bowles and his wife Jane) and unedited rushes from the forthcoming feature – to the second part, which contains the Dawood footage.
While Rivers was working on the production of this five-screen installation, he was also editing much of the same material into a single-screen feature film, which premiered at this year's Locarno International Film Festival, under the longer title, The Sky Trembles and The Earth Is Afraid and The Two Eyes Are Not Brothers (2015). For the single-screen feature, Rivers focuses in on the Laxe footage. After about 30 minutes of Laxe and his crew shooting Las Mimosas, the director leaves the set and Rivers's camera follows. It is at this point that we move seamlessly from Laxe's film to Rivers's – an adaptation of Bowles's 'A Distant Episode', in which Laxe plays the main protagonist, who is kidnapped by a group of bandits, has his tongue cut out and is forced to dance in a suit made of tin cans.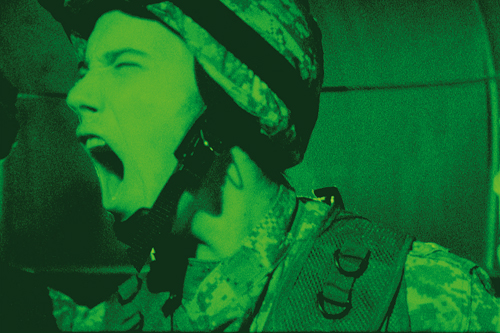 Although both the installation and feature-film versions of Rivers's project are connected, the artist is acutely aware of the different production and presentation conditions, and audience expectations, that each demands. Moving deftly between cinephile culture and contemporary art, he poses questions about the different modes of attention the works require while recasting some of the old dichotomies: Hollywood versus avant-garde cinema or avant-garde cinema versus experimental film. For the installation version, rather than simply make a multi-screen edit of the feature, Rivers chose to show the material in a more interesting way. By including rushes and using the abandoned bbc drama centre to meditate on themes of construction, reconstruction and deconstruction, Rivers has created an artwork that simultaneously begs to be seen as a continuous work (the total running time of all the film elements is about 90 minutes) – albeit one that is continuously making and unmaking itself – and a walk-through installation. It is a work for both mind and body. The cinema edit is more focused and plot driven, but it's just as conceptually complex.
The Catalan director Serra made his name on the festival circuit for works that eschew characterization and plot. His first film, Honor de Cavalleria (Honour of the Knights, 2006), is a free adaptation of Miguel de Cervantes's novel Don Quixote (1605), although the word 'adaptation' might be misleading here. The only things that really remain of the book are the names of the two main protagonists. After a screening at his retrospective at Tate Modern in March, Serra explained how his film was complete once he had found the two men on the streets of Barcelona who fitted his idea of what Quixote and Sancho Panza looked like. All that was left to do was for him to dress the men and shoot them. Serra's films are filled with long scenes of his actors waiting, seemingly without a script or any direction other than where to sit or stand. Honour of the Knights does not attempt to adapt a work of literature; instead, it is a reflection on what gets lost when an idea is translated from one medium to another.
Serra's first work for a contemporary art institution, El noms de Crist (The Names of Christ, 2010), was commissioned for the Museu d'Art Contemporani de Barcelona. It took Luis de León's 16th-century book De los Nombres de Cristo (The Names of Christ) – a conversation between three friends at a country house about 14 of the scriptural names of Christ – and transposed it to a contemporary art museum. In 14 short episodes, various people discuss the production of a 'difficult film'. As a gallery-destined piece with a running time of over three hours, The Names of Christ clearly makes demands that most gallery visitors are not going to be able to meet. It is a complex work that draws parallels between religious asceticism and art, and the problems of translating the structure of television into film and film into the spaces of art. Serra's new work, Singularity (2015) – which was commissioned by Institut Ramon Llull and represented Catalonia at this year's Venice Biennale – is a multi-screen installation ruminating on the history of art and cinema.
Like The Names of Christ, Singularity brings a resolutely cinematic practice to the spaces of contemporary art; it is this kind of approach that will continue to revive interest in an adventurous, forward-thinking cinema. But it is the duration and complexity of Serra's films for cinema, and those of his peers, which will persist in testing contemporary art audiences and definitions of the artists' feature film. Serra has addressed the issue of duration in playful and provocative ways, not least with the 100-hour film he made for dOCUMENTA (13), The Three Little Pigs (2012), which brought three historical German figures into surprising alignment: Rainer Werner Fassbinder, Johann Wolfgang von Goethe and Adolf Hitler.
Another group of filmmakers has drawn close to contemporary art in terms of themes and aesthetic approaches but, for the most part, has steered away from the gallery. This fourth category could include such established names as as Lisandro Alonso, Lav Diaz and Miguel Gomes, as well as a new generation of filmmakers who have emerged as a coherent group, a number of whom studied together at Le Fresnoy Studio National des Arts Contemporains in France. This international group includes Gabriel Abrantes, Benjamin Crotty, Mati Diop and Daniel Schmidt, all of whom have worked together in one configura­tion or another – as co-directors or actors in each other's films. The Portuguese filmmaker Abrantes, in particular, has come to the attention of the art world for his baroque costume dramas that channel both the American experimental filmmaker Jack Smith and the Brechtian cinema of Jean-Marie Straub and Danièle Huillet. Crotty broke new ground with his first feature, Fort Buchanan (2014), an irreverent comedy of sexual manners set on a military base, which pivots somewhere between an artist's film and auteurist cinema, with its elaborate conceptual conceit – the script was constructed from transcripts of us television dramas and sitcoms – and self-conscious nods to Eric Rohmer and Agnes Varda. At the screening I attended at this year's International Film Festival Rotterdam, the juxtaposition of these two filmic styles produced a kind of deadpan humour that was too much for some cinephiles. In terms of its themes and conceptual games, Fort Buchanan shares much with Fast's Continuity (2012), which was first shown at dOCUMENTA (13) and focuses on a middle-aged couple who employ a series of male escorts to impersonate their son, who had been killed in Afghanistan; the aesthetic is very different, however. The perfunctory cinematography and one-dimensional acting in Continuity service Fast's ideas, but result in a visually pedestrian product. This interest in mixing documentary and fiction modes with strategies of appropriation is shared by Abrantes, Crotty and Diop. (It's worth noting that Continuity was also shown on German television during dOCUMENTA (13) and that Abrantes and Crotty both went to art school before studying film.) The themes of the work are contiguous, ranging from post-colonialism and the fractured nature of contemporary identity to morality and sexuality.
The relation of cinema to artist's film and video has been the subject of intense critical and scholarly scrutiny over the last few years or so. Two books, in particular, have sought to examine cinema and art's high point of integration or entanglement: the period from the 1990s to the late 2000s. Maeve Connolly's The Place of Artists' Cinema: Space, Site and Screen (2009) looks specifically at the mining of the social and architectural history of cinema for film and video installations concerned with notions of site, whilst Erika Balsom's timely and incisive Exhibiting Cinema in Contemporary Art (2013) draws on contemporary film studies and film theory to discuss gallery-based moving images and their inheritance from underground and experimental cinema. Both of these books are concerned with charging film and video practices of the last 20 years with the critical job of excavating the histories and positing the future of cinema: thinking cinema into art in order to say something critical about the histories and social functions of both.
Yet, whilst this 'other cinema' – as film theorist Raymond Bellour has termed the proliferation of film and video in the spaces of contemporary art – has facilitated new approaches to understanding the modes of, and relationship between, distraction and reception peculiar to art, the ways in which it has revealed anything about the cinema as a singular space of contemplation and durational experience is less clear. Although the gallery has embraced moving-image work that exceeds 40 minutes and benefits from being watched from beginning to end, it is often best served by temporary auditoria or properly equipped cinemas. This is also true of some films under 40 minutes. However, we are now seeing a more nuanced relationship between artist's film and video and the cinema, which begs the question: what is the essential difference between the 'artist's feature film' and the films of Alonso, Diaz and many others, including Pedro Costa and Jia Zhangke? Although, on the surface, it may seem to be merely a case of different modes of presentation and distribution, there are also aesthetic differences.
In the mid-1990s, a certain kind of adventurous filmmaking looked to be in decline: the closure of many repertory and independent cinemas worldwide was one reason for this. (Arguably, a network of international festivals came to the rescue.) Institutions of art offered a place for experimental cinema and, over the next ten years or so, filmmakers as diverse as Akerman, Atom Egoyan, Farocki, Godard, Abbas Kiarostami and Marker, amongst many others, assayed the spaces of contemporary art to see if they might offer them oxygen. In many instances, the move was expedient simply because support and financing were coming from these institutions. In light of the success or otherwise of these dalliances, the approaches of the next generation of filmmakers entering the gallery, from Serra to Weerasethakul, have changed. Working across cinema and the gallery in a more fluid way, they have attended to the qualities that have characterized artist's film and video over the last ten years – an interest in fragmented narratives, a tendency to mix documentary with fiction, an awareness of film history and the use of film as a medium – and combined these with a focus on duration and modes of attention only possible in the cinema or within timed screenings in the gallery.
Much of this work across the art/cinema divide has been supported through the cinephile film festival circuit, such as Vienna's Viennale, FID Marseilles, Copenhagen's CPH DOX and the Locarno International Film Festival, and supporters of experimental film in North America, such as the Ann Arbour Film Festival and Images Festival, Toronto. Increasingly, these have become the sites for the meeting of the worlds of artist's film and video, and experimental cinema.
Argentine filmmaker Alonso is an interesting case; although he shares much with serial border-crossers Rivers and Serra, he has remained resolutely in (and of) the cinema. In an exchange of filmed 'letters', commissioned by the Centre de Cultura Contemporània de Barcelona, Alonso produced Untitled (Letter for Serra) (2011). It is at once a response to the filmmaking of Serra and a reflection on his own work. In much the same way that he had done with an earlier film, Fantasma (2006), Alonso laid out a cinema-making technique that he had perfected, only to compromise it by adding foreign elements. In Fantasma, the lead actors from his first two films, La Libertad (Freedom, 2001) and Los Muertos (The Dead, 2004), which had relied on a cinéma vérité visual language, are shown wandering the empty corridors and backrooms of the Cinemateca Argentina in Buenos Aires, searching for a screening of Los Muertos. The slow but restless camera is  as interested in the architecture of the labyrinthine building as it is in the characters or plot, recalling the gallery films of Sharon Lockhart and Jane and Louise Wilson, as well as the dreamlike cinema of Alain Resnais. It is at once a work of 'pure' cinema and a meditation on cinema's past and its fractured present. Untitled (Letter for Serra) is similarly layered and, although only 21 minutes long, it distils all sorts of ideas about the aesthetic possibilities for contemporary cinema. These are further explored in his new film Jauja (2014), his first with a professional actor, Viggo Mortensen, and with a writer, Argentine poet and novelist Fabián Casas. In Jauja, Alonso continues with the stripped-back style that he has made his own, pitching solitary men into unforgiving or unfamiliar landscapes – but now with a deeper reflection on the nature of storytelling and the visual tricks of cinema.
On the one hand, these films deliver on the tacit promise of the artist's feature film – an uncompromising, independent approach – and, on the other, present a challenge for art audiences because of their adherence to narrative structures, length and conceptual complexity. As a category, the artist's feature film is unstable when attached to films made by artists and filmmakers who create experimental work for the cinema, but it does make clear the cultural divisions that these artists must negotiate. The very best of this work manages to channel the most radical experiments in cinema's history, whilst also taking advantage of digital technologies and strategies from the field of visual arts to challenge what we think of as a narrative feature film, and a work of art.