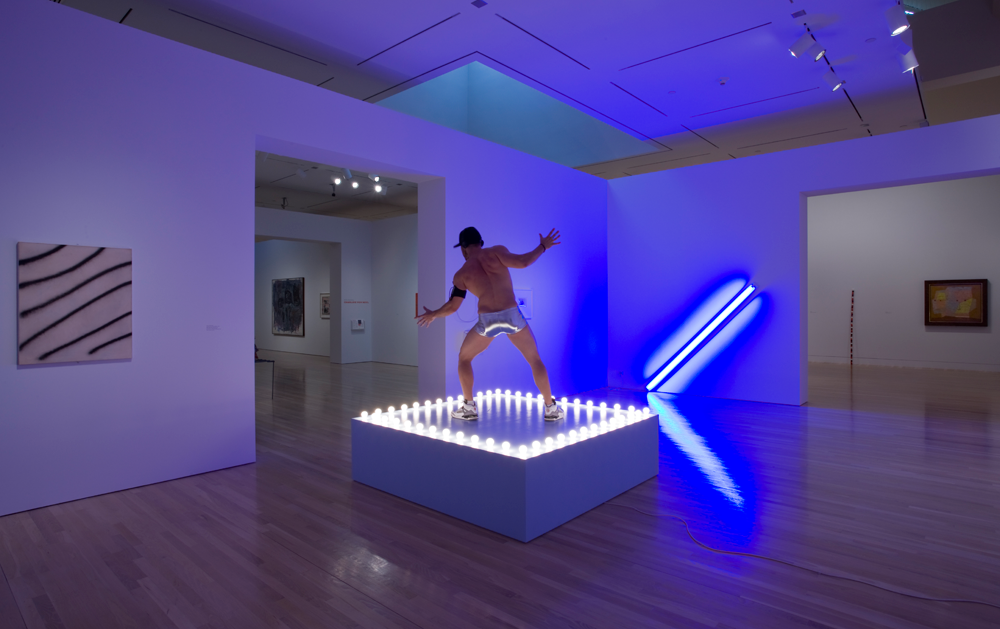 As Stéphane Mallarmé allegedly quipped to Edgar Degas, you don't make poems with ideas, but with words. 'Oranges and Sardines: Conversations on Abstract Painting' likewise suggested that artists don't make work with theories, but by looking at other art. Conceiving of the exhibition as a series of conversations on and around abstract painting, curator Gary Garrels invited Mark Grotjahn, Wade Guyton, Mary Heilmann, Amy Sillman, Charline von Heyl and Christopher Wool to each exhibit one or two of their paintings alongside their own selection of works that have informed their practice. Frank O'Hara's posthumously published poem 'Why I Am Not A Painter' (1971), which supplied the exhibition's title, served as the introductory wall text and as an offhand narrative hinting at the elusive role of subject matter in the irrational process of creation. The resulting show elegantly approached the concrete specificity of work largely resistant to interpretation.
In Sillman's U.S. of Alice the Goon (2008) a pair of cartoonish fists punch their way through a stylishly derivative abstract composition of mint, lime and forest greens. The paintings' qualities were variously reflected around the room: Sillman's flat-footed means bounced off the effortless clumsiness of Howard Hodgkin's After Matisse (1995–9) and the ham-fisted brushwork of Philip Guston's Sleeper (1972). The vulgar sense of colour in John Chamberlain's crushed metal Ravyredd (1962) reinforced Sillman's own garish palette, while the palimpsest-like effect of a ghostly late work by Willem de Kooning, Untitled XXII (1982), also echoed her process. Eccentric abstraction (Eva Hesse), Ash Can expressionism (Alice Neel) and kitsch shamanism (Forest Bess) further complicated the picture.
In the rooms dedicated to Wool and von Heyl, attitude became more of a structuring principle. Equally attuned as Sillman to the physicality of painting, von Heyl shifted emphasis from the debased to the abject. Among her selections, Rosemarie Trockel's crudely glazed ceramic relief, Untitled (2008), hung formlessly on one wall while the punctured holes in Lucio Fontana's lurid green canvas Concetto Spaziale (Spatial Concept, 1961) resonated electrically with Franz West's flourescent-paint encrusted papier-mâché tunnel, Lustrolle (2002–3). The scratched and stained surface of Wols' Yes, yes, yes (1946–7) complemented that of von Heyl's own Big Nobodaddy (2008). Defacement again came into productive play with Wool's Untitled (2007), spray-painted on linen and rubbed raw with turpentine, and Guston's North (1961–2), which used a similar method of scribbles of black paint bleeding into a white ground to produce dense passages of grey. Albert Oehlen's Untitled (1988) projected more attitude, with paint smeared haphazardly across the canvas, while Pablo Picasso's The Smoker (1969) sat coolly in the corner. Given so much personality, the pictures rocked ambiguously between figuration and its negation.
Lacking painterly gesture as a guide, the remaining rooms roamed more wildly. Grotjahn packed in everything from a Paul Klee watercolour (Blossoms in the Night, 1930), to André Cadere's Round Bar of Wood (1977). Hard-edged abstractions by Ad Reinhardt, Piet Mondrian and Josef Albers huddled together and a 1946 Clyfford Still brushed incongruously against Sherrie Levine's Untitled (White Knot: 9) (1986). Heilmann's installation had a biographical slant: though Francis Bacon's Figure with Two Owls, Study for Velazquez (1961) has little in common with Heilmann's own idiosyncratic compositions, it showed how his structuring of space held early sway on her development as a painter. Likewise, Bruce Nauman's unfinished fibreglass sculpture, Untitled (1965–6) only hinted at the influence he had on Heilmann when they first met during her student years in California. Only the juxtaposition of realist tropes along with a splatter-paint effect in David Hockney's The Little Splash (1966) seemed to bear directly on Heilmann's own pastiche of mark-making techniques.
Guyton stood out as the artist least involved with painterly traditions. Borrowing an image from the cover of a mass-market paperback, Stephen King's The Firestarter (1984), Guyton's inkjet on canvas, Untitled (2008), had as much to do with appropriation as abstraction. Accordingly, his room was dominated by Felix Gonzalez-Torres' Untitled (Go-Go Dancing Platform) (1991), a punning take on the supposed theatricality of minimalist sculpture. The harsh blue sliver of light emanating from Dan Flavin's The Diagonal of May, 1963 (1963) had traces of aggression. Casually installed in the corner and seemingly floating above the floor, Isa Genzken's Yellow Ellipsoid (1976) further disrupted the stability of the space. A touch of deadpan humour came by way of a cold slice of pizza in Andy Warhol's silver gelatin print, Hammer and Sickle (1976–7).
Taken as whole, 'Oranges and Sardines' clearly risked unravelling into five separate mini-exhibitions. Yet, by refusing to reduce art works into rhetorical figures, Garrels' exhibition demonstrated the radical potential residing in visual pleasure. As a move away from the exhibition as essay, 'Oranges and Sardines' made a compelling case for the irrational attraction of the artist's artist.