Featured in
Rei Kawakubo: The Clothes Maker
The art of only the second living designer to be the focus of a solo show at New York's Metropolitan Museum of Art
When Diana Vreeland placed more than 200 of Yves Saint Laurent's designs in the Costume Institute of the Metropolitan Museum of Art in 1983, no one criticized the clothes: they were beyond reproach. Writing in the catalogue's introduction, Vreeland – the former editor of US Vogue and special consultant to the Costume Institute – declared: 'This is the first exhibition the Costume Instituteof the Metropolitan Museum of Art has dedicated to the work of one living designer. Why Yves Saint Laurent? Because he is a genius, because he knows everything about women.'
Vreeland had already altered the conventions of the Institute by bringing in commercial 'shop' mannequins for previous exhibitions, abstracting their heads and often anachronistically exaggerating their styling. For the 'Yves Saint Laurent' exhibition, she highlighted the designer's artistic breadth with selections from his iconic collections, such as 'Mondrian' (1965), his essential tuxedo suit for women, Le Smoking (1966), and ensembles inspired by his travels in Morocco.
Yet, despite the seminal costumes it included, 'Yves Saint Laurent' remains a show that is now, perhaps, best known for the criticisms that were levelled against it – most vehemently from art critics. It was not that the clothes were wrong; it was that they were in the wrong place. Many felt that an established hierarchy had been ruptured: Saint Laurent's commercial success and the far-reaching appeal of his designs were perceived as problematic when placed within an art museum. It was a question of environment, of objects out of order.
All communication around the forthcoming exhibition'Rei Kawakubo / Comme des Garçons: Art of the In-Between', has cited Kawakubo as only the second living designer to show at the Metropolitan Museum of Art, despite the previous inclusion of contemporary fashion in many of their exhibits. There is no doubting Kawakubo's status, but it's as though the matter of fashion's legitimacy within the art museum needs to be settled once and for all – and she is going to be the one to do it.
Kawakubo describes herself as a 'clothes maker'. She did not train as a designer, but studied both Eastern and Western aesthetics at Keio University in Tokyo, where she founded Comme des Garçons in 1969. In 1979 – in what she has described as a 'key rupture' – she rejected the idea of fashion existing in continuity with an essentially (for her) Japanese folkloric tradition. Instead, she began to design clothes that 'started from zero'.1 In 1981, for one of the most cited shows in recent dress history, 'Lace' – which included boiled-wool knitwear so full of holes it resembled lace – she moved to Paris (in the company of Yohji Yamamoto and Issey Miyake) where she has presented her collections ever since. This, and her subsequent designs, were typified not by the idea of an evolving style that abided by contemporary ideals of beauty and shifting erogenous zones, but by the insistent question posed every season around how to be a woman – or a person – in the world.
Kawakubo seeks a kind of beauty that is free from clichéd ideas of sexuality. This often generates a nervous derision in critics, such as that surrounding her Spring 1997 collection, 'Body Meets Dress, Dress Meets Body', in which the wearer's curves were repositioned: the press instantly renamed it the 'Lumps and Bumps' collection or 'Quasimodo'. Yet, it remains one of the most collected and exhibited in Kawakubo's archive and was included in the Metropolitan Museum of Art's 'Extreme Beauty' exhibition in 2002, where it was juxtaposed with a pair of 18th-century hip pads.
By 1987, creations by the 'clothes maker' were being shown alongside the work of two other pioneers of dress at the Fashion Institute of Technology in New York: Madeleine Vionnet and Claire McCardell. 'Three Women', curated by Richard Martin and Harold Koda, acknowledged Kawakubo's conceptual enterprise in the 1980s as akin to that of Vionnet in the 1920s and '30s and McCardell in the 1940s and '50s: clothing that re-imagined what, or how, women might be. Instead of employing predictable, cropped decorative detailing, the catalogue acknowledged its innovation with the following statement typed onto its grey cover:
'Three Women: Madeleine Vionnet, Claire McCardell and Rei Kawakubo' is an examination of construction and style in three great designers of the 20th century. Each designer, in a separate era of the century, provided a new concept and vision of dress. They reformulate and reform dress. All three offer clothing design as a conceptual and radical enterprise. They posit ideas as they work with material; they realize a definition of women as they create the garment. In the instances of Vionnet, McCardell and Kawakubo, these women make clothes that make women. These three women make clothes that foster a new intelligence and new directions in apparel. Their analytical considerations of construction, of the body, and of the social role of women were and are brave and abiding ideas about fashion.2
The one attribute that the three women share is a vision of dress that implicates the wearer. As the dress historian Caroline Evans noted at the time: 'Kawakubo's clothes are constructed in anticipation of movement. The body's movement releases the potential of the garment. As the wearer moves, unexpected features of cut are revealed in odd places. In this sense, the wearer is also the maker of the garment.'3 Kawakubo's exploration of the principles of dress and the body in space, and her questioning of what constitutes inside and outside, is an endless renegotiation of seemingly inconceivable equations. In recent years, her approach has undergone a fundamental shift. For her Spring/Summer 2014 collection, the wearability of the garments was no longer the point. In her most recent collection, for example, armholes were omitted and hairlines repositioned.
'Newness' is the quality that defines Kawakubo. In the Met's press release, she explains that the modes of expression that are most important to her are 'fusion ... imbalance ... unfinished ... elimination ... and absence of intent'. She plays with ideas of completion and incompletion, treating the body itself as something unfinished. She makes demands on critics to come up with descriptions that avoid the kind of reductive decoding that Susan Sontag warned about in her essay 'Against Interpretation' (1966), in which she suggested that 'in place of a hermeneutics we need an erotics of art'.
Kawakubo was a key participant in the first Biennale of Fashion, 'Il Tempo e La Moda' (Time and Fashion), which was held in Florence in 1996 and curated by Germano Celant, Luigi Settembrini and Ingrid Sischy: she was paired with the artist Oliver Herring in Arata Isozaki's pavilionat the Forte del Belvedere. The project sought to forge new connections between the worlds of contemporary art and fashion. Celant wrote in the catalogue: 'To cut is to think.' The press release stated: 'The fundamental aim of the project is to document and study all aspects of international fashion, the influences upon it and its influence on other cultural forms (art, design, photography, cinema, theatre, music, literature, sport, communications, costume and daily aesthetics), excluding its direct link with industry or commerce.' So, somewhat bizarrely, commerce was to be ignored, despite the fact that many of the installations comprised collections that were designed to be reproduced and sold.
From the beginning, Kawakubo has imagined her collections in retail spaces that resemble galleries and her choice of locations – such as the shops she opened in New York on Wooster Street in 1983 and Chelsea in 1999 – reflects this desire. (The architect Takao Kawasaki designed most of the early Comme des Garçons boutiques.) Often located off the beaten track and with little, if any, merchandise on view, to see the clothes you need to know where you're going, which both confuses and fetishizes the idea of looking and buying.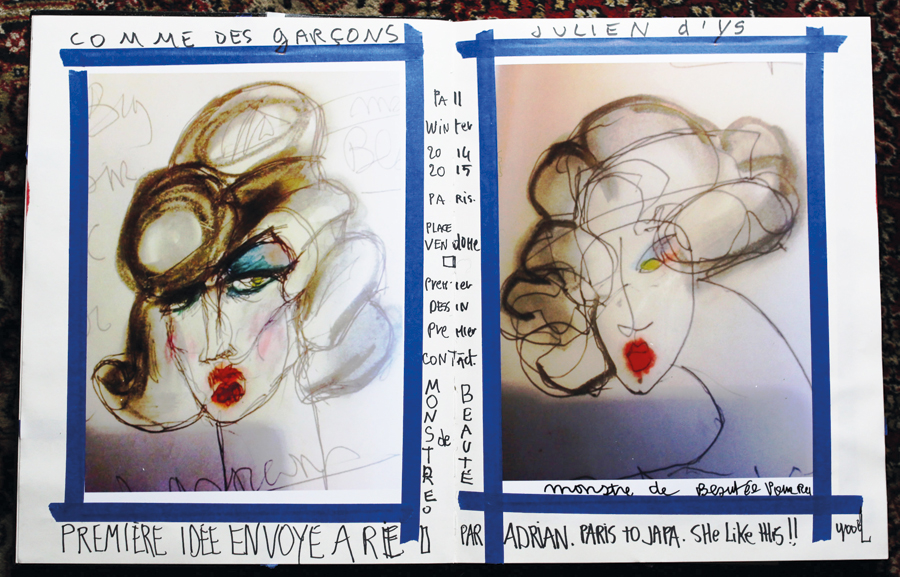 Whilst the collections start as presentations on the catwalk seen by only select guests, they are powerfully extended in the retail environments that Kawakubo – along with her husband and Comme des Garçons CEO, Adrian Joffe – has created in what long-term collaborator, the milliner Stephen Jones, calls their 'home around the world': Dover Street Market, which has outlets in Beijing, Ginza, London, New York and Singapore. These shops feel as though they were designed to frame the way space works in Kawakubo's designs: she insists that nothing is drilled into the fabric of the site's original structure, which evokes a general sense of impermanence. Regenerating buildings and creating a venue for her protégées to show their work, these shops have facilitated commissions and an astonishing list of collaborations: from Chanel, Hermès and Louis Vuitton to artists including the Chapman brothers, Gilbert & George and Cindy Sherman, as well as new opportunities for partnerships with Julien d'Ys and Stephen Jones.
Eloquent displays in the shops take delight in reclassifying objects. For example, reconditioned wooden display cabinets from London's Victoria and Albert Museum might be stuffed with metal hanging rails, while D'Ys's ephemeral wigs from the catwalk have been displayed as precious artefacts. Elsewhere, you can pull a curtain around a whole rail of Vetements clothing for private consumption and the eight issues of the magazine published by Comme des Garçons from 1988 until 1991, Six – a reference to our sixth sense, perhaps – constitute a library. Fashion historian Evans remembers receiving issues of it:
Six was largely, but not exclusively, black and white, with an emphasis on photography. In any issue, you might chance upon photographs by Robert Frank, André Kertész or Edward Weston juxtaposed with Eileen Gray's technical drawings for her S-Bend chair, a Dziga Vertov cinematic manifesto, an interview with Yohji Yamamoto or a feature on Jean Cocteau. In this panopoly of interesting images and words, you might miss the fact that Six also featured that season's Comme collections, but never the brilliant fashion photography of Timothy Greenfield-Sanders, Peter Lindbergh or Juergen Teller.
In other words, Six was a reflection of the ways in which the historical relays within Comme des Garçons's projects are embeded carefully within a huge commercial machine.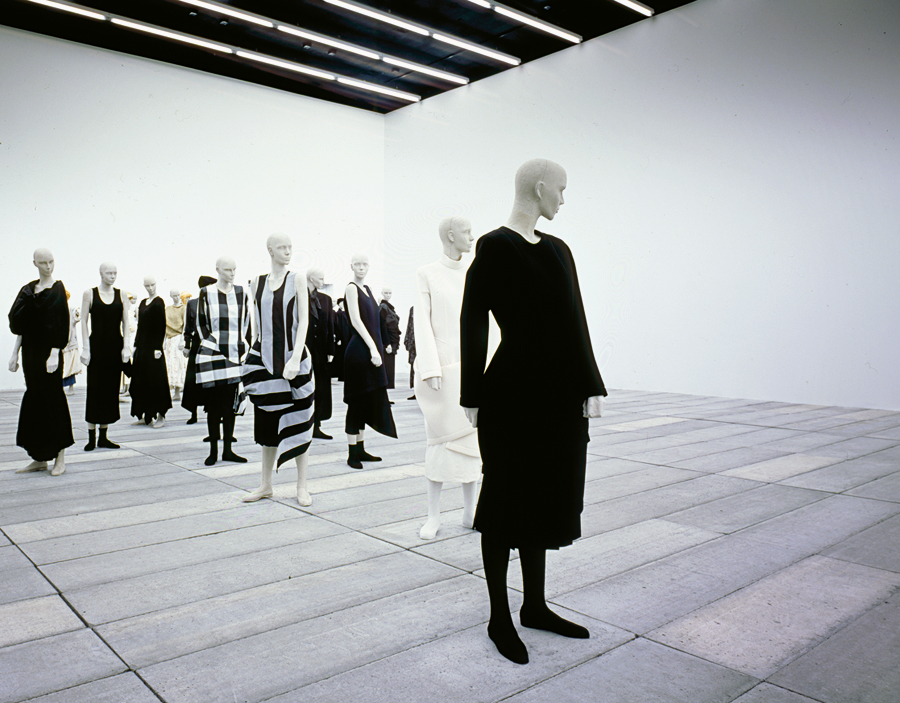 It's not surprising that Kawakubo, in order to best communicate her ideas, has taken on the role of exhibition designer at The Met and has left the selection of garments to the Head Curator of the Costume Institute, Andrew Bolton. For her 2001 exhibition at the Victoria and Albert Museum, 'Radical Fashion', the curator Claire Wilcox presciently gave 11 designers each a space within which to exhibit their collections. The same year, for the exhibition '2 Women' in Antwerp (part of the city-wide 'Mode 2001 Landed-Geland' project), the curators and designers Walter van Beirendonck and Dirk van Saene – both members of the 'Antwerp Six' who repeatedly acknowledge their conceptual debt to Kawakubo – took this a step further in an exhibition that paired her with Coco Chanel. Whilst Chanel's designs were displayed in an absorbing, static exhibition, at the request of Kawakubo, the Comme des Garçons Autumn/Winter 2001–02 collection was staged and filmed successively in five institutions (all of which organize people and animals according to different taxonomies): the Royal Athenaeum, the Royal Museum of Fine Art, The Church of St Augustine, The Commodity Exchange and the Winter Garden at Antwerp Zoo. Whilst the first show was a restaging of the original Autumn/Winter 2001–02 Paris show, 'Beyond Taboo', the presentations that followed were styled by Van Bierendonck in close collaboration with Kawakubo. Videos of each were screened in the entrance hall of the exhibition dedicated to Chanel, creating an evolving perspective on the relationship between the two designers' work.4 The tradition of imagining alternative settings of Kawakubo's collections was continued by Olivier Saillard – director of the Palais Galliera, Musée de la Mode, Paris – in the exhibition 'White Drama', for which he suggested she restage her eponymous Spring/Summer 2012 collection at the Paris Docks.
At the press conference held in Paris earlier this year to announce The Met's 'Art of the In-Between', the audience was promised an exhibition like no other. We were told that Kawakubo's exhibition design will comprise geometric shapes and include a maze: the spatial equivalent of a conundrum, perhaps? You don't know where you are but you do know someone is in charge and that there is a way out. Kawakubo's approach reveals that display within fashion exhibitions matters in a way that was, for many years, dismissed as spectacle, and that obscurity is best shown and not explained.
If the decision to stage 'Yves Saint Laurent' presented a shift in The Met's policy, Bolton's 'Savage Beauty' in 2011, which was dedicated to Alexander McQueen, created another: it set a new standard in the display of dress. Bolton is uniquely qualified to make the museum's commercial needs compatible with aesthetic innovation. For the catalogue, a transcribed conversation between the two authors of the exhibition, Bolton and Kawakubo, will reveal his role, just as hers, as a double agent – both on the side of the desire not to conform to prescribed categories, but also on the side of the visitor who might not be so familiar with the complexities of fashion. Saint Laurent was culturally legitimated within his show at The Met via themes that placed him within a longer history of dress. With Kawakubo, I suspect that the opposite will happen: unlike the French designer, she will be free to make her own way. The fragility of cultural classification that was such a problem for Saint Laurent's show is, this time, perhaps the point.
'Rei Kawakubo/Comme des Garçons: The Art of the In-Between' is at the Metropolitan Museum of Art, New York, USA, from 4 May to 4 September.
Main image: Rei Kawakubo for Comme des Garçons, Blue Witch, Spring/Summer 2016 (detail). Courtesy: Comme des Garçons and the Metropolitan Museum of Art; photograph: © Paolo Roversi
1  Rei Kawakubo, 'Power of Witches Webchat', SHOWstudio.com, 28 May 2004
2  Three Women: Madeleine Vionnet, Claire McCardell and Rei Kawakubo, Fashion Institute of Technology, New York, 1987
3  Caroline Evans and Minna Thornton, Women and Fashion: A New Look, Quartet Books, London, 1989, p.156
4  The installation techniques from the presentation are discussed in 'Jeff Horsley on Comme des Garçons' Archive', Another Magazine, 23 March 2015