According to one Mrs. Maria Matthiessen, there are seven things you are absolutely not supposed to bring up in conversation. She recounted them on an episode of the radio programme This American Life: 'Never talk about how you slept. Nobody cares. Never talk about your period. Nobody cares. Don't talk about your health, either. Nobody ever cares.' She goes on: don't talk about your dreams, money, diet or 'the number one killer of discourse: route-talk' ('when people tell you how they got on the road, which road, how long it took'). The episode was narrated by the show's producer, Sarah Koenig, daughter of Mrs. Matthiessen, who explained that her mother, to whom the list was passed down from a French friend, regarded these topics of conversation as strictly off-limits because of their inherently boring and/or vulgar nature. So, over a period of several months, Koenig and her fellow producers sought stories that Mrs. Matthiessen might consider interest-worthy exceptions to each one of her conversational rules.
This struck me as a brilliant way to structure a radio programme. It also reminded me of a similarly strict and arbitrary set of rules given to me by my photography professor at a university in New York, where I studied art in the late 1990s. My teacher was one of those professors who students mytholo­gized because he broke the rules. He compulsively revealed way too much about his personal life, even as he judged, dissected and tore apart our own. His critiques were famously brutal. But that wasn't the only reason we desperately sought his approval. He had depth, and an aura of Brooklyn street smarts. He knew how to say things about art that made us want to be artists; he compared making a photograph to Robert Frost's idea of writing a poem: 'A poem begins with a lump in the throat; a homesickness, or a lovesickness.' He wanted us to dig into spaces only we knew or had access to.
[Missing Image]
My professor came from the older school of straight black and white photography – his heroes and mentors were Lee Friedlander, John Szarkowski and Garry Winogrand. He urged us to concentrate on photographing what was close to us; to make work that we would 'run into [our] burning houses to save'. About that much, I think he was right. On the first day of the semester, he also delivered to us a list of rules about what we were not allowed to photograph. We were to avoid taking pictures of these things not only because they were boring or vulgar, but because they were clichéd, hackneyed or, worse, potentially racist, condescending or objectifying (even if his rules were equally so). To the best of my recollection, the list included: babies or children, Central Park, animals, Chinatown, yourself naked, other people's art and, the most problematic, 'black people'.
Inspired by Koenig, I wanted to see if there were exceptions to these conservative rules. Could I curate a show with at least one example from each category that would be good enough to transcend my professor's restrictions? Does the younger generation have anything to show their forebears about how rules can be outgrown – or are some better left in place? 
1 Don't photograph Central Park
This rule, like the one banning Chinatown, was designed to weed out kitsch or postcard imagery specific to New York. There was probably no way we could take a photograph of those places that my teacher hadn't seen some version of – and what did we know about them anyway, most of us having just arrived in the city? For Barbara Probst, who took these images of an ice skater in the Park's skating rink, 'New York is like a three-dimensional postcard [...] Even a small detail of this city has a very high recognition value. And I am interested in pictures that are clichés [...] I am not trying to invent images; I am actually trying to make images that relate to all kinds of images we have seen before.'
See also: Bruce Davidson's 'Central Park' (1992), Mitch Epstein's 'New York Arbors' (2013) and Tod Papageorge's 'Passing Through Eden' (2007)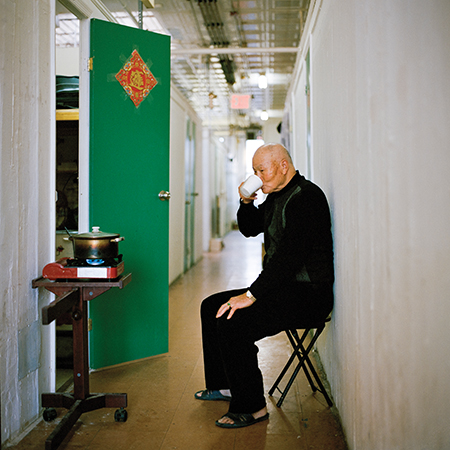 2 Don't photograph Chinatown
According to my professor, we should 'leave Chinatown alone' because 'their fish don't swim in our oceans, their vegetables don't grow on our trees'. Reflecting its increasingly varied population, images of Chinatown today seem to fall into two categories: photo essays about the conditions in which Chinese immigrants live; and 'ironic' hipster tributes – see, for instance, the blog Accidental Chinese Hipsters, which its founder, Alison Kuo, describes as: 'A loving gaze cast upon the grandmother wearing dayglow jeggings and a visor', and which is 'So ironic, it's not'.
Annie Ling, a young, Taiwanese-born photographer, has made several in-depth series dedicated to living conditions in Chinatown after her own apartment there was destroyed in a fire. Of her series '81  Bowery' (2010–ongoing), which focuses on a tenement for Chinese immigrant workers, she said in an interview: 'It's not that I just wanted photographs. I wanted a relationship with these guys because they reminded me of my father, who I don't have a relationship with.'
3 Don't photograph children, babies
This rule was meant to keep us from taking the easy way out of portraiture by pho­tographing subjects who couldn't say no. But getting up close to photograph a child is harder than it seems. When they are directly related to the photographer, or even when they aren't, their uncannily adult gestures or the raw awkwardness of adolescence are affecting.
O Zhang's series of Western men embracing or holding hands with young Chinese girls ('Daddy & I', 2005–06) touches a similarly uncomfortable nerve to Rineke Dijkstra's iconic 'Beach Portraits' (1992) and 'Park Portraits' (2005–06). These men are, in fact, the girls' adoptive fathers. My unease at viewing these family portraits increases when I realize my discomfort stems largely from my own prejudices of what a 'family' should look like. O, who briefly lived with an adoptive family when she was a child, defines that fine line between taking a photograph of a 'victim' of circumstances – or the photographer's gaze – and a picture of a young girl and her dad.
See also: Roni Horn's series with her niece 'This is Me, This is You' (1998–2000) and Josephine Pryde's 'Adoption' (2009)
4 Don't photograph animals
The same rationale goes for animals, though I found copious examples of contemporary photography that avoided the typical animal photo clichés. No matter what Rinko Kawauchi trains her lens upon (and she has transgressed almost all these categories) she confronts her subjects directly, almost too closely, turning fleeting moments into sublime ones. Mårten Lange, adopting a different approach, attempts to create an objective archive of specimens both natural and human. His animals, when photographed, look unfamiliar and alien.
See also: Charlotte Dumas, Elad Lassry, Jochen Lempert and William Wegman
[Missing Image]
5 Don't photograph 'black people'
I have to assume my professor intended this rule for those of us in the class who weren't black. Still, there was a collective gasp when he declared it, and I wonder whether he would have announced it so readily if he'd had any African-American students. Fifteen years ago, and to some degree still today, any photograph of a black person taken by a white person, especially an untrained student, could easily be misconstrued as racist, or reinforce prejudices. I don't think that American photographers have confronted the racial divide in the US through photography as directly as, say, the school of South African photographers who productively intertwine their own subjective positions in their portraiture – David Goldblatt, Guy Tillim and Pieter Hugo chief among them.
Viviane Sassen makes images that cast aside the issue of race rather than transcend it. I find her photographs troubling: the way faces are constantly shadowed or covered, while clothes and limbs are highlighted.
See also: Cristina de Middel's 'The Afronauts' (2012) and Richard Mosse's 'Infra' (2011)
6 Don't photograph yourself naked
This one was aimed mostly at the girls, though it was one of the more subtle and astute rules. He wanted to avoid our impulse to photograph our nude selves from being misplaced. Meanwhile, over at Yale, a whole mini-school of photographers experimenting with this subject was forming (see: the 'Yale Girls'). It's since gone out of fashion, as the influence of Francesca Woodman's work and feminist art have both waned. Carina Brandes takes images of herself naked that are weird or attractive because of more than an exposed nipple.
See also: Elinor Carucci, John Coplans, Lucas Samaras and Juergen Teller
7 Don't photograph other people's art
We wouldn't have been sophisticated enough to know what appropriation was, so this rule was designed to prevent us going to MOMA's outdoor sculpture garden or taking pictures of bronze equestrian sculptures. Art in situ has been successfully repurposed in the works of Luigi Ghirri, Louise Lawler and Thomas Struth, among others. But, for the deleterious effects of using other people's art as a subject, see James Franco's recent re-stagings of Cindy Sherman's 'Untitled Film Stills' (1970–80). As Jerry Saltz described it: 'I always tell students who do Sherman remakes, "Cool. Get them out of your system, then go back to work, and don't show these to anyone."'
It's easy to forget that my professor's restrictions were in place long before the internet – before Instagram, Tumblr and Facebook. And, in a way, he anticipated the worst or most pedestrian tropes of photography that would emerge on those platforms: selfies, cat videos, people taking pictures of their kids. In that sense, he was definitely onto something.
Violators of the rules tend to violate all of them. Or single photographs often violate multiple categories (e.g. children in Central Park). Furthermore, so many of them are artists who (taking cues from Roe Ethridge or Wolfgang Tillmans) don't make a strict division between their art work and fashion or commercial work (see: Tim Barber or Torbjørn Rødland). But, if you look at many young artists working with photography today – Lucas Blalock, Talia Chetrit, Sara Cwynar, Sam Falls, Daniel Gordon, Matt Lipps, Matthew Porter, Mariah Robertson and Hannah Whittaker, to name a few – you won't find them, for the most part, broaching these categories. There is a visible divide between a new kind of 'street' photography, whose observational view is turned toward recording life as it happens, and a more inward-facing, self-reflexive attitude, turned to artists' studios where sculptural assemblages are photographed, or negatives and objects are scanned and Photoshopped. I can't help wondering if the list, in response to trends in photography today, will eventually expand to include things like: 'still lifes you made out of mismatched store-bought items', 'semi-abstract colour fields' or 'collages made of black and white archival postcards'. A postcript: in the final stages of working on this article, I coincidentally came across a Facebook post that linked to a Tumblr called: 'Shit my photography teacher says'. Instinctively, I clicked on it and, not to my surprise, it was a blog from 2010, written by a student of my professor. Judging from the quotes she posted I could tell that my professor's lectures hadn't changed much in the intervening years. I was also intrigued that the list of 'nos' did not seem fixed. Some items had disappeared. Others – 'graveyards', 'beaches', 'street performers' – had been added. 'Homeless people' was a category I'd forgotten about. So was 'People on the subway'. During his long career as a photographer, my professor has published 12 volumes of his own photographs. One of them is a book of images of African-American church congregations in Brooklyn. The other is of people on the subway.