Shikeith Exorcises the Histories that Haunt Black Queer Men
The artist speaks about his latest show at the Mattress Factory Museum, which merges installation and live performance, the sacred and the profane
The line between pleasure and pain, sacred and profane is thin for Black queer men. In his latest show at Pittsburgh's Mattress Factory Museum, 'Feeling The Spirit In The Dark', Pittsburgh-based conceptual artist Shikeith traverses this line in work that considers the afterlife of slavery and the many ways Black queer, male-embodied people are haunted by intergenerational trauma. The show's four installations, which explore the psychological impact of light, darkness, touch, and space on the Black body and soul, will host performances by musicians Rashad McPherson, Corey Staggers and Trapcry on 21 January and 11 February. Both Shikeith's immersive environments and the work of his collaborators trace the history of Black people through music by sampling blues, jazz, gospel, and R&B, and examine the ways the echoes of the Middle Passage still reverberate within the Black collective consciousness.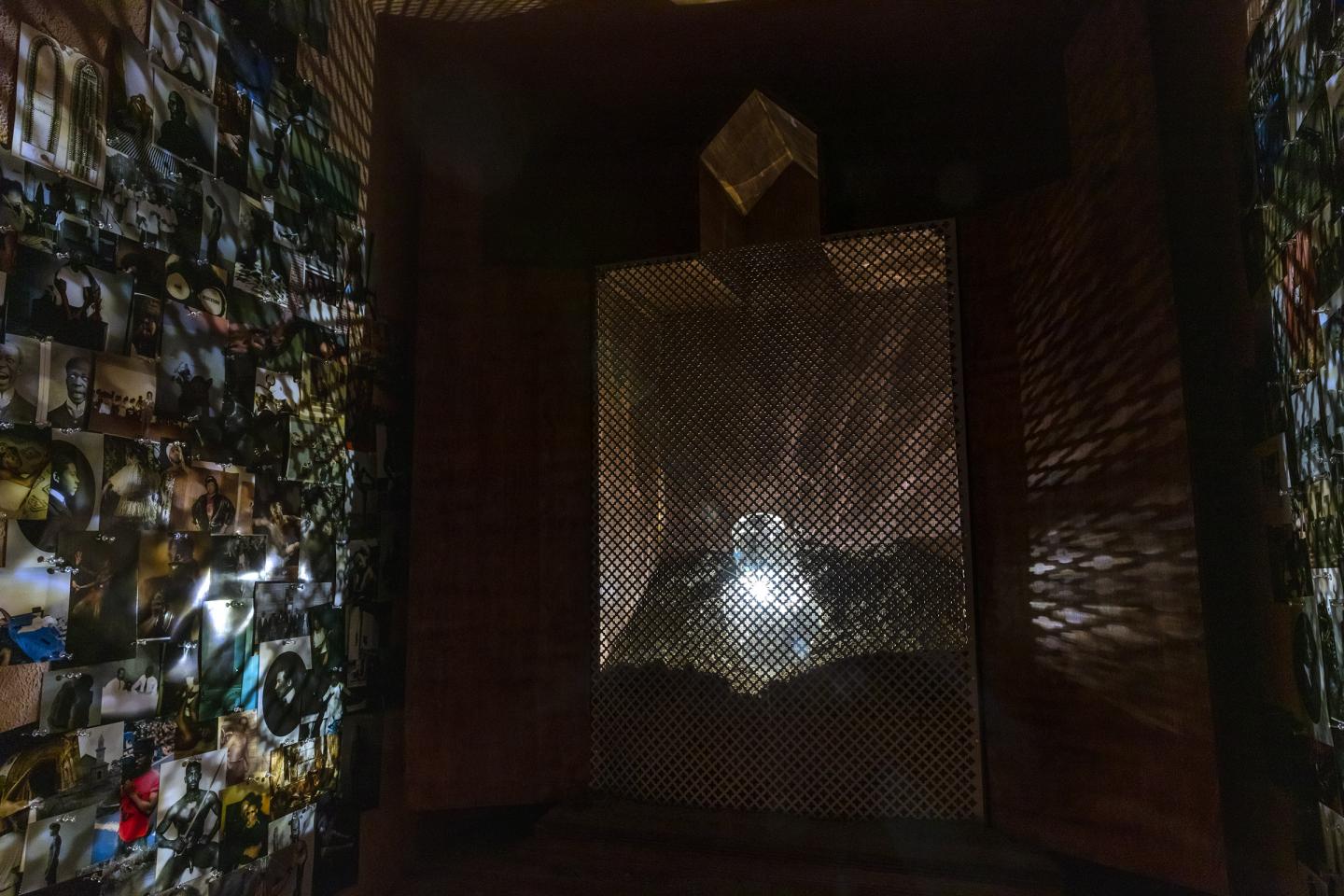 Mia Imani The Black church is an undercurrent throughout the entire project. What is your relationship to the Black church? 
Shikeith This work in particular is really engaged with sacred space and how sacred space is constructed within Black households. I come from a deeply religious Christian family. My grandmother, who I was raised with, always kept a Bible at the end of the stairs. Right outside of my childhood bedroom was a portrait of Jesus. So there was always the presence of the Black church within my house, especially the sound of gospel music, but then also music that might be considered secular, like Mary J. Blige and Lauryn Hill. 
MI How did you come up with the concept for 'Feeling The Spirit In The Dark'? What made you want to include live performance?
S The show advances my construction of 'blue spaces,' site-specific installations interrogating the interior worlds of Black men, particularly my own. The show takes its name from a 1998 text by E. Patrick Johnson in which the author writes about how Black gay men move from place to space because they feel constrained within the Black church, but then also seek out another establishment for themselves. A lot of that movement happens underground, in the dark, where they could experience a sense of liberation, a sense they bury beneath their feelings about the church. As someone who identifies with that, I wanted to locate an erotic potential through the construction of these spaces for Black queer men.
MI This project feels as much like an act of spiritual cleansing as an exhibition. Throughout the show, and especially within the installation Feeling The Spirit In The Dark, blue as a color, a type of music (blues), an emotion, and a body of water flood the rooms. How do colour and sound play a role in exorcising traumas within the installations?
S My earlier work dealt with the psychological landscape of Black manhood. I wanted to figure out how, through visual art, I could repossess Black male sexuality. Our bodies are haunted by the aftereffects of slavery, such as racism and homophobia. I wanted to create a form around that experience that didn't rely on direct representation, and stumbled across this idea of 'Blue space' in my research. Bodies of water, for instance: as we know, Black people have a fraught relationship with bodies of water, particularly the Atlantic, from the Middle Passage. Bodies of water have also been a refuge for us, like the swamps on the escape routes of the Underground Railroad. Sonically, the blues played a huge role in how Black queer people have expressed themselves, thinking particularly of Kokomo Arnold, Ma Rainey and Bessie Smith.
MI History plays a key role in this project, in works like The Beauty of Recovering What Has Been Lost (2020). In that work, Black pain and potential are embodied by seven glass penis lanterns suspended from the ceiling in the formation of the Big Dipper constellation, a nod to the ways Black folx would use the stars to navigate north via the Underground Railroad. Which elements of the Black cultural archive helped you develop these works?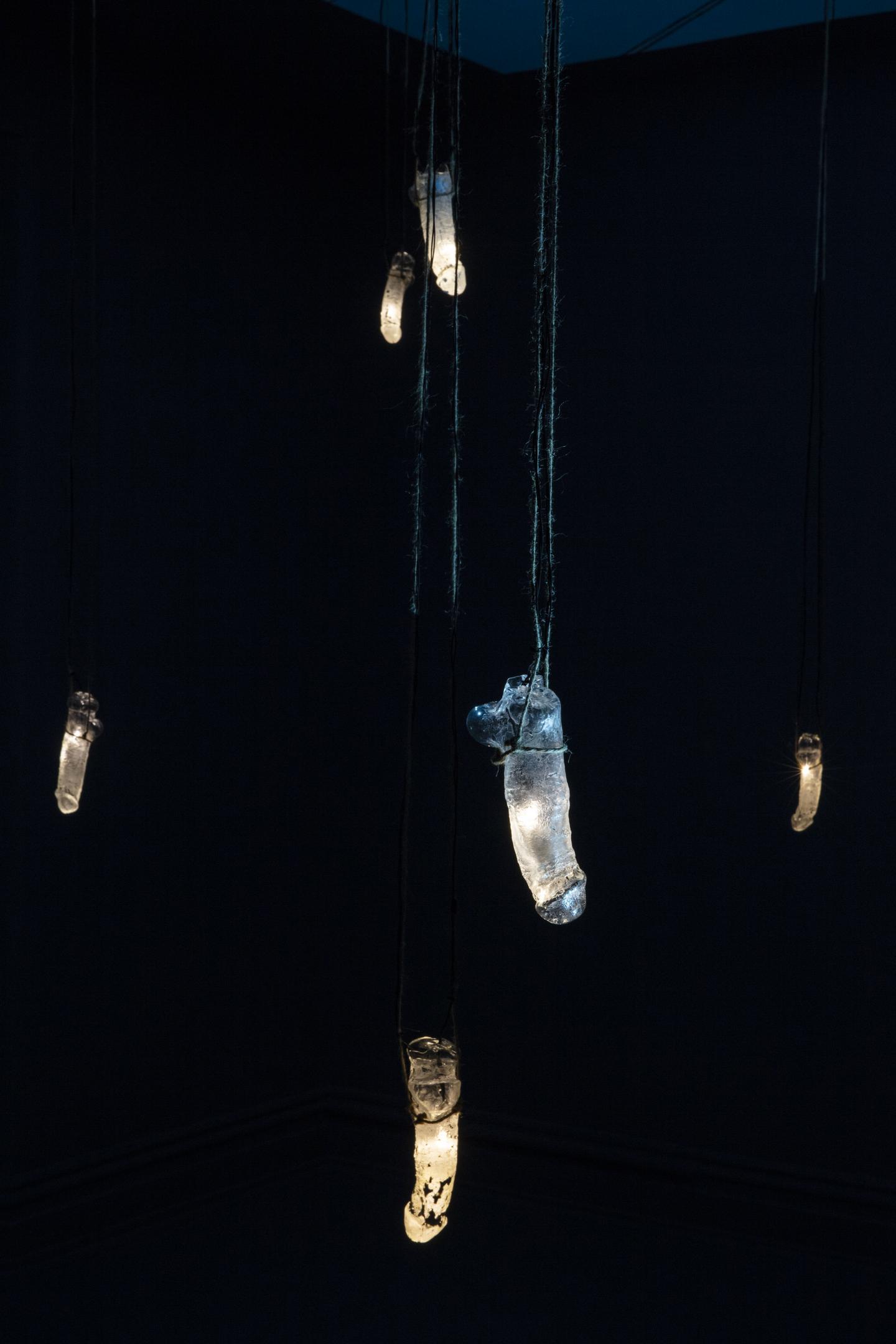 S In his book On Black Men (2000), David Mariott writes about how the Black male psyche gets wound up in racial trauma, and the psychic wounds continue to haunt us and impact the way that we see one another and see ourselves. In works like The Beauty of Recovering What Has Been Lost, for instance, I'm thinking about lynchings, in which castration was common. The Black male penis was the most prized thing you could retrieve from the scene. I'm also thinking of Louis Agassiz's daguerreotypes of slaves and other archival images of the Black male body that are profoundly affecting.
MI Many of your works in the project, especially Altar (Held After), which explores the relationship between the gloryhole and the church confessional, oscillate between two opposing states – such as sacred and profane – and in turn create a third reality between them. What do these liminal spaces represent to you?
S It's something that I attach a lot of wonder to. There's a space of indeterminacy that I'm really after. A space that is unfixed from a destination. In that lack of fixity, an erotic or liberatory space can arise. Black people have always had to resist stasis, which I'm also trying to do through these oscillations. It's from that resistance to stasis that our radical potentiality has so often emerged. 
MI 'Feeling The Spirit in the Dark' incorporates immaterial traditions of Black art, such as music and performance, with material traditions most closely associated with academic art, like minimalist sculpture and painting. How does the interplay of these mediums allow you to touch on different elements of Blackness?
S One of my professors at Yale, the incredible scholar Rizvana Bradley, once said that 'Blackness exceeds representation.' I'm trying to create geometric abstraction while layering on minimalism and light art, but, you know, throwing some flavour on it. I think it's allowed me to touch on the plasticity of Blackness. 
MI How did Rashad McPherson, Trapcry and Corey Staggers get involved in the project? 
S Collaboration is a huge part of my practice. Corey is a saxophonist who I met during my time at Yale. Trap is someone who collaborated with on the sound production across all of my installations. Rashad is someone whose music I was listening to during the conceptualizing of 'Feeling The Spirit In The Dark'. It's an honour to be able to allow them to activate this installation through their individual performances, because I do feel like the installation is a sacred space.
Live performances will stream on 21 January and 11 February, 2021 on YouTube, Facebook, Twitter or Instagram @mattressfactory and @shikeith.
'Feeling The Spirit In The Dark' is on view at the Mattress Factory Museum, Pittsburgh, USA through March 2021.
 
Main image: Shikeith, Feeling the Spirit in the Dark, 2021, installation view. Courtesy: The artist and Mattress Factory Museum.