Featured in
The Significance of Helen Cammock's Father's Ceramics
The artist reflects on the talents of her self-taught ceramist father, whose work was a constant character within her family home
A ceramic painting hangs on my living room wall – ethereal yet earthy, in my mind it has always been an abstract landscape, textured with the deep colour palette of the late 1960s. Our home was full of my father's ceramic works – displayed and used because my father wanted to see them and for them to be seen, but for him, there was seemingly nowhere else for this to happen. So, an Okapi pair was the centrepiece on a chest of drawers on our landing, his ceramic pots appeared in every room as plant holders, pen pots, pieces of art and wastepaper bins. They were multifunctional in our lives, but always bold, with a wondrous slippage in colour and glaze-cover and form. We drank from mugs he'd made for us and had tiles he'd designed next to our beds to hold glasses of night-time water. In the mid-1960s, my father had wooed my mother with small ceramic animals and other pieces that he brought to her each time her library van returned to the secondary modern school where he taught. In other words, we all lived my father's ceramics.
My father was 'voluntarily conscripted' into World War II, aged 18, only to be returned to Jamaica after the war, having been given a very short teacher training course. It was only after my father died, as I went through his house, that I found a letter he'd kept along with others of significance from his life, in which one course tutor had clearly written: George Cammock is a very talented artist and I strongly recommend he be found a place at an art school. This of course never happened because my father was repatriated to Jamaica with other servicemen, forced to leave behind his wife and small child. It took him a year of letters to the Home Office and working many different jobs to afford the passage back to the UK to be with his family. But then he had to work (not imagine art school) so he became a teacher – an art teacher. And this is where he honed his skills. Materials and kilns. Evenings at the wheel. Books he got from the library or bought. He experimented, I now know, with glazing and different ways of working the clay.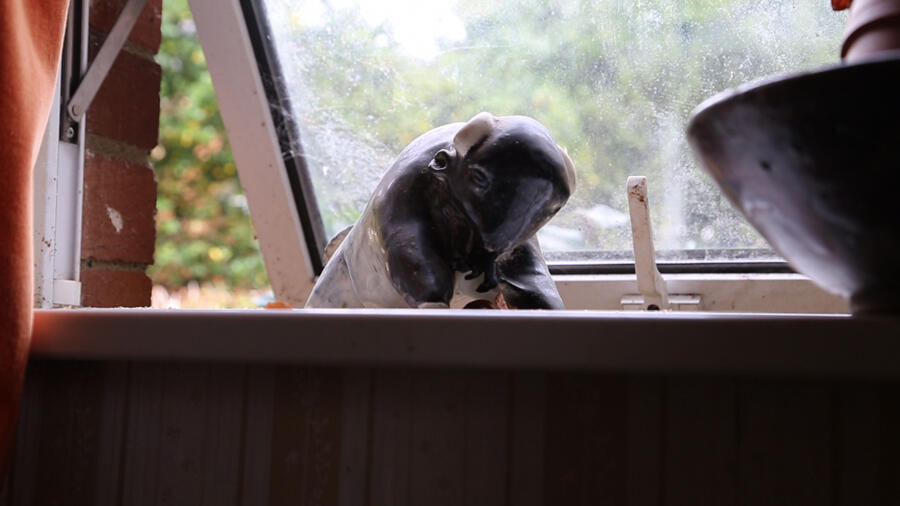 I found his moulds – still intact – in his damp garage. With the support of the team at the art school in Wolverhampton, the town in which he taught art for a decade, I have re-worked them, in order that they have a new face, a new conversation with a film I made in 2014: an imagined conversation with and around him – as father and as ceramicist. This is part of my offer for the touring British Art Show 9. The film, Changing Room, has his ceramic pieces as characters ghosting the screen and somehow engendering this conversation. When shown in an exhibition curated by Lubaina Himid at Hollybush Gardens in 2016, a ceramic Okapi formed part of an installation and sat in the gallery office for some time, before and after the show. It was a talking piece of the office, for curators and collectors alike, who appreciated something in his work that he knew was there all along. In these moments, he crossed from amateur to professional without even knowing – perhaps because of context, perhaps a re-configured gaze. But he always knew what he could do: his greatest sadness was feeling that others didn't.
Helen Cammocks solo exhibition 'BENEATH THE SURFACE OF SKIN is on view at STUK, Leuven, Belgium, until 14 November, while her new film, Concrete Feather and Porcelain Tacks, will be shown at The Photographers' Gallery, London, UK, and Touchstones Rochdale, UK, until February 2022.
This article first appeared in frieze issue 223 with the headline 'From the Mould', alongside Clay is Theaster Gates's Anchor, How Travel Transformed Magdalene Odundo's Ceramics Practice and How Clay is Connected to our Bodies: A Roundtable Conversation.
Main image and thumb: Photograph of Patricia and George Cammock, 1968. Courtesy: Helen Cammock