To Stop the Auction of Looted Art, International Law Must Change
The Christie's Paris sale of two stolen Igbo sculptures is proof of a racist double standard in European restitution law
Last Monday in Paris, auction house Christie's proceeded with the sale of two Nigerian artefacts in the face of public outcry over their suspicious provenance. As art historian Chika Okeke-Agulu noted in a 21 June article for The Guardian, the pair of sacred Igbo sculptures, known as Alusi, were likely stolen from Nigeria during its civil war (1967-70). The sale of the sculptures is therefore an extension of the violence perpetuated during that conflict, which claimed the lives of nearly three million people. Nigeria's National Commission for Museums and Monuments flatly states that the sculptures were stolen. Another artefact, a bronze from the Kingdom of Benin also appeared in the sale – likely stolen by a British expedition that plundered Benin's cultural treasures in 1897.
The sale was perhaps inevitable. Christie's has a long record of auctioning artefacts with contested provenance, and it does so entirely legally. Auction houses are not required to prove that the objects they sell were obtained by legitimate means. Nigeria and other plundered countries from Greece to China have long made moral arguments against the sale of cultural artefacts stolen from them, but without a legal mechanism for restitution, their appeals remain insufficient.
In several European countries – including France, where the Christie's auction was held – there are limited precedents to prevent the sale of looted art. Had the sculptures been stolen by Nazis, an interested claimant could take action against the auction house by meeting admittedly difficult criteria: proving the ownership of his or her ancestor over the item and demonstrating that said ancestor was wrongfully dispossessed during Nazi occupation.
Nigerians, on the other hand, have no recourse for reclaiming the cultural thefts of colonialism. The 1954 Hague Convention prohibits theft and destruction of cultural property during armed conflict, but does not adequately provide for peacetime scenarios or financial intent: what happens after cultural property has been stolen and sold on the international market?
Similarly, the 1970 UNESCO Convention, which prohibits illegal trafficking of cultural objects, does not address those sourced during armed conflict. It also was not adopted until 1970. Christie's claims the Alusi sculptures were 'acquired' between 1968-1969 by French dealer Jacques Kerchache, so they would fall outside the Convention's application period. These laws were not written with the interests of African countries in mind, and remedying them will require international cooperation that cannot be the burden of African countries alone.
Of course, no Nigerian law permits the forcible removal of cultural property, either during peacetime or conflict and any European sanction could never have applied to theft from within their borders. In a statement regarding the Alusi sculptures, Christie's said, 'There is no evidence these statues were removed from their original location by someone who was not local to the area. At no stage since they have been widely known has there been any suggestion that these statues were subject to improper export.' Yet who bears the burden to prove this is true? And under whose jurisdiction? The participation of local co-conspirators is no guarantee the removal of the sculptures was above board.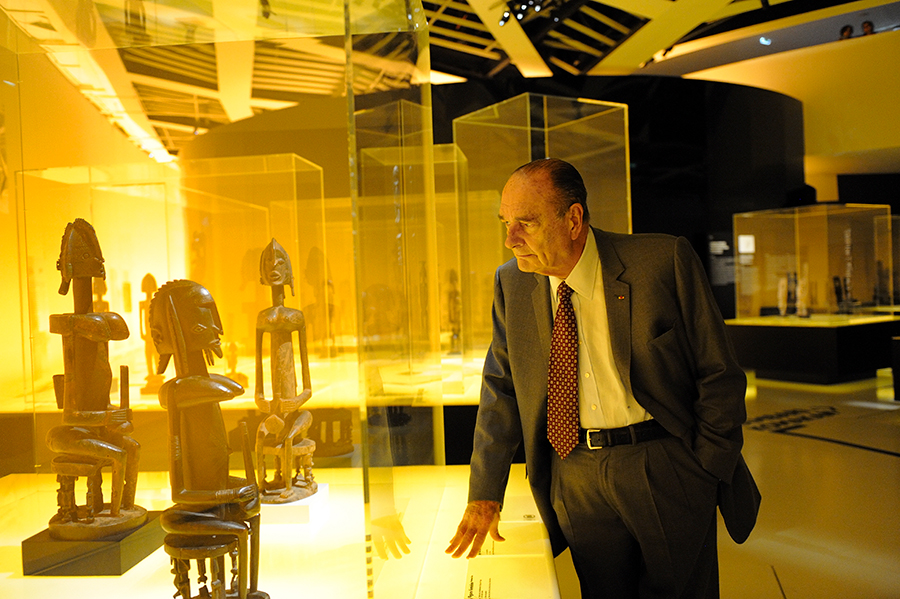 According to Christie's Conditions of Sale, 'Our description of any lot...including about its nature or condition… or provenance are our opinion and not to be relied on as a statement of fact. We do not carry out in-depth research of the sort carried out by professional historians and scholars.' Such terms place no burden on the auction house at all.
That such sales can proceed while art looted by the Nazis invites stricter scrutiny is reflective of a racist double standard, and rooted in European condescension towards African nations' claims over their cultural property. Not until the landmark 2018 report on the Restitution of African Cultural Heritage, commissioned by French President Emmanuel Macron, did a European government commit to returning artefacts that African countries had been demanding for decades – yet even that recommendation isn't legally binding. The Benin Dialogue Group, established in 2007 and comprising a consortium of European museums and the Nigerian Government, has been discussing the repatriation of the famous Benin Bronzes for over a decade; no single artwork has yet been repatriated. It is an absurd irony that some museums have proposed preconditions for the 'safe' return – or even simply long-term loan – artefacts that came into their possession by violence.
African nations must push for stronger laws restricting the sale of cultural patrimony, whatever the odds. The fastest route might be attaching conditions to bilateral trade and investment agreements. As the Black Lives Matter movement forces a global reckoning with histories of oppression, American and European institutions cannot be allowed to profit from the sale and transference of colonial loot, like the bodies they once traded as chattel. In time, African nations will hopefully have a stronger legal footing to claim what was always rightfully theirs.
Main Image: Benin Bronzes. Courtesy: Wikimedia Commons