Featured in
In a Unique Urban Exhibition Project in Germany, a Lens on a Fractured Civil Order
Spread across four German cities, this year's 'Ruhr Ding' explores art in public space in a former industrial region
We're in a funeral hall within a cemetery in the German city of Bochum; a cacophony of voices fills the room. For Ivan Moudov's The Pavilion (2019), small speakers on plinths sound out 23 unrealised proposals for the Bulgarian Pavilion at the 2019 Venice Biennale, ranging from a painting show to stand-up comedy. Moudov questions the selection process of national representation, giving unrecognized artists a voice and placing them in a modernist concrete structure that feels more at home at Venice's Giardini than a cemetery in Bochum.
Founded in 2010, the year in which Germany's Ruhr area was designated European Capital of Culture, Urbane Künste Ruhr is an organization attempting to unite the various cities of this industrial zone in Germany's northeast. The region first received international recognition in the arts through Bernd and Hilla Becher's typological photographs of its abandoned industrial structures. Urbane Künste Ruhr does not rely on the legacy power of these images and sites but draws its visitors to altogether new spaces. In 2018, the Urbane Künste Ruhr appointed a new artistic director, Britta Peters. Now called 'Ruhr Ding', this year the event brings together the cities of Bochum, Dortmund, Essen and Oberhausen under the apt theme of 'territories'.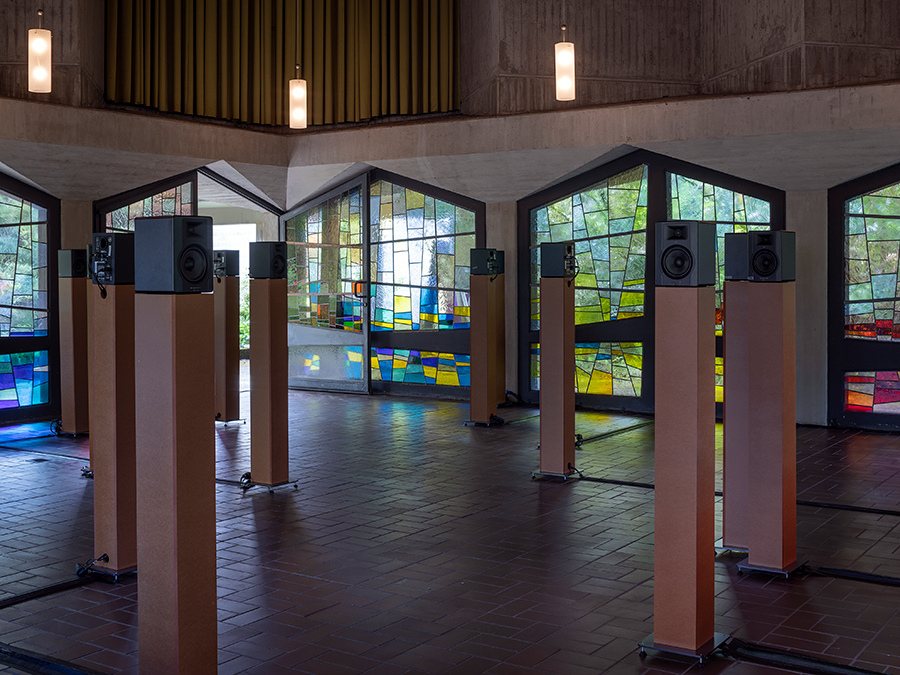 In a 150-metre-long pedestrian tunnel that connects Essen's landmark Ruhr Tower with the opposite office building, artist Lawrence Lek has illuminated the entire passage with green light and placed large flat-screen monitors in front of white benches with artificial plants. The video installation Nøtel (2016–19) includes a virtual rendering of a fictional hotel corporation that promises luxurious stays by using AI technology to analyse the individual needs of visitors before they can even articulate what they want. Lek foresees the housing market becoming a luxury version of the current Airbnb economy, where the desire for private property is replaced by eternal mobility and the longing for security supplanted by permanent surveillance.
Another dystopian vision can be experienced in Henrike Naumann's installation Tag X (Day X, 2019) in Dortmund, which reflects on a far-right network's uncovered plans for the collapse of Germany's civil collapse. For years, a group of Bundeswehr soldiers, police officers and lawyers prepared themselves for this day of social upheaval, buying weapons and training for combat. Set in the postmodern architecture of a former optician's shop, Tag X acts as a doomsday prepper shop, but instead of supplies and combat equipment, Naumann's installation contains fashionable design objects. As in the artist's previous works, the aesthetic of the interior is ambivalent: Philippe Starck's Juicy Salif (1990) lemon squeezer begins to resemble a stabbing knife and Marcel Breuer's Wassily chair (1925–26) becomes a weapon for an archer. Tag X demonstrates that violence can be found in the mundane and that right-wing extremism is no longer located on the margins of society but in the heart of the executive branch. Its location in Dortmund's Friedensplatz, directly opposite the town hall, challenges the city's seat of power.
In the waiting room of Oberhausen's registration office, we hear various stories about people's given names: who they were named after, how names can be translated or why they were changed due to bureaucratic processes or misspellings. The video installation, by Nicoline van Harskamp (Mein Name ist Sprache, My Name is Language, 2018–19) shows how an individual's name can migrate, be translated or creolized like any other word. The location attests to the precision with which many of the 22 individual projects of the exhibition interact with their surroundings. The economy of the shared space thus functions as the exact opposite of territories. Instead of strictly separated areas, everything merges. An analogy that might also, someday, apply to the Ruhr area itself.
'Ruhr Ding: Territories' is on view at various venues in the Ruhr region until 30 June 2019.
Main image: Lawrence Lek, Nøtel, 2016–2019, installation view, Ruhr Tower, Essen, 2019. Courtesy: the artist and Urbane Künste Ruhr; photograph: Henning Rogge