What Shows to Look Forward to in the UK this Spring
From Shanghai-based artist Yu Ji's national debut to the largest exhibition to date of British surrealist Eileen Agar, these are the must-see shows
As of 12 April 2021, lockdown restrictions in the UK will be lifted, and a number of exciting exhibitions will open up this season with much anticipation. From a new body of work by Lawrence Abu Hamdan at Maureen Paley, London, to the first fully animated character by Rachel Maclean at Jupiter Artland, Edinburgh, here are some of the best shows to look forward to this spring in Great Britain.
Yu Ji
Chisenhale Gallery, London, UK
May – July
'I have never seen a sculpture by Eva Hesse in the flesh, but she is one of the artists who has inspired me most from the beginning of my practice,' writes Yu Ji in this fan letter from 2018. 'She emphasized the variability of substance through her purely handmade details and way of installing the piece. (She never gave specific instructions about how to arrange her work – each installation is flexible.)' The same could be said of Yu's own practice, which often involves twisting and transplanting materials into each other. For her first solo show in the UK, new sculptural works will build on Yu's ongoing series of fragmented concrete torsos (Flesh in Stone, 2012), exhibited in Shanghai last year, creating an immersive installation that transforms Chisenhale Gallery into a site under construction.
Lawrence Abu Hamdan
Maureen Paley, London, UK
14 April – 9 May
'Lawrence Abu Hamdan is an artist-investigator of our acoustic shorthand,' writes Ben Mauk in his feature on the artist from 2018. 'His video and audio installations trace a path from hearing's biological origins to the legal and technological appendages it has lately acquired. As a forensic audio analyst, who sometimes collaborates with the human-rights research agency Forensic Architecture, Abu Hamdan has become a Konishi for the nation-state, a soothsayer whose work augurs the evolution of a new kind of hearing. He calls it 'forensic listening' and its subjects are manifold.' The work in Abu Hamdan's upcoming show at Maureen Paley gathers collective resources to explore the idea of reincarnation. This includes the film Once Removed (2019), which reviews writer and historian Bassel Abi Chahine's extensive catalogue of images and artefacts pertaining to the life of Yousef Fouad Al Jawhary, a soldier of the Progressive Socialist Party who fought in the Lebanese Civil War.
Frank Bowling
Hauser & Wirth, London, UK
21 May – 31 July
'Guyana-born Frank Bowling arrived at London's Royal College of Art in 1959; in 2005, he was to become the first Black artist elected as a Royal Academician,' observes Rianna Jade Parker in this fan letter from 2019. 'Aided by a Guggenheim Fellowship in 1967, Bowling relocated to New York and became part of a community of Black artists. Flowing between figurative painting, British pop and abstract expressionism, he had a solo show at the Whitney Museum of American Art in 1971. As an artist who is also a writer, Bowling has attempted to define and describe the marvel that is 'Black art'. In a 2007 Guardian interview, he asserted that 'the Black soul, if there is such a thing, belongs in modernism'.' Bowling's first show at Hauser & Wirth spans the gallery's London and New York locations, charting the artist's life and work between the US and UK over six decades.
Werner Büttner
Simon Lee, London, UK
13 May – 10 June
In this interview from 2013, Jan Verwoert asks Werner Büttner: 'How have the passing times outside your door related to the rhythm of things in your work?' 'The artist is a sieve, sifting his environment', observes Büttner, recalling something he once wrote. 'Information nuggets of precisely the required size get stuck in the sieve. Now he can work. It has never been my ambition to stumble through life free of contradictions. Such drudgery can be left to scientists and lawyers. People like us can indulge equally in truth and its base opposite. With the help of methodical intuition, I make pictures of the way I experience life. Many people only make pictures of the way they experience art. An error. Who could possibly be interested in that?' Büttner's first exhibition at Simon Lee comes ahead of a major retrospective at the Hamburger Kunsthalle, Germany opening later this year.
Ed Fornieles
Carlos Ishikawa, London, UK
17 April – 22 May
'In Karl Marx's breakdown of capital, surplus is a faceless variable that may or may not be reinvested into production,' observes Thomas Bettridge in his review from 2016. 'It is not until Georges Bataille's theory of political economy that we get an account of what excess really entails – the occult and opulent ways in which the extra must be spurned and burned off. The present-day service economy trades almost entirely in the management of this dilemma. Excess body weight, excess time – there are apps to help us with this: tools for self-control that now dominate the luxury market. But what Ed Fornieles's work bypasses in its rhetoric are the ways in which self-control and control proper are one and the same.'
Eileen Agar
Whitechapel Gallery, London, UK
19 May – 29 August
'I adore Eileen Agar's Angel of Anarchy (1936–40),' writes Tate Britain director Alex Farquharson in a piece from 2018. '[A] life-size female head entirely swathed in cloth, feathers and jewellery – a Giuseppe Arcimboldo painting come to life. Her skin is, by turn, Chinese silk and African bark cloth; she has extravagant feathers instead of hair and beads finished with cowrie shells curtain her temple. The black and green feathers are osprey and ostrich; according to A.S. Byatt, they once belonged to Agar's sartorially eccentric Argentinian mother. It's a Surrealist masterpiece, one that also speaks to our times: it anticipates, in its bodily metamorphoses and cultural syncretism, the fierce and erotic Afro-futuristic sea goddesses of Ellen Gallagher and Wangechi Mutu. Agar's monstrously glamorous angel appears borne on a Wild Sargasso Sea from the Jazz Age. The eponymous anarchy, on the other hand, was probably meant in solidarity with the Republican side of the 1936–39 Spanish Civil War.' The largest exhibition to date of Agar's work features rarely seen works from her 70-year career.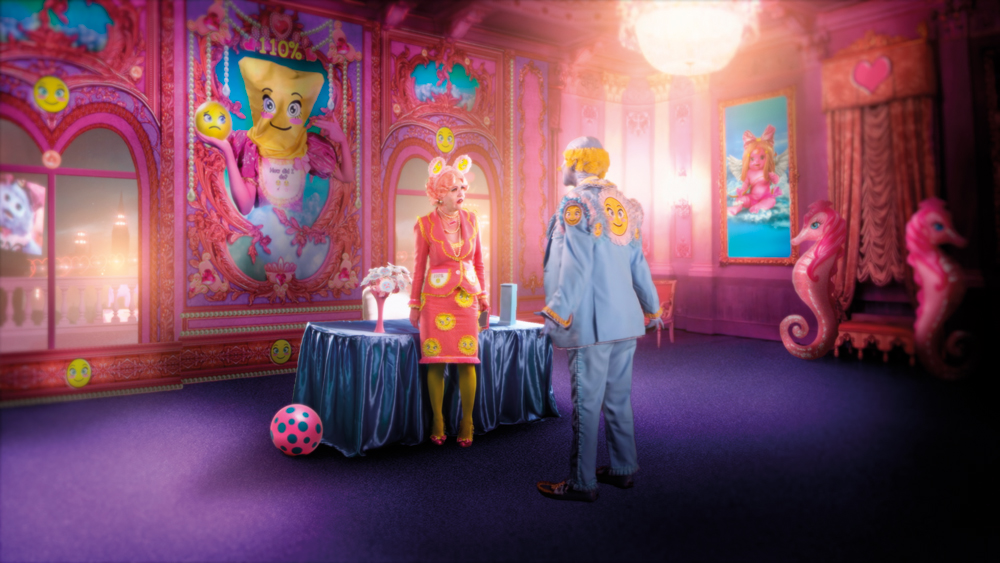 Rachel Maclean 
Jupiter Artland, Edinburgh, Scotland
8 May – 18 July
'A certain well-known nursery rhyme encourages children to exhibit their positive feelings: if you're happy and you know it, clap your hands,' writes Patrick Langley in his profile of the artist from 2016. 'What happens when this ostensibly innocent mentality is applied to the world of work? As any Silicon Valley CEO will tell you, happiness is good for capitalism: happy workers are more productive than their depressed counterparts.' For her upcoming show at Jupiter Artland, Rachel Maclean presents a candy-coloured toyshop installed outside where an animated protagonist (Mimi) allegorizes the experiences and consumerist urges of young adults. A cross-section of past video works will also be exhibited. 
Erika Verzutti
Nottingham Contemporary, UK
22 May – 31 October
'Fascinated by the surge in popularity over the past decade of ASMR (videos featuring a whispering voiceover designed to soothe listeners) and "slime" culture (online footage of people making and/or playing with oozing substances), which have hooked internet-native youngsters on a new kind of "visual tactility", Erika Verzutti's latest work seeks likewise to seduce and repel in equal measure', writes Fernanda Brenner in a review from 2019. The artist's first solo presentation in a UK museum gathers sculptures in bronze, cement and papier mâché from the past 15 years alongside a body of new work and a site-specific commission.
Main image: Rachel Maclean, Feed Me, 2015, HD video stills. Courtesy the artist; co-commissioned by Film and Video Umbrella and Hayward Touring for 'British Art Show 8'