Featured in
25 Artworks: 1991–95
To celebrate frieze's quarter century, the editors choose 25 key artworks: one for each year of the magazine's existence
We underestimated how hard this task would be. After hours of often-heated debate, we finally agreed on a group of artworks from around the world that reflect something important about the time in which they were made, whose influence has grown over the years and which still feel urgent, fresh and relevant today. However, as editors and writers, we are, of course, fallible. For every nomination, there are countless others that could replace it, many from countries we haven't covered as comprehensively as we have our primary locations in the UK, US and mainland Europe. (A timeline running alongside this feature lists other significant works from the past two and a half decades.) That said, we hope that our list is a reflection of the important role the skill and imagination of artists has played, and continues to play, in interpreting the dizzyingly swift evolution of our planet over the last 25 years. 
1991 — Felix Gonzalez-Torres, "Untitled" (Perfect Lovers)
If 1991 saw the aggressive, muscular art of Damien Hirst invite viewers to stare their mortality in the face in the form of a pickled shark, it was also marked by the emergence of a quieter conceptualism in Felix Gonzalez-Torres's "Untitled" (Perfect Lovers). Also concerned with impermanence and preservation, this work, like many by Gonzalez-Torres, can be understood to memorialize his relationship with his partner Ros Laycock, who died from AIDS in 1991. Two identical battery-operated wall clocks sit side by side, gently touching; one will inevitably stop before the other, before being reset and started again. Using form and allusion, rather than directly representing the couple, the work echoes the queer theory of its time, which sought to trouble definitions or fixed identities, whilst privileging ambiguity. Resonances of this queer formalism can be seen today in the work of artists such as Carol Bove, Prem Sahib and Danh Vo. The late Gonzalez-Torres was, this year, the subject of concurrent shows in London, Milan and New York (which are reviewed in this issue). — Paul Clinton
Other significant works: Gordon Bennett, Possession Island; Glenn Brown, The Day The World Turned Auerbach; Damien Hirst, The Physical Impossibility of Death in the Mind of the Living; Glenn Ligon, Notes on the Margin of the Black Book; Gabriel Orozco, Crazy Tourist; Cornelia Parker, Cold Dark Matter: An Exploded View
1992 — Rirkrit Tiravanija, untitled (free)
If you were to walk into an exhibition today and come across a work that required you to participate in a social act in order to 'see' it, you might not find it unusual. But when, in 1992, Thai artist Rirkrit Tiravanija invited visitors to share a free meal, it was revolutionary. For untitled (free), Tiravanija turned the back office of 303 Gallery in New York into a kitchen and transformed the gallery into a communal space where visitors could serve themselves Thai curry and rice prepared by the artist. The work, which has since been re-imagined and restaged in various venues, is now regarded as one of the first instances of relational aesthetics – works that require their audience to become social participants in art. — Christy Lange
Other significant works: Art Club 2000, Untitled (Times Square/Gap Grunge I); William Kentridge & Handspring Puppet Company, Woyzeck on the Highveld; Charles Ray, Oh! Charley, Charley, Charley ...; Cindy Sherman, Untitled #250; Gillian Wearing, Signs that say what you want them to say ...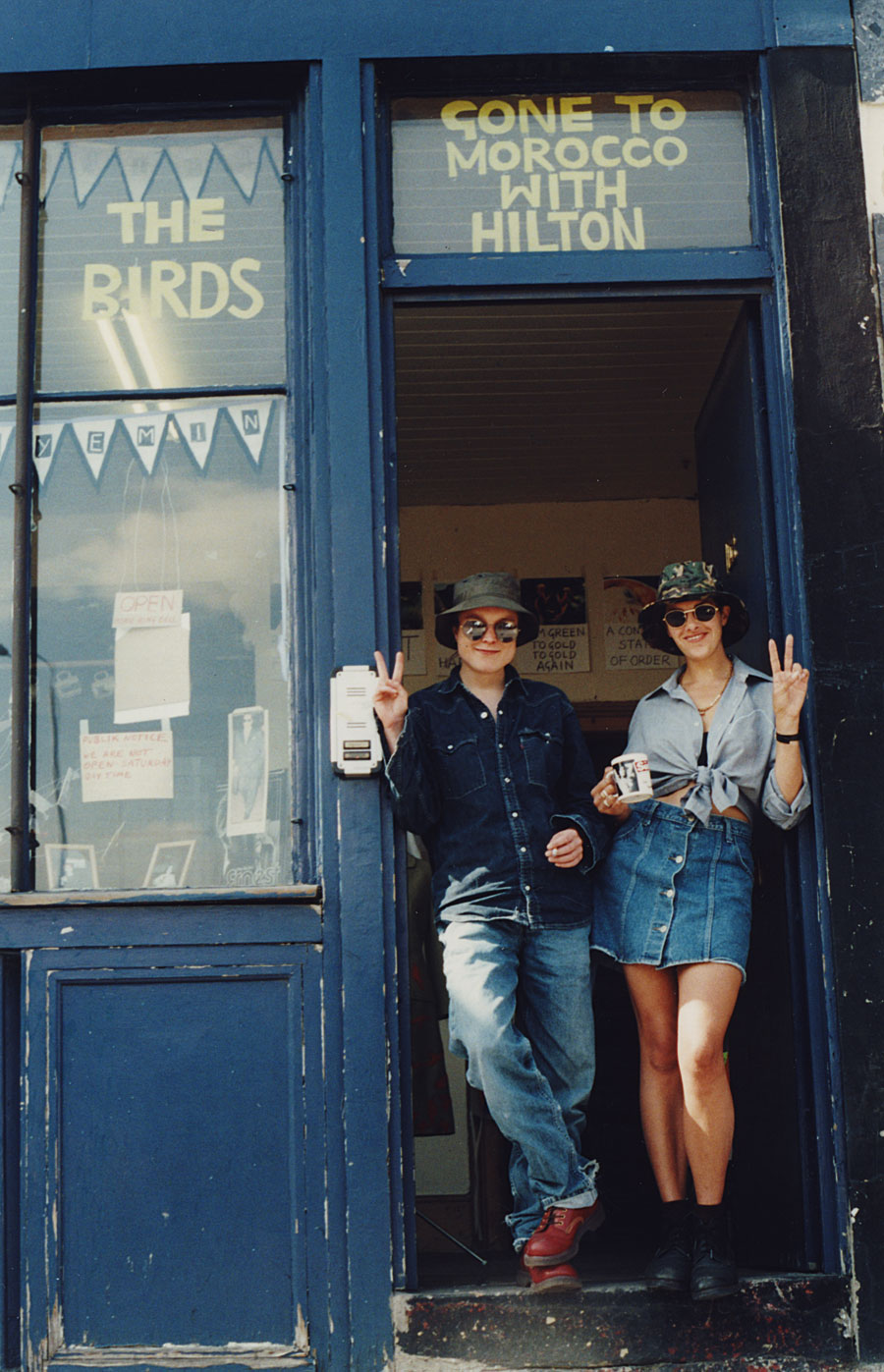 1993 — Tracey Emin & Sarah Lucas, The Shop
In 1993, Tracey Emin and Sarah Lucas were looking for a studio. Instead, they opened a shop. They made almost all the merchandise themselves: ashtrays featuring Damien Hirst's face, for instance, or T-shirts emblazoned with the slogan 'Complete Arsehole'. Located in London's pre-gentrified East End, The Shop was open during regular working hours and all through Saturday night into Sunday afternoon. Anyone could drop by, have a drink and a chat or, perhaps, buy something, such as Our David, their David Hockney-themed altarpiece. The Shop was a social space: a public artwork minus the sanctimony of 'socially engaged' art. Today, it remains a model of artists getting-by-and making-do with few resources, a 'pop-up' venue before such a thing became a marketing tool and, above all, a space with a healthy sense of irreverence towards arts institutions. — Dan Fox
Other significant works: Douglas Gordon, 24 Hour Psycho; David Hammons, In the Hood; Kerry James Marshall, The Lost Boys; Rachel Whiteread, House
1994 — Kara Walker, Gone: An Historical Romance of a Civil War as It Occurred b'tween the Dusky Thighs of One Young Negress and Her Heart
The iconic medium and style that have defined Kara Walker's career first appeared in this wall installation, which featured in the artist's 1994 New York debut at the Drawing Center. Walker transformed the small-scale, petit-bourgeois Victorian craft of paper silhouettes into a new form of history painting. Her caricatured figures – what Robert Storr called, in this magazine, 'burlesque pantomimes of American racism' – couple in positions that furiously parody the sexual violence of slavery. 'Gone' in the title refers to Margaret Mitchell's 1936 classic novel Gone with the Wind, offering a dark and searing alternative to its nostalgic treatment of plantation life, while also acknowledging the absence of black voices in the official history of American race relations – one that remains contested today. — Evan Moffitt
Other significant works: Matthew Barney, Cremaster 4; Rineke Dijkstra, Julie, Den Haag, Netherlands, February 29th 1994; Wang Guangyi, Great Criticism – Coca Cola; Bhupen Khakhar, How Many Hands Do I Need to Declare My Love for You?; Martin Kippenberger, The Happy End of Franz Kafka's 'Amerika'; Mark Wallinger, A Real Work of Art
1995 — El Anatsui, Fan
In 1995, two decades after his move from Ghana to Nigeria, El Anatsui held his first British solo exhibition in London. He was 51. Like Fan, many of the totemic sculptures and wall-hung reliefs shown at October Gallery that year featured visible scars and burn marks. Anatsui had begun using a blowtorch and chainsaw ('a very evocative sculpture tool', he has said) in 1980. Although best known for his 'tapestries' made from
discarded aluminium bottle tops, the artist's middle period was largely devoted to wood. The reworked oyili-oji panels in this relief declare Anatsui's transformative approach to his materials – a method that endures in his current work. The violent technique, while at odds with the unhurried manner of their maker, enabled Anatsui to ally method with metaphor: Fan, and similar works from this period, not only mourns the 'historic vandalism' of colonialism, to quote Olu Oguibe, but also ennobles the 'plethora of writing traditions' that Anatsui devoted his early career to learning. — Sean O'Toole
Other significant works: John Currin, Entertaining with Mr. Acker Bilk; Tracey Emin, Everyone I Have Ever Slept With 1963–1995; Moshekwa Langa, Untitled; Paul McCarthy, Painter; Qian Weikang, Ventilating the Site